Tech Mall Shops available Booking from 14 lacs
by UPN
September 16, 2022
0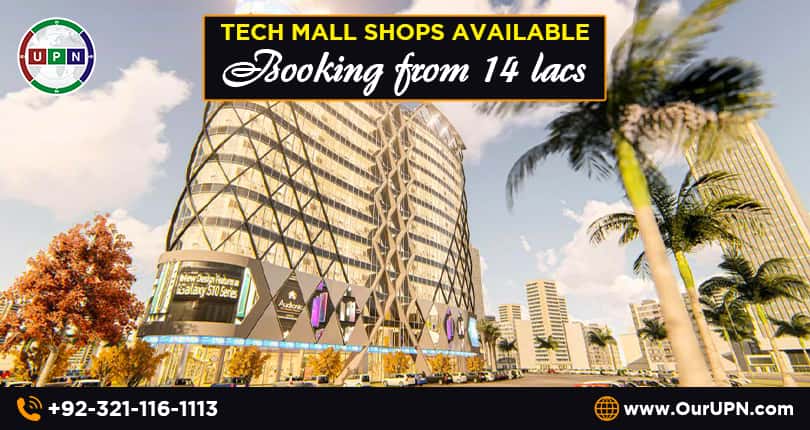 Tech Mall shops are among the hot favorite properties in Bahria Town Karachi. It is one of the popular developments, a state-of-the-art project by well-reputed private builders. Launched almost 1.5 years ago, it's a speedily developing venture offering incredible commercial investment opportunities. Planned exceptionally as per the latest demands and desires of modern buyers, it's a future business destination in Bahria Town. Features the best facilities, it offers beneficial properties at affordable rates. This magnificent project is designed to facilitate the business and investor community as per their desires and dreams. You can check the complete details below:
Tech Mall Shops for Sale
Tech Mall Bahria Town Karachi is a delicate project where you will find a mobile mall, a laptop market, and the latest technology center. Also, it is planned with a food court area and corporate offices. This excellent project features ground + 12 storey. It has almost 300 outlets on the 5th floor while its 6th floor is a rooftop has 21 outlets. However, from the 7th floor to the 12th floor, you will find corporate offices. The overall planning and development of this project make it the next technology hub in Bahria Town Karachi. People will soon find this place as the one-stop solution to all their electronics and technology needs.
Starting from mobile phones, laptops, computers, hard drives, USBs, and other accessories, you will get everything under one roof. At the same time, these Tech Mall shops are available for brand outlets. Even, people offering tech-related services and solutions can book their offices in this venture.
Tech Mall Location
The incredibly beautiful project, Tech Mall is located in the heart of Bahria Town Karachi. Its actual location is Precinct 3 on Liberty Commercials. It is located on Liberty Commercial Plot 194/195/196 and 197. This location is only 2 KM away from the main entrance of Bahria Town Karachi. Moreover, it lies close to Malik Square, an important development inside Bahria Town. Many of the well-known projects are lying nearby. Overall the location selection of this project is outstanding, adding worth to it.
Sizes and Prices of Shops
The sizes of the shops at Tech Mall Bahria Town Karachi are starting from 140 square feet to 600 square feet. In simple words, you will easily find a small size shop as well as a big showroom to cater to your needs. However, 70% of this project is already sold out. Only a limited number of options are available on a first-come and first-serve basis.
This project was launched with attractive commercial shops available at reasonable prices. The starting prices of shops are 20.80 lacs while the rates go high up to 1.35 crores. So, the prices vary as per the floor and size of the shop at Tech Mall.
But the booking starts with a 25% down payment and the remaining amount will be payable in 2 years easy installments. Here you can confidently book your shop with the affordable amount of 14 lacs. The payment plan of this mall comprises 8 equal quarterly installments. You can check the complete payment plan below:
Investment in Tech Mall Bahria Town Karachi
These Tech Mall shops for sale in Bahria Town are a golden opportunity for investors searching for something highly profitable. These shops are located ideally and come with all the latest-day amenities. The current prices are low while the project's development status is impressive. Soon the development work will get complete and possession will be handover. Investors thinking to set up a beneficial business in Bahria Town can easily choose the shop of their desires. These shops are exceptional to invest in IT-related businesses. Due to the project's thoughtful planning and iconic location, a huge footfall is expected upon completion.
Additionally, if your purpose of investment is to generate handsome rental income, you should definitely invest in it. This project will surely get a huge success once get operational. Overall, buying in Tech Mall Bahria Town Karachi is a good choice for business, investment growth, and rental gains. You can contact our experts at UPN to know more about the available options and investment analysis.
Frequently Asked Questions
Here are the answers to some most commonly asked questions about Tech Mall:
Where Tech Mall is Located?
It enjoys a premium location in the heart of Bahria Town Karachi in Precinct 3 on Liberty Commercials.
Who are the developers of Tech Mall?
This project is proudly presented by Californian Builders and Real Estate. They have a good reputation in the real estate sector of Pakistan.
What are the prices of shops at Tech Mall?
Tech Mall shops are available for sale at reasonable prices. Here booking starts from 14 lacs only.
Is investment beneficial at Tech Mall?
Yes, your investment will be secure and grow 2x by the next 1-2 years.
Please contact Universal Property Network or Visit our Youtube channel for further assistance.