Top 5 Blocks of Bahria Town Lahore
by UPN
August 25, 2021
0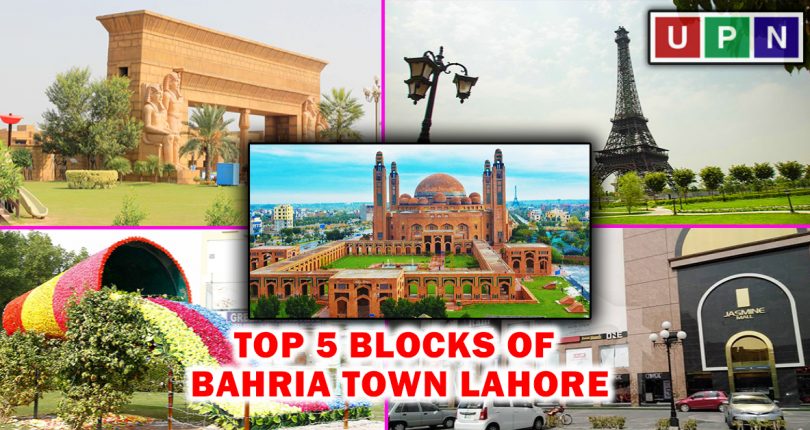 Bahria Town Lahore is the most luxurious and peaceful housing society located perfectly. Easily accessible from Multan Road and Canal Road, it comprising six sectors, divided into several blocks of Bahria Town Lahore.
Its Sector A is the very first sector, completely developed and populated. While Sector B, C, D, E, F and Overseas A and Overseas B are separate blocks. Featuring the best properties and amenities, all of its blocks are good. But today, we are here with the details of the top 5 blocks of Bahria Town Lahore (one block in each sector) where you can buy property confidently!
Best Blocks of Bahria Town Lahore
Sector B
It's one of the best developed and well-populated sectors of Bahria Town, consisting of several blocks. However, we find Shaheen Block as the perfect block for residence. Why?
Because it has easy access from the main boulevard after making an entrance from Canal Road. Shaheen Block has a good inhabitation ratio. Bahria Town hospital and school are lying close. Furthermore, Civic Commercials are within walking distance. Also, different grocery stores are in proximity.
Sector C
Popular as the central hub of Bahria Town Lahore, Sector C is a smartly designed beautiful sector. We find its Jasmine Block, an ideal block to live on. Why?
Because it is easily accessible from Talwaar Chowk, it has good and beneficial surroundings. Moreover, all the commercial facilities, including banks and international and local food chains. This block offers the best 10 Marla plots where the prices are starting from 1.35 crores. Also, you can buy 1 Kanal plot at the starting price of 2.30 crores.
Sector D
This entire sector features the best plots of 5 Marla also, a limited 10 Marla plots available. However, the perfect block where you can buy both of these plots is CC Block. Why?
Because it is easily accessible and very close to Rainbow Superstore, McDonald's, and other eateries, also, it is the only block with an operational mosque. Most importantly, it features the best price 5 Marla and 10 Marla residential plots.
Sector E
It is the second last sector, featuring the best blocks of Bahria Town Lahore. Undoubtedly, it has many blocks, which you can call ideal to reside and invest. However, we find Talha Block best. Why?
Its location is outstanding because it is a four-sided open block offering 10 Marla and 1 Kanal plot. At the same time, plots are of road level. The starting price of 10 Marla plots in Talha Block is 80 lacs. 1 Kanal plots prices are starting from 1.40 crores.
Sector F
It's the last, latest, but a well-developed sector of Bahria Town Lahore. Covering a large area and comprising several blocks, it also has a specific block, which you can consider ideal. It is Ghaznavi Block. Why?
Ghaznavi Block offers 5 Marla, 10 Marla, and 1 Kanal plots. This block is easily accessible from Azam Bhatti Avenue. Furthermore, it has Bahria Town School Boys Campus, a food court, and several commercial activities. Possession of plots is available while around 40 – 45 % of the area have construction. Moreover, the starting prices of 5 Marla plots are 42 lacs, 10 Marla plots prices are 70 lacs, while 1 Kanal will cost you around 1. 15 crores.
So, that's all about the top 5 Blocks of Bahria Town Lahore, where we suggest you buying and invest without waiting for anything else!
Contact us for further assistance.
Please contact Universal Property Network  For More Information click here or visit our youtube channel further assistance