Best Plots in Bahria Town Karachi – Highly Recommended
by UPN
August 26, 2021
0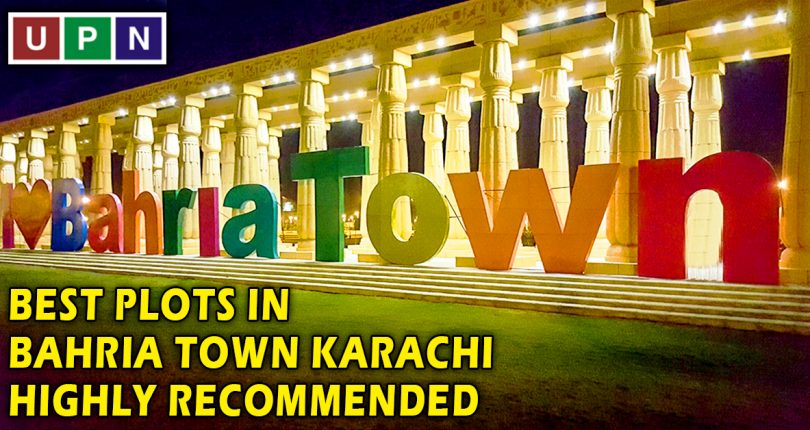 Bahria Town Karachi needs no introduction as this mega society has already earned so much fame. It's a society undoubtedly, the most popular development in Karachi, offering the best living and investment opportunities. Bahria Town Karachi is not just a housing project but a complete city within the city. Featuring so many attractions in it, there are several reasons to invest in Bahria Town. However, one of these top reasons for investment, we suggest buying because of the best plots in Bahria Town Karachi.
These best and perfect to buy plots are available in several precincts. But today, we will only discuss the precincts where the plots are on-ground, have easily accessible locations, and affordable prices. So, let's begin the discussion!
Best Plots in Bahria Town Karachi – 250 Sq Yards Plots
If you are searching for an affordable price 250 sq yards plots, we suggest investing in Precinct 22. It is one of the beautiful precincts of this mega project. Located at a quiet distance from the main gate, but still, it's a good option. So why should anyone ignore the distance? Because Bahria Town Pvt. Ltd has planned several other entrances of Bahria Town Karachi, which will develop soon.
Hopefully, one of these entrances will be close to Precinct 22. The development work of this precinct is almost complete. Bahria Town machinery is working day and night on its site while many of the parks are also developing.
Current prices of 250 sq yards plots in Precinct 22 are starting from 35 lacs to 50 lacs. Possession of the plots is available, while these are the best plots in Bahria Town Karachi for residence and investment.
Best Plots in Bahria Town Karachi – 125 Sq Yards
Bahria Town Karachi has many precincts which offer the best plots of 125 sq yards. These precincts are Precinct 12, Precinct 14, Precinct 15, Precinct 10 and Precinct 11. All these precincts are developed, but the prices of plots are also very high.
It would be nothing wrong that the prices of the plots in all of these precincts are at their peak. So, what should you do if you are looking for affordable 125 sq yards residential plots? Then, do consider buying in:
Precinct 23, Precinct 24, and Precinct 25
All these are good precincts where you can buy ready to construct plots at the best prices. These reasonable prices are making these options the best plots in Bahria Town Karachi.
Currently, the 125 sq yards plots in these precincts are available at the starting prices of 22 lacs and go high up to 35 lacs.
Once again, we strongly suggest buying in these best plots in Bahria Town Karachi for residential and investment purposes.
Contact us for further assistance.
Please contact Universal Property Network  For More Information click here or visit our youtube channel further assistance