Top 5 Residential Options in Bahria Town Karachi
by UPN
March 23, 2022
0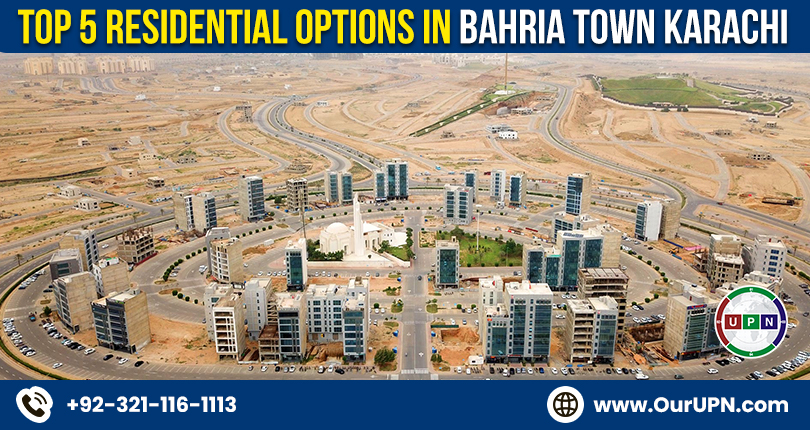 Bahria Town Karachi is a premium housing society that is ideally located in a beautiful and peaceful location. Thoughtfully Designed and amazingly developed, it's a modern project where all the world-class living amenities are available. Offering everyone a chance of suitable investment, this society holds importance for significant reasons. But the features that make it prominent among others are the availability of many options and affordability. Residence in Bahria Town Karachi is the heartiest desire of every Pakistani. At the same time, investment for capital growth also comes with many benefits.
Today in this latest blog, we will discuss the best residential options where you can confidently invest in 2022. Further details are:
Bahria Hills – Perfect Choice for Residence in Bahria Town Karachi
Located at a short distance from the main entrance of this society, Precinct 17 is one of the popular developments. Featuring 100% development and good construction, this place is ideal to invest in 500 sq yards plots. It also has a limited number of 1000 sq yards plots which you can also prefer for investment. The current prices of plots in Bahria Hills may seem high, but do remember, this figure will surely multiply by the next few years. Yes, the prices will continue to increase. Buying in these plots will benefit you more than your expectations.
Surrounding Area of Rafi Cricket Stadium
The largest cricket stadium of Pakistan, Rafi Cricket Stadium, catches everyone's attention. It's a mega-development project located at the prime location of Bahria Town Karachi. This stadium is no doubt an excellent place for sports lovers. At the same time, this place increases the worth of properties available in its surroundings. Yes, a large number of options in 250 sq yards plots and 500 sq yards plots are available in the proximity of Rafi Cricket Stadium. These plots are currently available at reasonable rates. But the prices will multiple to double and triple with the progressing development. Once this masterpiece gets operational, it will make investors full of profits. You can confidently choose any of the suitable options in its surroundings to meet have your residence in Bahria Town Karachi.
Investment in the Surroundings of Central Park Apartments
It's another good option to have a residence at the prime location of Bahria Town Karachi. Central Park Apartments are developing rapidly at the outstanding location and offering a large number of plots in the surroundings. These plots' current prices are suitable for residence and investment growth. However, if you prefer this place for construction, you will surely save a lot. Buying in the plots in proximity is equally beneficial for both buyers and investors.
Surroundings of Grand Jamia Mosque
If you are still in search of something extraordinary for residence in Bahria Town Karachi, then do invest in the following precincts:
Precinct 10A, Precinct 11A, Precinct 12 Ali Block, and Precinct 15
All these precincts are perfectly developed and feature good inhabitation. But still, some of the best investment options are available in it. These plots are ideal for residence as all the living amenities are already awaiting you there. Buying in these precincts is still beneficial to get a good ROI. The location of these precincts is amazing, near to Grand Jamia Mosque. Once this third largest mosque of Pakistan gets operational, you will surely earn huge profits. The residential plots options available in the proximity of Grand Jamia Mosque are 125 sq yards plots, 250 sq yards plots, and 500 sq yards plots. At the same time, you will find a range of options in apartments, flats, shops, and offices nearby. These options are also perfect to consider to meet your property needs.
Bahria Golf City
Here we bring you the details of another best option for residence at the prime location of Bahria Town Karachi. Bahria Golf City is the golf-facing residential community offering you the best 500 sq yards and 1000 sq yards plots. These plots are on-ground and available with possession. One can happily choose these plots for residence as all the living amenities are provided. But if your purpose of buying is an investment, you will surely find it suitable.
So, these are the top 5 residential options in Bahria Town Karachi. For further details, contact Universal Property Network!
Please Contact Universal Property Network  For More Information click here or visit our youtube channel further assistance