Villas on Installments in Islamabad – Gulberg Residencia
by UPN
March 5, 2022
0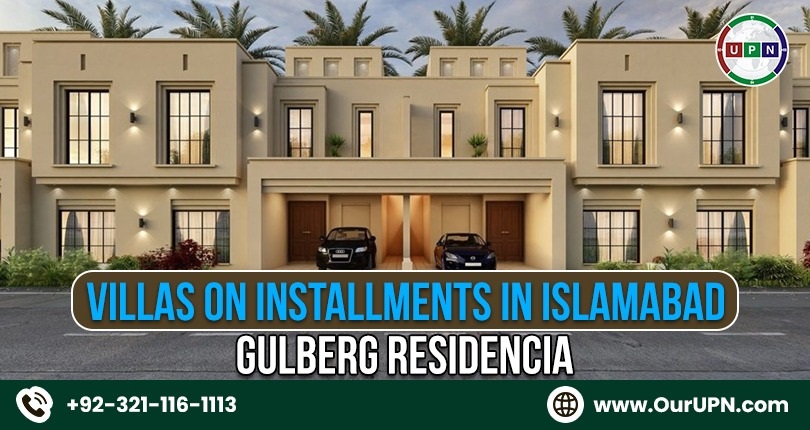 Do you want to live in Islamabad? Are you searching for a beautiful villa for sale in the capital city? But also desire to invest in the villas on installments in Islamabad? Then, don't worry, as UPN brings you a life-changing opportunity.
Now having a house in the beautiful location of Islamabad is no more a dream. We bring you the latest investment chance in several sizes of villas for sale. Located at the prime location of Gulberg Residencia, these houses on installments are crafted as per the requirements of modern buyers. But before stepping into the prices and payment plan, let's have an overview of Gulberg Residencia.
About Gulberg Residencia
Gulberg Residencia is one of the most beautiful and important housing projects in Islamabad. Located in the heart of the capital city, it's a thoughtfully planned modern housing venture. Comes under CDA, this project features state-of-the-art infrastructure, appealing amenities, and much more. Covering a large area of land, Gulberg Islamabad basically comprises three major projects, i.e., Gulberg Green Farmhouses, Gulberg Residencia, and Gulberg Commercial Hub.
This appealing Gulberg Residencia features several blocks to find a range of residential properties such as plots, houses, villas, and apartments. But almost all of these options are available on full cash. The prices of properties also vary as per the location. The development work of this project is also completed so far. Moreover, the inhabitation ratio is also impressive. All the living amenities are available there, which assure a comfortable and peaceful residence in Islamabad.
Villas on Installments in Islamabad
These luxury villas in Gulberg Residencia are launched to provide people an opportunity to get their houses on easy installments. Yes, a large number of buyers desire to get their houses by paying in installments because they cannot afford one-shot payments. So, what are you still waiting for? Have a look at the important details:
Sizes of Villas
Gulberg Residencia luxury villas are available in the sizes of:
5 Marla (Homes)
7 Marla (Villas)
10 Marla (Lodges)
Location of Villas
Gulberg Residencia villas on installments are located ideally. These villas are launched Executive Block, which already features good development and construction. The surroundings of these residential spaces are impressive as all the living facilities are present there. Access to commercial areas is easy. The ideal location of this project on the Main Expressway, Islamabad Zone 4, is enough to explain the beauty and charm of these villas. Gulberg Residencia location is ideally connected to twin cities, further boosting its value. Several significant developments like Telenor Headquarters and Imtiaz Superstore will soon be operational in the proximity.
Gulberg Residencia Villas Prices
The beautifully designed villas are launched at affordable rates. Moreover, the ease of 2.5 years payment plan is provided to facilitate investors with the best. Here are the prices:
Buying a home of 5 Marla will cost you 1.99 crores. Booking of the homes starts from 2,985,000/- only. Moreover, 7.5 % is the processing, and the same 7.5% is the confirmation fee. The remaining amount of the villa will be payable in 10 equal quarterly installments.
The luxury villas of 7 Marla are available at a total price of 2.75 crores. Booking of villas is possible with 4,125,000/- only. Moreover, you will pay a 15% amount as a processing and confirmation fee. The remaining amount of the villas will be payable in 10 equal quarterly installments of 1,925,000/- each.
The 10 Marla lodges can be purchased at the price of 3.50 crores. The booking of these lodges starts from 5,250,000/-. Moreover, the processing fee + confirmation fee is 15% of the total amount. The remaining amount of the lodges will be payable in 2.5 years of easy installments (2,450,000 each).
Size
Total Price
Booking

15%

Processing

7.5%

Confirmation

7.5%

2.5 Years

 (10 Quarterly Installments)

Homes 5 Marla
19,900,000
2,985,000
1,492,500
1,492,500
1,393,000
Villas 7 Marla
27,500,000
4,125,000
2,062,500
2,062,500
1,925,000
Lodges 10 Marla
35,000,000
5,250,000
2,625,000
2,625,000
2,450,000
Note: There is a limited number of villas available on a first-come-first-serve basis.
Investment in villas on installments in Islamabad is highly beneficial:
To meet your desires of a beautiful house in Islamabad by paying in easy installments
Grow your investment smartly
For high rental gains
So, what else can be good than choosing these luxury living spaces in Gulberg Residencia Islamabad? Contact Universal Property Network for further details and assistance!
Please contact Universal Property Network  For More Information click here or visit our youtube channel further assistance