Wedding Galleria – Jasmine Grand Mall Bahria Town Lahore
by UPN
April 26, 2021
0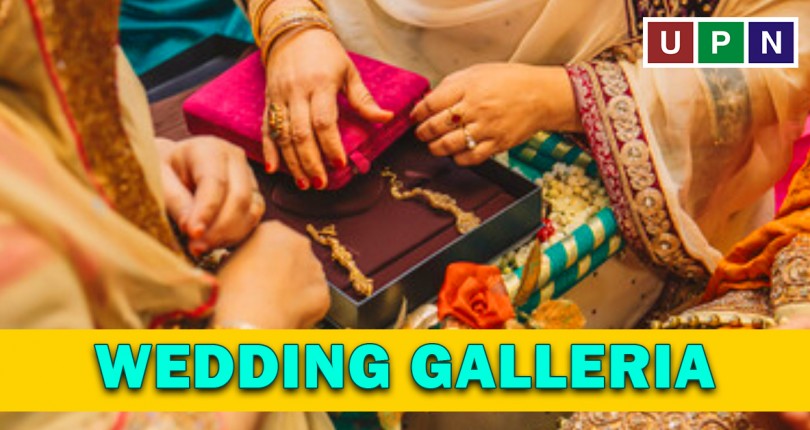 Wedding Galleria is a new project launched in Jasmine Grand Mall of Bahria Town Lahore. It's a first of its kind project in the area where you will find everything you need for an upcoming wedding event. Starting from the shops, jewellery, makeup, wedding and party dresses to event planner and DJ, Wedding Galleria is a one-stop solution to all your needs. Launched on the second floor of Jasmine Grand Mall, this project is a fabulous addition to the landscape of Bahria Town Lahore.
It's a new project designed on unique ideas. The one utmost reason to introduce Wedding Galleria in Bahria Town Lahore is that it provides people with a perfect place to shop easily and make their events memorable.
Wedding Galleria Bahria Town Lahore
The wedding industry of Pakistan is booming, and as a result, it has given birth to a whole new industry. For a wedding, a couple needs clothes, jewellery, make artist, event manager, a caterer, DJ, and many of the other things. Not only the wedding couple but anyone who has to attend a wedding needs several things, like party dresses, shoes, gifts, and other accessories.
Undoubtedly, there are several markets in Lahore where you can buy all these things. But not a single, one-roof market where all the wedding-related items and services available to you.
That's why Q-Links Developers has introduced this unique project in Bahria Town Lahore in their Jasmine Grand Mall.
Wedding Galleria is an iconic project where you will have easy access to all your wedding-related items and needs. The location for the project is outstanding and easily accessible. It is developing in one of the best-populated and state of the art area.
Moreover, Wedding Galleria is attractive in meeting the shopping needs and is also an excellent opportunity for investors.

Wedding Galleria and the Investors
Q-Links Developers are once again set to catch the attention and investment of investors by presenting this amazing Wedding Galleria in Bahria Town Lahore. It offers spacious shops of several sizes available on the second floor of Jasmine Grand Mall. These shops are ideal to invest in running a successful wedding-related business or services shop for investment growth and rental returns.
The shops for sale in Wedding Galleria Bahria Town Lahore are launched at reasonable rates. Additionally, Q-Links Developers has introduced a flexible payment plan for the ease of their investors.
So, let's know about the sizes and prices at Wedding Galleria.
Wedding Galleria – Shops Sizes, Prices, and Payment Plan
The shops for sale at Wedding Galleria are the best to choose from. These shops are available in several sizes so that one can easily choose as per his requirements. The smallest size shop available on the second floor of Jasmine Grand Mall is 105 sq ft. On the other hand, the biggest size of shop in this project is 240 sq ft.
The sizes of the shops in the Wedding Galleria are ranging between 105 sq ft to 240 sq ft. Both the standard and category shops are available.
As mentioned earlier, the prices for the shops at Wedding Galleria are kept reasonable. The starting prices of shops are 31.50 lacs, and it goes up to 95 lacs. The shop's prices are different as per sizes and location. However, the booking of the shops is starting with a 30% down payment. The remaining amount of the shops will be payable in 36 monthly installments. Also, 20% of the total will be payable at the time of possession.
Check the payment plan below: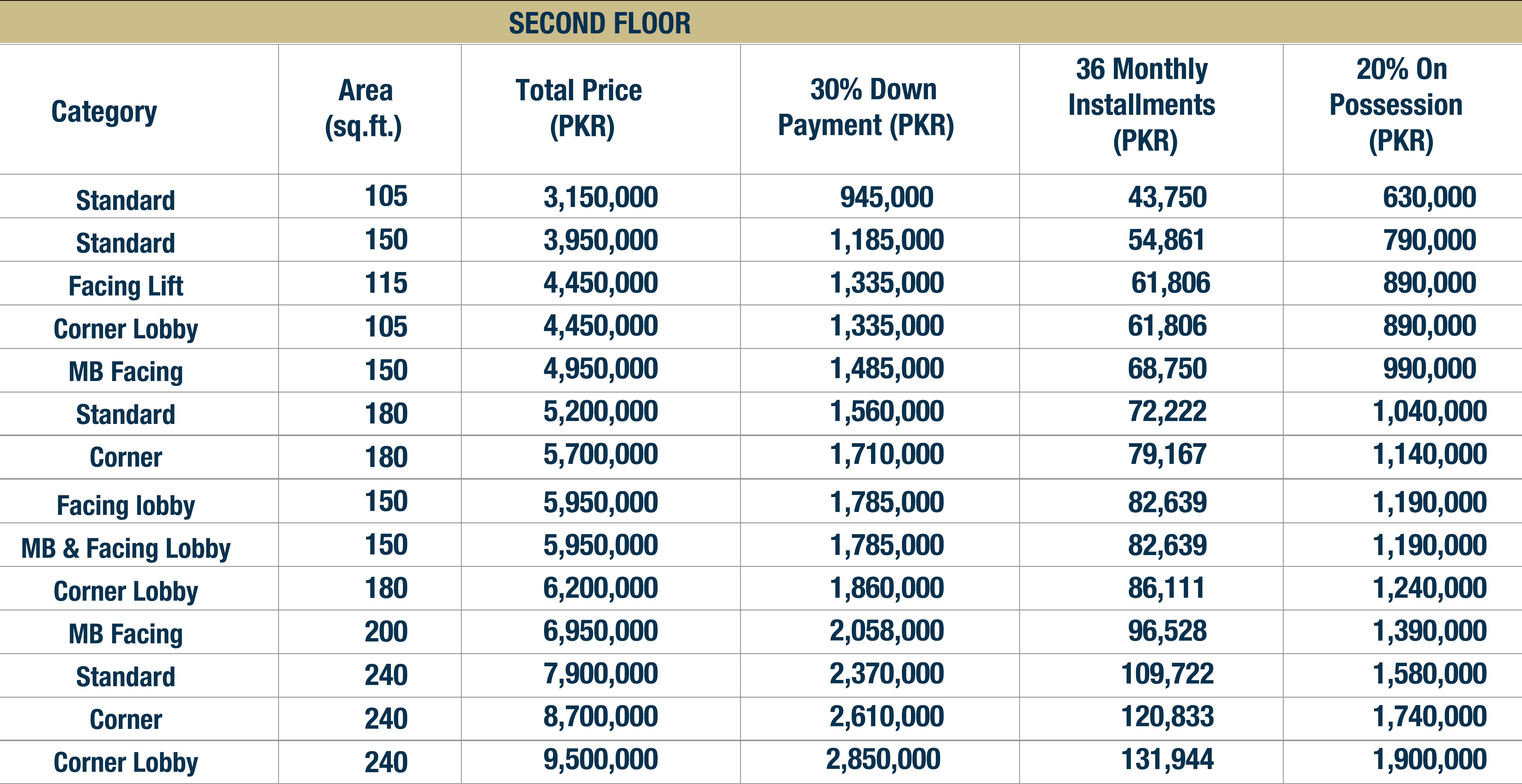 The payment plan of shops at Wedding Galleria spans over 3 years which is simply amazing.  Also, This option to pay in easy installments is indeed adding more ease in investing.
Jasmine Grand Mall – An Overview
Jasmine Grand Mall is the biggest shopping mall in the history of Bahria Town Lahore. Launched a couple of years ago, it is a project with bundles of investment and business opportunities. Spanning over 20 Kanal of land, it's a major development in the new commercial hub of Bahria Town. Designed with a basement + six floors, this mall is a wonderful example of thoughtful planning.
It features:
Aslam Super Market on the basement
Brands shops on the ground and first floor
Wedding Galleria on the second floor
Again, brands outlets on the third floor
The fourth and fifth floors are designed with the iconic IT Hub
There is a food court, as well as kids play area on the sixth floor
The location of Jasmine Grand Mall is significant. It is located in the new hub of Bahria Town Lahore in Sector E. The actual location of this project is opposite Eiffel Tower Bahria Town Lahore.
Developing at the fastest pace, Jasmine Grand Mall will soon become a ready visit, a luxurious shopping place in Bahria Town Lahore.
In addition to these Wedding Galleria shops, there are many other investment opportunities in Jasmine Grand Mall. Anyone can invest in the basement to earn an impressive percentage of rental yield. Can buy shops on the first and third floor to open his brand shop or for investment growth. Similarly, there are limited numbers of shops available in the IT Hub where investment is highly beneficial.
Wedding Galleria and the Facilities in Bahria Town Lahore
Bahria Town is a place that always remains on the top in facilities. This society has no comparison with others. It's only a luxurious and fully facilitated community where everything is available.
It features parks, schools, mosques, restaurants, brands outlets, best security and maintenance, have electricity backup and many more facilities. Even this society has advanced these facilities with time. It would be wrong to say that Bahria Town Lahore is a trendsetter in offering luxurious facilities to its residents.
The development of this Wedding Galleria in Bahria Town Lahore will be a fabulous and joyful addition to this society. It will facilitate its residents as well as the people of the other societies.
Wedding Galleria and the Q-Links Developers
Q-Links Developers is a well-known name for Lahore's real estate. Above in this blog, we have discussed and appreciated the facilities provided in Bahria Town Lahore. So, here it is important to mention that Q-Links Developers are also playing a vital role in providing the best facilities to Bahria Town residents.
First, they delivered the luxurious Jasmine Mall in Sector C, a commercial hub in Bahria Town Lahore. Now they are working on the biggest Jasmine Grand Mall. Recently, they had introduced the IT Hub it which is the first technology market in Bahria Town Lahore.
Now they are moving a step forward with their Wedding Galleria that will become the only spot with A-to-Z shopping of wedding items.
Also, they are working on another unique project, The Gold Souq, which is the first gold and jewellery market in Bahria Town Lahore.
Here we can conclude that in the past few years, Q-Links Developers has grown so well. They had launched several projects in Lahore and hopefully will launch more in the upcoming years.
Investment in Wedding Galleria Jasmine Grand Mall
The shops for sale in the Wedding Galleria of Jasmine Grand Mall is providing a life-changing investment opportunity.  These shops are ideal for running a successful business, growing your investment, and earning desired rental income. Wedding Galleria Bahria Town Lahore is an opportunity to make a secure and profitable investment in Jasmine Grand Mall.
Shops are available at affordable rates along with a convenient payment plan. Moreover, this flexibility of the payment plan is making it a perfect project for buyers and investors.
So, if you are also one of those investors who had been waiting so long for a golden investment opportunity can confidently choose this one! We can surely say that you will find it 100% profitable. Contact us for further details.
Please contact Universal Property Network  For More Information click here or visit our youtube channel further assistance