West Marina Balloting Date Announced – Breaking News
by UPN
December 8, 2021
0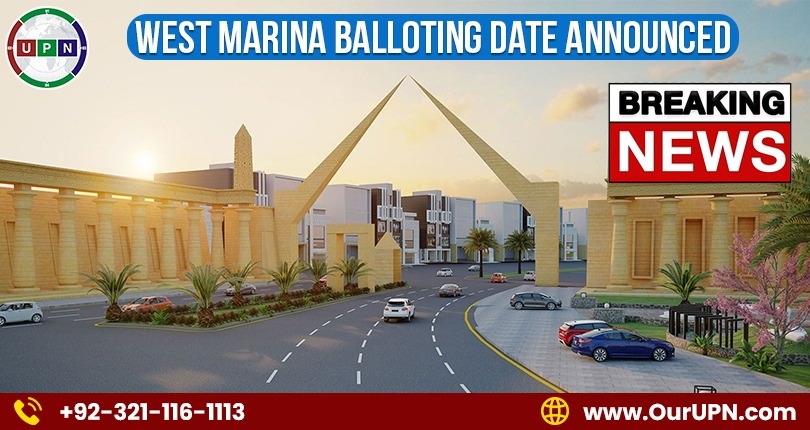 We UPN update you with the most-awaited event of the year, that is West Marina Balloting. Yes, the wait is over, and the time has come; the West Marina balloting date is announced. Congratulations to all the file holders as soon these files will shape into plots. The location ballot of the plot is taking in the next few months.
West Marina is one of the most significant developments in Al-Noor Orchard Lahore. Undoubtedly, the whole society is planned per the latest and advanced trends, but West Marina Block is still more attractive. Launched a year ago, this block has collected huge success. People from all around the country and Overseas Pakistanis have also invested their capital in it.  Designed perfectly, this block offers the best residential plots.
West Marina Balloting Date
The balloting date of West Marina plots is the last week of March 2022. Al-Jalil Developers has officially disclosed this news, so; there is no doubt left behind. Balloting of plots will be computerized. A crystal-clear process of balloting, once complete, successful plot holders will be getting the location of their plots.
This prominent block features several sizes of residential plots. Although the booking of plots is closed. The last date of booking plots in West Marina Block was the 14th of August.
But still, anyone can buy his desired plot by paying some profit amount. Moreover, the balloting date of plots is announced, which means prices will surely increase in the coming days. So, this is the last chance to buy reasonable price plots in Al-Noor Orchard West Marina Lahore.
West Marina Plots for Sale
The plots available in West Marina Al-Noor Orchard Lahore are:
3 Marla Residential Plots
5 Marla Residential Plots
10.11 Marla Residential Plots
1 Kanal Residential Plots
The complete prices and payment details of these plots are:
| | | | | | | |
| --- | --- | --- | --- | --- | --- | --- |
| Plot Size | Total Price | Booking Amount | Balloting within 1 Year | Possession within 2.5 Years | Half Yearly Installments (09) | Monthly Installments (50) |
| 3 Marla | 1,750,000 | 200,000 | 150,000 | 210,000 | 60,000 | 12,000 |
| 5 Marla | 2,650,000 | 300,000 | 250,000 | 300,000 | 100,000 | 17,000 |
| 10.11 Marla | 4,500,000 | 500,000 | 400,000 | 650,000 | 150,000 | 30,000 |
| 1 Kanal | 7,500,000 | 800,000 | 700,000 | 800,000 | 280,000 | 50,000 |
West Marina balloting is announced, so the balloting amount mentioned in the table will be payable as per the plot sizes.
Surbana Jurong and West Marina Al-Noor Orchard Lahore
Another big news is that West Marina signed an MOU with Surbana Jurong for the state-of-the-art map planning. So the master plan of this block to the map, everything is now handed over to Surbana Jurong, a Singapore-based world-renowned and leading infrastructural firm having immense experience of over 70 years in developing hugely successful development projects around the globe.
Surbana Jurong will now look and complete all the master planning and infrastructural designing of West Marina Al-Noor Orchard Lahore.
This firm is already working on two popular projects Capital Smart City and Lahore Smart City Pakistan. Now, these joining hands between West Marina and Surbana Jurong will surely increase the worth, charm, and value of this entire Al-Noor Orchard Lahore.
Conclusion
Once again, we congratulate the investors who will be a part of West Marina balloting. It's a big announcement that will undoubtedly impact positively on all the properties in Al-Noor Orchard Lahore.
Please contact Universal Property Network For More Information click here or visit our youtube channel further assistance