Investment in 2022 – What are the Best Options?
by UPN
December 30, 2021
0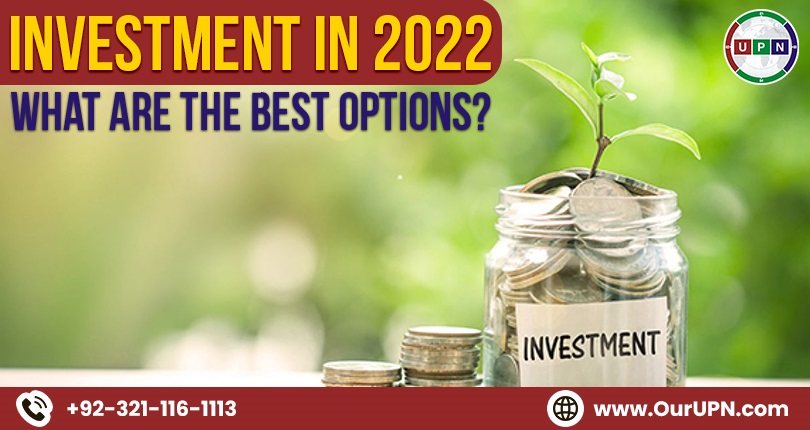 And another year, 2021, has come to an end. Our country looked both different from the year ago and very much similar. As we enter 2022, there are new goals, and new plans are with us. Many of these new plans include investment in 2022. Whenever we come across the word "investment", the first thing which hits our mind is "where to invest?" So if you are also one of those real estate investors planning to invest in this new year in the best properties to fulfil your property needs in Lahore, then please keep on reading.
Investment in 2022
This latest blog post is specially created for buyers and investors searching for the most suitable investment options in Lahore in 2022. So, without any delay, let's begin the discussion together.
DHA Lahore
Initiated in 1976, DHA Lahore is one of the most beautiful and secure housing societies in Lahore. Located at the prime location, this society comprises a total of 13 phases and several extensions. DHA Lahore is a state-of-the-art residential project with top-notch amenities. The planning of this project to the security, easy access and attractions, everything is heart-winning. Most importantly, it has unmatchable security; no one can take over your property/plot. The development work of DHA Lahore different phases is complete. However, the best investment in 2022 can be chosen in DHA Phase 9, DHA Phase 9 Prism, DHA Phase 10 and DHA Phase 13 Lahore. These properties for sale in them are affordable, and the investment potential is high. Both the best residential and commercial properties are available for sale.
Bahria Town Lahore
Launched in 1997, Bahria Town Lahore is an impressively planned, beautiful housing venture in Lahore. Covering a large area on Main Canal Road Lahore, this society comprises several sectors. All these sectors are further divided into blocks where the best living and investment in 2022 opportunities are available. Starting from the infrastructure, modern developments, ideal location, basic amenities to the world-class facilities, everything makes this project an excellent option. Bahria Town Lahore properties for sale are also wide in the range. This society provides the best chances of investment in plots, apartments, offices, and shops. Even most of these options are available on easy installments. This Bahria Town in Lahore is the perfect place for peaceful residence and investment growth. Many of the top private builders are developing their projects in Bahria Town Lahore. This society is undoubtedly, a right choice for property investment in Lahore.
Park View City Lahore
Ideally located, Park View City Lahore was launched in 2012. This society is now a well-developed housing society with many plots and similar other options. Park View City is a project by the well-known Vision Group owned by Aleem Khan Sb. It has many blocks; however, the latest investment opportunities await you in Golf Estate Block. It's a new block, launched a few months ago. Currently offering plots of 5 Marla and 10 Marla on easy installments, this society is an ideal option. Park View City Lahore is another place full of amenities and attractions. Living there will be full of facilities and investment will have lots of benefits. Some of the other options are available in the form of houses for sale and plots on cash. All the living amenities in Park View City Lahore and the nearby surroundings adds more charm to it. People with low budgets and desires to invest in the best residential venture, can confidently choose this for investment in 2022.
Al-Noor Orchard Lahore
Located perfectly on Main Sharaqpur Road Lahore, Al-Noor Orchard is an impressive development in the Lahore – West. Al-Noor Orchard Lahore is a project by Al-Jalil Developers, the name behind the popular Al-Jalil Gardens. This beautiful housing society comprises several blocks such as A Block, B Block, C Block, D Block, West Marina Block, and West Marina Executive Block. These first three blocks have possession while the remaining are developing rapidly. All of its blocks are good to consider; however, West Marina and West Marina Executive Block holds significant importance. West Marina Block is designed with heart-winning features such as Artificial Lake, Pakistan's Biggest Dancing Fountain and so on. Properties for sale in this appealing block are the best for investment in 2022. These properties also come with flexible payment plans, making them an ideal choice for buyers and investors.
Lahore Smart City
Another excellent option to go with is Lahore Smart City. It is the first smart city project in Punjab while the second in Pakistan. Launched a year ago, it is an ideally located housing society in Lahore. It's a project by Habib Rafiq Pvt Ltd. and FDH. Surbana Jurong designs Lahore Smart City master plan. The development work in this appealing society is going on smoothly. Hopefully, plots' possession will be handed over in the first few months of 2022. Therefore, people planning for investment in 2022 can confidently choose this project as it offers low-cost, high-profit investment in Lahore.
Lahore Smart City is not just a housing society but a complete city within the city. It has some amazing features and attractions such as Silicon Valley, Food and Teach, Pink Ribbon Hospital and much more.
The plots for sale in this marvellous housing project are affordable, while the easy installments options are available.
Conclusion:
All these above-discussed projects are excellent for investment in 2022. These housing societies are owned by well-reputed developers. These projects infrastructure adds beauty to the whole masterplans. Moreover, the properties designed are suitable for every investor. Therefore, people looking for the best options for a living can choose the most suitable options from DHA to Lahore Smart City. Also, these are the trending housing societies with highly profitable investment opportunities.
So, do consider buying in these projects for secure and beneficial investment in the real estate sector.
Contact Universal Property Network for further details of these projects, prices and payment plans. We are here to serve you 24/7 with the best property deals you are searching for!
Please contact Universal Property Network For More Information click here or visit our youtube channel further assistance