When Bahria Town Lahore Sector G is Launching?
by UPN
January 18, 2022
0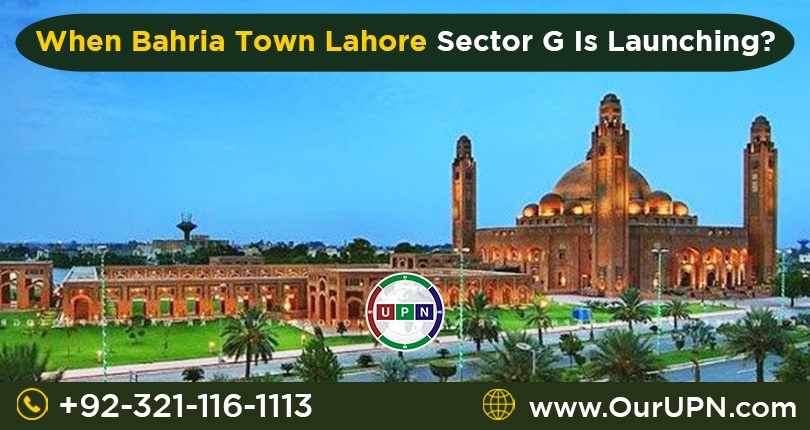 Bahria Town Lahore Sector G is one of the most -awaited property deals of the year. It is announced in the first two weeks of January 2022. As the news comes into the market, both the investors and buyers get excited to invest in this appealing project. Undoubtedly, once launched, it will be the biggest launch of the year as Bahria Town has not launched a sector for the past many years.
Designed ideally, this sector will span over a large land area. Features all the latest, even advanced features and facilities; Sector G will be a fabulous addition to the landscape of Lahore. Further details of this sector are:
Bahria Town Lahore Sector G Launch Date
The launch of Sector G was expected in the last week of January 2022. But, unfortunately, it got delayed by Bahria Town Private Limited. Here one thing essential to mention is that the launch of Sector G is delayed, not cancelled, as many of the clients are confused. So, why Bahria Town Sector G Launch is Delayed?
Because the announcement of this new deal has slowed down the market. This new deal/new sector is very attractive, but Bahria Town management has also launched several new plots deals in:
Bahria Orchard Phase 1, Phase 2, and Phase 4
Bahria Town Lahore
Investors after the news of Sector G has reserved their investments. As everyone wants to invest in this new sector, many of these property deals will get neglected.
Another important factor in delaying the launch of Sector G is the fraud of some dealers. Not UPN, but many of the dealers in the market has started taking tokens for Bahria Town Lahore Sector G bookings.  
Bahria Town management has already acquired a large land area for the development of Sector G. However, the other land purchase, payments, and paperwork is under process.
Expected Date of Sector G Bahria Town Lahore
The new date of this new sector's is not revealed. Maybe this sector will launch after a few months or maybe at the end of 2022. Although, Sector G will be a great surprise for everyone.
Important Details of Bahria Town Lahore Sector G
This upcoming sector of Bahria Town Lahore will have much more to offer. It will be a fully-facilitated development where both buyers and investors will get a chance of safe and profitable investment.
Affordable Rates and Installments Option
Currently, the last sector of Bahria Town is Sector F., But once this new Sector G is launched, it will be the most affordable option with reasonable properties. Another major attraction is the availability on easy installments. As per the market updates, Bahria Town management will launch several sizes of residential and commercial plots with a convenient payment plan of 1.5 – 2 years. Booking will begin with a 25-30% down payment and remain in monthly and quarterly installments.
Prime Location and Easy Access
The entire Bahria Town is beautifully planned and located ideally. All of its sectors have impressive locations that no one remains in the dark. However, this Sector G has changed the whole game in terms of location. It is located perfectly adjacent to Sector F, starting right next to Tipu Sultan Block.
Moreover, Sector G will have two main entrances, one after Sector F accessible from Canal Road. The other entrance is planned on Jati Umrah Road Lahore. This sector will provide an easy passage between Bahria Orchard Lahore and Bahria Town Lahore as Sector G main gate will be opposite Gate no 6 of LCO Phase 2.
Investment in Sector G Bahria Town Lahore
Bahria Town Lahore Sector G provides everyone with a chance of life-changing investment in several sizes and categories of properties. The availability of Bahria Tow's properties on easy installment is nothing less than a dream. So, why not make this dream come true when you have the opportunity? Buying in all the properties of Bahria Town is profitable. But this Sector G takes the investment to the next level.
Note: Please remain safe from the fraudulent realtors offering investment in Sector G before its launch.
For further details and information, contact Universal Property Network. We are here to serve you that you deserve!
Please contact Universal Property Network For More Information click here or visit our youtube channel further assistance