Profitable Investment in 2022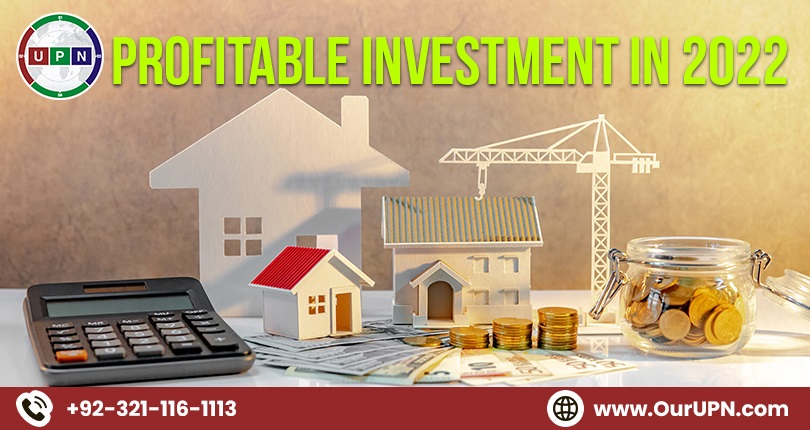 Real estate investment is always beneficial. Many investors consider it for their capital growth while others to meet their residential needs. The real estate sector of Pakistan is full of options and opportunities. It offers some of the best properties in almost all the cities. But investors usually prefer buying in Lahore, Karachi, and Islamabad as these are major cities of our country. Many commercial and residential projects are developed in them, offering the best properties for sale. Still, the biggest question we receive from investors is, "which is the profitable investment in 2022?".
If you are also planning to invest in the best property in 2022 and looking for the answer to the same question, please keep on reading! In this latest blog post, we will discuss some of the ideal options in the real estate of Lahore, Islamabad, and Karachi. So, let's explore the details below:
Profitable Investment in 2022 in Lahore
Bahria Orchard Lahore New Deals
This beautiful society Bahria Orchard Lahore comprises four phases. All these phases have the best properties in residential and commercial categories. However, several new open form deals are launched in this society, providing the best chance to investors. Learn more:
Eastern Extension Block New Deal
A new open form deal of 5 Marla plots is launched in Eastern Extension Block Bahria Orchard Phase 1. Launched at the prime location at attractive prices, these are the best plots to invest in. This block is perfectly developed and features a good ratio of construction. Moreover, these 5 Marla plots are available at the prices of 47 lacs to 49 lacs.
These plots can be purchased in full cash only.
Bahria Orchard K Block New Deal
Another good investment is possible in K Block of Bahria Orchard Phase 2. It features a new open form deal of 5 Marla plots. Basically, this block is a part of LCO Phase 2, the extension of Phase 2. Located ideally, K Block Extension is easily accessible from multiple routes. These 5 Marla plots are currently available at the price of 42 lacs to 45 lacs. All these plots are available with a flexible payment plan of 3 – 6 months. Possession will be available soon.
H Block New Deal
H Block Extension is another appealing option to buy 5 Marla affordable residential plots. Featuring good construction, plots are available in both general and category. It's another open form plots deal with no hidden charges.  Plots prices in this H Block Extension starts from 37 lacs to 39 lacs. The location of this block is easily accessible from Raiwind Road and Sundar Road Lahore. These 5 Marla can be the most profitable investment in 2022 as the prices will surely increase.
J Block Extension New Deal
If you are still looking for something attractive and reasonable, choose J Block Extension. This beautiful block is located in Bahria Orchard Phase 2. The prices of plots are low, but the location of this new deal is prime. The launching prices of 5 Marla plots J Block Extension are 37 lacs to 40 lacs.
All these new deals of plots are ideal to consider investment in Bahria Orchard Lahore.
Marina Sports City
Launched recently, it's a new block in Al-Noor Orchard Lahore. It offers the low-cost plots of 3 Marla, 5 Marla, 10 Marla and 1 Kanal. The location of this block is close to West Marina Block. It is first of its kind project in Lahore offering advanced sports and health facilities. Marina Sports City is one of the best options for profitable investment in 2022. It offers plots with 5 years flexible payment plan. Booking of plots starts with 1.50 lacs only.
Furthermore, the returns on investment are high. You will surely enjoy your investment in Marina Sports City. It's a long-term but highly beneficial investment of 2022.
Bahria Town Lahore Sector G
Another top, even the most profitable investment option in 2022, is Sector G Bahria Town Lahore. Announced recently, this new sector is launching soon. Located adjacent to Sector F, this sector will also have main access from Jati Umrah Road Lahore. Designed perfectly with several sizes of residential and commercial plots, these new blocks in Sector G will surely provide you with good returns. Somehow, its launch has time but once launched, it will be the most significant investment of this year.
Profitable Investment in 2022 in Islamabad
The capital city of Pakistan, Islamabad, is full of options when it comes to investing in residential and commercial properties. But people always desire to buy low-budget properties at reasonable prices. So, we bring you the latest opportunities available in the best projects such as:
Kingdom Valley Islamabad
It is one of the latest housing societies in Islamabad, offering low-budget properties. It is located ideally close to Chakri Interchange. Enjoys the proximity to Qurtaba City, it comes under Naya Pakistan Housing Scheme and a project by Gulam Hussain Shahid. Kingdom Valley Islamabad offers the following properties for sale in Islamabad:
Residential Plots
5 Marla (125 square yards)
10 Marla (250 square yards)
1 Kanal (500 square yards)
2 Kanal (1000 square yards)
Commercial Plots
2 Marla
4 Marla
8 Marla
Farmhouses Land
2 Kanal
4 Kanal
8 Kanal
Villas
3.5 Marla Single Storey
3.5 Marla Double Storey
5 Marla Villas
The prices of plots start from 9.75 lacs only. On the other hand, booking starts with 1.17 lacs and remaining will be payable in 4 years easy installments.
Nova City Islamabad
It is another appealing option for investment in the capital city. Launched recently, this society is located ideally close to Rawalpindi Ring Road and CPEC Route. Having a valid NOC, this project offers reasonable prices for properties for sale. The plots in NOVA City Islamabad are low-cost while available with flexible payment plans. The sizes of plots in this society are:
5 Marla
10 Marla
1 Kanal
Recently a new deal of 8 Marla and 14 Marla residential plots was launched. Booking of the plot starts with 8 lacs and remains in 40 monthly installments. Therefore, Nova City is undoubtedly a profitable investment in 2022.
Seven Wonders City Islamabad
Seven Wonders City Islamabad is a new housing society launching soon. It features appealing attractions, essential for beneficial investment in Islamabad. 7 Wonders is a project by GFS Builders offering the lowest prices plots with flexible payment plans. It is located close to Islamabad Airport on CPEC Route. The sizes and the details of the price of plots in 7 Wonders City Islamabad are:
5 Marla Plots Prices
Total Price: 1,650,000
Down Payment: 165,000
Confirmation: 82,500
Monthly Installments: 462,000 (11,550 x 40)
Half Yearly Installments: 693,000 (86,625 x 8)
Possession: 247,500.
7 Marla Plots Prices
Total Price: 2,310,000
Down Payment: 231,000
Confirmation: 115,000
Monthly Installments: 646,800 (16,170 x 40)
Half Yearly Installments: 970,200 (121,275 x 8)
Possession: 346,500
10 Marla Plots Prices
Total Price: 3,300,000
Down Payment: 330,000
Confirmation: 165,000
Monthly Installments: 924,000 (23,100 x 40)
Half Yearly Installments: 1,386,000/- (173,250 x 8)
Possession: 495,000
Profitable Investment in 2022 in Karachi
When it comes to investing in Karachi, nothing can be better than Bahria Town Karachi. This mega venture is a complete city within the city. It features several categories of properties which perfectly meet the needs of investors and buyers of this modern age. Covering a large land area, Bahria Town Karachi features unmatchable attractions and amenities. Comprising several precincts, this society has all the best properties in both residential and commercial categories.
Bahria Town Karachi is offering:
Residential Plots
Commercial Plots
Farmhouses Land
Houses for Sale
Villas for Sale
Apartments in Different Sizes
Shops for Sale
Offices in Different Sizes
Commercial Plaza
Mix-used Ventures
However, recently a new deal of Bahria Greens 75 sq yards plots were launched. It offers reasonable price residential plots at attractive prices. The launching price of the plots is 22 lacs. Moreover, booking starts with 11 lacs. The remaining amount will be payable in the next couple of months.
Precinct 61, Precinct 62, and Precinct 63
These are the best precincts of Bahria Town Karachi, offering low-cost plots for sale. Precinct 61, Precinct 62, and Precinct 63 provide people with budget-friendly investment chances. Plots available in the sizes of:
125 Sq Yards
250 Sq Yards
500 Sq Yards
The prices of plots start from 16 lacs only. However, rates are different as per the sizes and location.
Conclusion
The properties for sale in Lahore discussed above are low-cost and provide everyone with a chance of safe and profitable investment. People searching for something highly beneficial can invest in Marina Sports City or can wait for Bahria Town Sector G to launch.
On the other hand, the properties for sale in Kingdom Valley Islamabad are simply heart-winning. Moreover, their prices are low and can be purchased with flexible payment plans. The other options are also suitable for budget-friendly investment in Islamabad.
Moreover, Bahria Town Karachi needs no introduction. This society is on top in the real estate of Karachi. It offers a wide range of options that's why buyers and investors find it's the best in all the terms.
While summing up all these details, all these options and investment opportunities are good. But choosing one on another is completely depends on you.
For further details and assistance, please get in touch with us!
Please contact Universal Property Network For More Information click here or visit our youtube channel further assistance