Zameen Expo 2018 Lahore – Exclusive Property Discounts & Deals
by UPN
February 9, 2018
0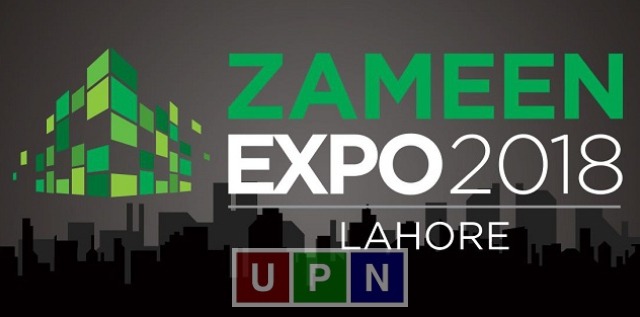 Zameen Expo 2018 Lahore will be conducted by Zameen Media Private Limited at Lahore Expo Center on February 10 and February 11, 2018. Realtors, developers and Property consultants from entire country will be attending this event. Considered to be Pakistan's biggest property expo, Zameen Expo 2018 Lahore will give visitors a golden chance to enjoy unbelievable discounts on property rates in housing projects from all around Pakistan.
Zameen Expo 2018 Lahore – Discount Offers
According to Zameen Media Private Limited, participating projects and property consultants of Zameen Expo 2018 Lahore will be offering a large range of discount offers. Here are the details of discounts that can be availed from this Property Expo:
Bin Alam City – Lahore: Lucky Draw to choose 5 winners who can buy a plot without paying any down payment
Imperial Mall – Lahore: 5% discount on booking of shops in Imperial Mall Lahore
New Murree Township – 25% discount on booking of 5 Marla Homes and 10% discount on 5 Marla plots
Green Oaks & Murree Oaks – 5% discount on all plots booked in this Murree based project
Lahore Fortress Apartment Homes – Rs. 200,000 discount on smaller units and Rs. 400,000 discount on bigger units
Gwadar Central – 10% discount on all bookings and purchases
Madina Mall & Residency – 10% discount on booking amount
Paragon City Private Limited – Rs. 50,000 discount on all properties in Paragon City, Lahore
Blue Group Company – 10% discount on Blue World City, Islamabad and 5% discount on Blue Town Sapphire Lahore
6th Sense Group – 10% discount on shops of Madison Square Garden- Kasuri Road, Lahore and Family Farms on Barki Road, Lahore.
SA Gardens Lahore – Rs. 50,000 discount on per Marla basis
Master City Gujranwala – 2% discount on Master City units
Zameen Expo 2018 Lahore – Major Attractions
Zameen Expo 2018 Lahore is a must attend event for families, buyers and investors who are interested to know property trends, plots prices and real estate market. Representatives and sales staff from all the major residential projects will be attending Zameen Expo 2018 Lahore. So it will be an ideal opportunity for buyers who want to explore projects outside from Lahore as well where prices are relatively lower.
Investors who want to make profit from magnificent and well-rewarding Gwadar plots prices, Zameen Expo 2018 Lahore is an awesome platform. Several housing schemes from Gwadar will be showcasing at the Lahore Expo Center in next 2 days. So you don't have to travel to the coastal city in Balochistan as Zameen Expo will bring the city to you.
Plenty of family friendly activities will also be part of Zameen Expo 2018 Lahore. So make sure that you attend the event for a quality time and to buy some profitable properties as well.
For further updates regarding real estate sector or if you need timely news about real estate project, sign up for our free newsletter.