1 Kanal Residential Plots in Bahria Orchard Lahore For House Construction
by UPN
September 18, 2020
0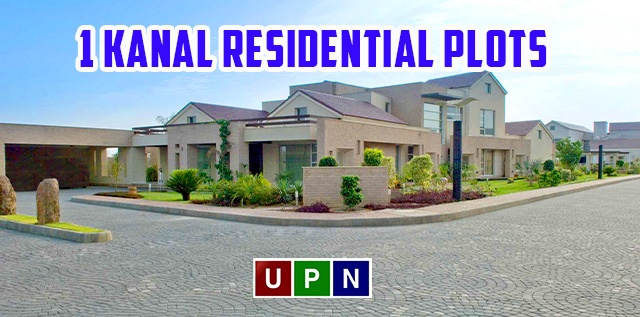 Bahria Orchard Lahore Phase 1 is known to be the best option to buy 1 Kanal residential plot for house construction. Phase 1 is the first phase of Bahria Orchard Lahore, where all the infrastructural development is completed so far. It offers all the high-standard living opportunities with affordability. All those who want to buy the most attractive plots of various categories but within their budget should have to visit Bahria Orchard Lahore Phase 1. All the categories available at good to invest; however, those searching for the ideal plots of 1 Kanal to build their dream house can confidently choose between the options available. Let's discuss the details of 1 Kanal plots for sale in Bahria Orchard Lahore Phase 1 below:
1 Kanal Plots for Sale in Bahria Orchard Lahore Phase 1
Phase 1 of Bahria Orchard Lahore is approved by the Lahore Development Authority, making the available properties completely legal. Limited numbers of 1 Kanal plots are available in the following blocks:
Eastern Block
Central Block
Southern Block
Northern Block
All these blocks are featuring some of the best plots for sale in 1 Kanal residential category.
The starting price of these plots is 1.15 crores to 1.30 crores.
Among all these blocks, Central Block is the most populated one. It is designed with all the best facilities, like school, hospital, mosque, etc. Moreover, the best commercials are lies close to the Northern Block. The remaining two blocks, such as Eastern and Southern Blocks, are well-developed and good to choose for house construction.
1 Kanal Plots in Bahria Orchard Phase 4
This category of plots is easily available in the different blocks of Phase 4. Development complete; however, the inhabitation ratio and facilities' availability are not comparable with Phase 1. Bahria Orchard Lahore Phase 4 was launched in 2017, but now it is a properly developed housing society where properties are available with possession.
Beautiful parks and large size gardens such as Rose Garden and malls like Orchard Mall are developing there. Additionally, after the launch of various constructed homes and villas deals, Phase 4 has become the center of attention for the investors. So, the value and demand of 1 Kanal plots are also increased.
Where to Buy 1 Kanal Residential Plot in Phase 1 or Phase 4?
Buying 1 Kanal plots is suggested in both the phases of Bahria Orchard Lahore. However, those looking to build their house at a place where all the facilities are available and have the population can choose Phase 1. On the other hand, investors can buy 1 Kanal plots in Phase 4 for investment purposes and build their house after 2 to 3 years.
Contact Universal Property Network for further assistance.
Check out our site for more detail. Latest News