1000 Sq. Yards Plots in Bahria Sports City – Latest Updates & Details by UPN
by UPN
January 10, 2019
0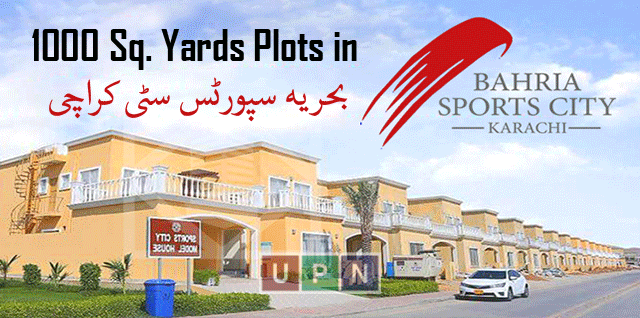 Bahria Sports City is the largest subproject of Bahria Town Karachi that is catching the attention of investors to invest in it for the mind-blowing attractions and top amenities available in it. The development of Bahria Sports City is moving at the fastest speed. It is a delightful example of brilliant architecture as the different categories of residential plots are available in it. For those looking to buy 1000 sq. yards plots in it to meet the desires for peaceful and comfortable residency in future, Precinct 38 & 39 are providing them with an ideal opportunity in it.
Bahria Sports City – Location Overview
Bahria Sports City is located at the ideal and prime location of Bahria Town Karachi. Rafi Cricket Stadium is among one of its nearest attractions. Today we are sharing with you the latest updates and details of 1000 sq. yards plots in Precinct 38 & Precinct 39 that are also located close to Rafi Cricket Stadium and Eiffel Tower.
1000 sq. yards Plots – Latest Prices & Details
The plots cuttings of 1000 sq. yards are available in this Precinct 38 and Precinct 39. For those looking to buy the bigger-size plots in Bahria Town Karachi can easily avail the chance to invest in them.
Not just for residence but these plots are ideal to make the investment in them to earn maximum profit with minimum investment. The prices of the plots are reasonable and will be available to you with having an own of 5 lacs to 20 lacs on its launching price. The development of the plots is under process and it is clear that as the development work is completed, the prices of the plots will increase and possession will be handed over to buyers.
Impact of Eiffel Tower on Bahria Sports City
Precinct 38 and Precinct 39 holds a significant value in Bahria Sports City as Eiffel Tower and Rafi Cricket Stadium both are located close to them. The nearest location of two major landmarks encourages more buyers to invest in these 1000 sq. yards plots. The prices of the plots are reasonable to invest and this is the right time to buy your plot at the economical rates. Bahria Sports City is a place for insured investment with high profitability so avail this amazing chance and contact Universal Property Network.