Precinct 27A – A Precinct with Reasonable Plots & Mind-Blowing Attractions
by UPN
January 9, 2019
0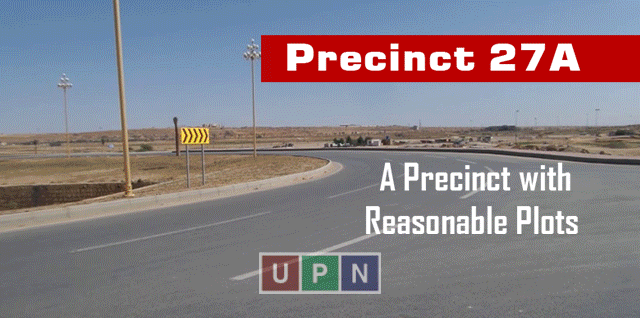 Whenever a person decides to invest in Karachi for luxurious and peaceful residence, the only option that hits the mind is Bahria Town Karachi. It's one and only the top housing society of Karachi in which you will find different categories of residential plots, commercial plots, constructed houses, luxury villas and apartments. This largest housing plan of the country is comprised of many precincts and sub-projects in it.
Today, our focus is on one of the most important and attractive precincts that is 27A. Precinct 27A is all comprised of plot cuttings of 500 sq. yards residential plots in it. These plots are now going under development process. But the prices of the plots already increased in comparison to their launching price. Let's discuss the location, approach updated prices of the plots and investment analysis as well.
Precinct 27A – Location & Easy Approach
The outstanding location of Precinct 27A makes it the most attractive precinct for 500 sq. yards plots. This precinct is ideally located at the difference of 6 km to 7 km from the Main Entrance. It is positioned on Main Jinnah Avenue and nearest to Grand Jamia Mosque. It is also situated close to Precinct 28 in which the major landmark of Bahria Town, Dancing Fountain is situated.
Precinct 27 A is beautifully surrounded by many attractions in which Grand Mosque, Theme Park and Bahria Golf City are at the top. The construction of the Five Star Hotel in Golf City is another biggest attraction for Precinct 27A.
500 Sq. Yards Plots & Latest Prices
The plots cuttings of 500 sq. yards are designed in Precinct 27A. These residential plots were launched four years ago at the launching price of 45 lacs. The installment plan for the plots is already completed now the plots are available with own price. The latest prices of the 500 sq. yards plots are ranging from 80 lacs to 95 lacs.
Precinct 27A – Development Status
The development work of Precinct 27A is already starting. Machinery has arrived on the spot and now the work is in process at the fastest development pace. All the plots are so amazingly designed that the location of plots will be clear on making a visit. It is clear that with such a satisfactory speed of development, this precinct will soon become ready to build an area of Bahria Town Karachi.
For more updates, stay connected to Universal Property Network.