200 Sq. Yards Luxury Villas of Precinct 10A – Luxury Residence in Peaceful Atmosphere in Bahria Town Karachi
by UPN
February 7, 2019
0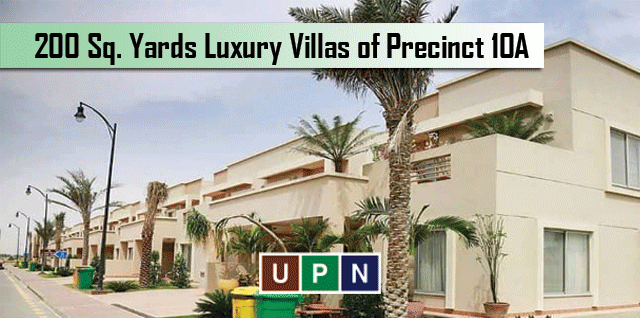 Bahria Town Karachi has now entered in its final phase of development and the remaining work is moving at the fastest speed. Many of its precincts are fully developed and inhabited in which Precinct 10 A is also included. Bahria Town Karachi offers multiple options to buyers and investors to purchase residential & commercial plots as well as providing a great chance to enjoy the luxuries of Bahria Town in luxury villas.
200 sq. yards luxury villas of Precinct 10A are these days appears hot-favorite for so many reasons. Located on the attractive location, the ratio of population surrounded attractions, and economical prices make them ideal for end-users and investors.
Luxury Villas Description
These luxury villas of Precinct 10A are beautifully designed built-in property constructed over the land of 8 Marla. The 3-bedroom villas also have a servant quarter, beautiful lawn, a car porch, alongside terraces and balconies. These 200 sq. yards luxury villas are no doubt provides iconic living standard and that's why considered a dream destination for every resident.
Location Overview
Precinct 10 A is located close to Precinct 12, popularly known as Ali Block. Located at the top height, this precinct holds magnificent beauty and view. It is also positioned close to Grand Jamia Mosque. Old Commercial Area is just located at the drive of 2 to 3 minutes from it. The Shopping Gallery of Precinct 10 is also expected to be soon operational.
Development Status & Possession Updates
The development of Precinct 10A is almost completed. Around 300 of the families are living in these luxury villas of 200 sq. yards. The construction of some same size villas are under process but moving at the rapid scale. With respect to development work, both villas with keys and without keys are available at reasonable prices.
Updated Prices that Makes Them Best to Buy
The villas of 200 sq. yards were launched Four years ago at the price of 50 lacs. But there was also some discounts on it so that cost 47 lacs. The installment plan for these villas is already completed. The current market value of these luxury villas of 200 sq. yards is around 1.15 crore to 1.35 crore. But these days, due to the certain situation of the real estate market, the prices of these villas are lower down that makes these villas best to invest at the right time.
Investment Prospects
Be its residency or investment, these luxury villas of Precinct 10A are the top choice for iconic living standards and huge profit. You can also buy them to earn good rental income every month. These villas are highly recommended to investors who desire to earn maximum profit with short term investment. If investors can hold it for 1 to 2 years, its price will touch the figure of plus 2 crores.
For any other details about Precinct-10A or any other precinct of Bahria Town Karachi, contact Universal Property Network.  We are always ready to assist you with all the latest updates and market trends.