Precinct 10B – Highly Recommended for 125 Sq. Yards Plots – Latest Updates
by UPN
February 7, 2019
0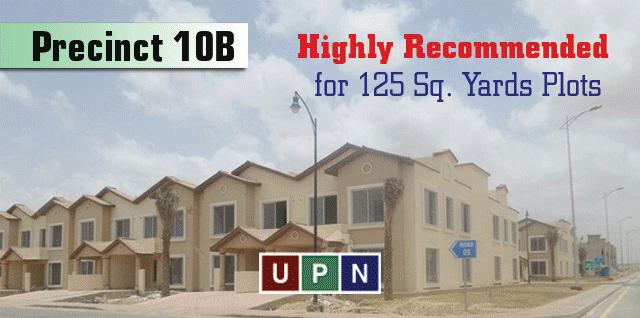 Precinct 10B is a beautiful Precinct of Bahria Town Karachi that is all comprised of villas as well as the residential plots of 125 sq. yards in it. It is located at the height and that makes this precinct the ideal place to build your dream home. The prices of the plots are reasonable and these days also available at the economical rates due to current market situations. Buying is highly recommended as the possession of 125 sq. yards plots is announced. The construction of many houses can be seen on the site. So it's an ideal opportunity to buy your plot in Precinct 10B. Further details are provided below.
Location Details
Precinct 10B is ideally located at the prime location of Bahria Town Karachi. It is positioned at the top height that a value-added point for this precinct. It is situated close to Ali Block. Precinct 10B is located at the difference of 1 to 2 km from the Grand Jamia Mosque. It's a small but beautifully designed precinct located near the boundary of this largest housing community.
Latest Prices of Plots
Precinct 10B is so amazingly designed with the plots cuttings of 125 sq. yards plots available in it. These are fully developed and possession plots. The prices of the plots vary as depending on the location. 125 sq. yards plots are available at the price bracket of 25 lacs to 35 lacs. General, as well as category plots, are available in Precinct 10B.
Attractions & Features
Precinct 10B is ideally located close to Ali Block that is a value-added point to buy the available residential plots in it. Luxury villas of 10A and Precinct 11 are also positioned at the walking distance. Grand Jamia Mosque is also the nearest attraction for Precinct 10B.
Development Status
The development of Precinct 10B is completed. All the work of road infrastructure is also done so far. Plots are available with possession and the construction of many houses can be seen on the site. Bahria administration is working rapidly to make this precinct a wonderful place where you can enjoy all the top features of luxurious residence as soon as possible.
Investment Potential
Precinct 10B is definitely providing you with an ideal opportunity to become a part of Bahria Town Karachi by making an investment at the most reasonable plot. These 125 sq. yards plots are quite reasonable and located at the hot location. These days the prices of the plots are low so buying is highly recommended for end-users and for interested clients who desire to earn a promising profit with short term investment.
For more details and updates, feel free to contact Universal Property Network. We are the authorized dealers of Bahria Town Karachi and will definitely serve you with the best deals and prices.