5 Marla Commercial Plots for Sale in Bahria Town Lahore – New Deal
by UPN
December 3, 2021
0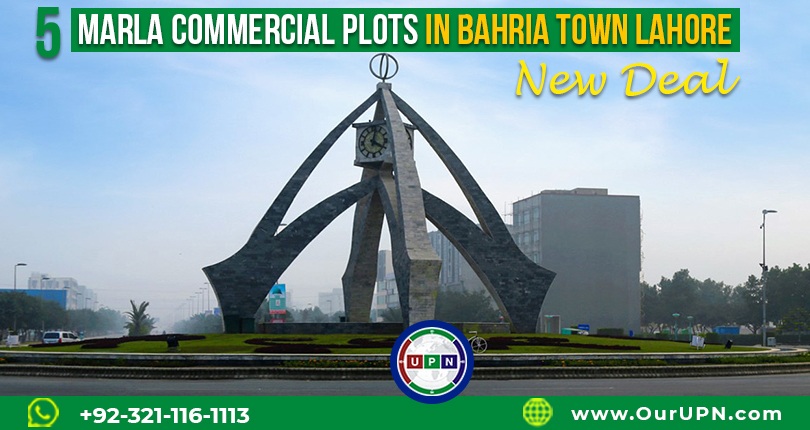 Are you searching for commercial plots for sale in Bahria Town Lahore? Do you desire to invest in the low-cost and ideal location plots where buying will return you with huge profits? Then, be quick and get ready to buy the newly launched commercial plots in Sector F Bahria Town Lahore.
Bahria Town has launched a new deal of 5 Marla commercial plots. The location of these plots is heart-winning, easily accessible, have affordable prices, and is available on open forms. Further details of this new deal are:
Commercial Plots for Sale in Bahria Town Lahore – 5 Marla New Deal
Bahria Town provides its valued customers with a golden opportunity of investment in 5 Marla commercial plots. 100% developed and ready for possession; also, these commercials are limited in numbers.
Location and Access Details
These plots are located in Tipu Block, known as Tipu Block Commercials. You can easily approach these commercials while moving from Azam Bhatti Avenue crossing Master Tiles Farmhouse, and entering Tipu Block. The location of 5 Marla new commercials is 150 ft wide road. This road will soon connect to Jati Umrah Road and then Bahria Orchard Lahore. Moreover, the new sector of Bahria Town Lahore, Sector G, is expected to launch in its proximity.
Tulip Extension Block is lying near to it. Also, these plots have 1 Kanal house and plots at the back. A beautiful Lake Park is also very close.
Prices and Payment Plan
The new deal 5 Marla commercial plots are launched in the price range of 2.20 crores to 2.60 crores. The prices of the plots differ location wise. Furthermore, these are open form plots, meaning no transfer fees will be charged to you. In other words, you will save an amount of 5 lacs and will be the first owner of your plot. These commercial plots for sale in Bahria Town Lahore can be booked with token money; however, you should pay the full amount by 25th December 2021.
Comparison with Other Commercial Plots of 5 Marla
The same size commercial plots in Quaid Block main boulevard are currently available in the price range of 4 crores to 4.50 crores. Similarly, 5 Marla commercial plots will cost you 7 – 8 crores in Sector C. Moreover, the commercials on Azam Bhatti Avenue and Ghaznavi Avenue prices are starting from 3.25 crores to 3.50 crores.
On the other hand, the latest prices for 5 Marla commercial plots in Tipu Block are low and affordable. All these options are available on open forms. Most importantly, the location is prime and have good development and inhabitation in the proximity. All these are ready for construction plots. So, you don't need to wait and can confidently get the possession and start construction of your dream plaza.
Investment in Commercial Plots for Sale in Bahria Town Lahore
Buying property, especially in a commercial category, is always profitable in Bahria Town Lahore. However, investing in any new deal of plots provides investors with profits more than their expectations. The launching prices of plots are reasonable and will surely increase by the next 6 – 8 months. The overall market of Bahria Town is improving, and prices are increasing rapidly. So, getting something at such prices is a great deal. We Universal Property Network suggest you buy therefor;
Constructing a Plaza and Renting it Out
Setting Up Your Own Business
Investment Growth and Resale
So, whatever your purpose of buying in Bahria Town Lahore commercial plots is, don't miss out on this chance! These new plots of Sector F are profitable in all the terms.
Please contact Universal Property Network For More Information click here or visit our youtube channel further assistance