5 Marla Plots for Sale in Bahria Town Lahore
by UPN
December 1, 2021
0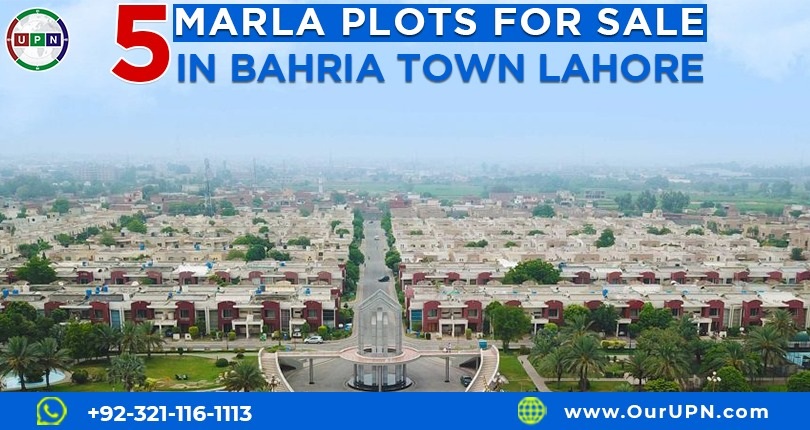 Every investor desire to invest in the well-known Bahria Town Lahore. This society holds importance for so many reasons, and one significant among them is the availability of numerous options. Yes, Bahria Town Lahore offers a wide range of properties designed as per the requirements of modern investors and homemakers. But there is one plot category that suits all is 5 Marla residential plots. 5 Marla is the plot size you can consider for easy construction of your dream place and easy investment. The 5 Marla plots for sale in Bahria Town Lahore are also available in abundance. So if you are also looking for the best residential plots of this size, please keep on reading!
5 Marla Plots for Sale in Bahria Town Lahore – Best Options
Bahria Town Lahore offers you 5 Marla residential plots in Sector B, Sector C, Sector D, Sector E and Sector F. In other words, this size is not available in Sector A but in all the different sectors of Bahria Town. The best blocks to buy these plots are:
Sector B
It's the second perfectly developed Sector of Bahria Town Lahore. It features maximum construction and inhabitation. The availability of 5 Marla plots in Sector B is limited. However, you can invest in 5 Marla houses for sale or available on rent.
Sector C
Popular as the central hub of Bahria Town Lahore, Sector C blocks are named on different flowers and undoubtedly, buying in these blocks comes with mesmerizing fragrances (amenities). You can purchase these plots in:
Gardenia Block
Tulip Block Extension
Hussain Block
Hussain Block Extension
Many of the other blocks also offer 5 Marla plots for sale. However, their prices are high. Therefore, people looking for the ideal but reasonable price plots can choose them. For example, 5 Marla plots for sale in Bahria Town Lahore Sector C these blocks are available at the starting prices of 55 lacs to 85 lacs.
Sector D
This Sector is very much famous for offering an extensive range of 5 Marla residential plots. This size of plots is almost available in every block of Sector D, such as:
AA Block
BB Block
CC Block
DD Block
EE Block
Sector D also have good construction, and families are living there. Almost all the living amenities are also available to them. Furthermore, the starting price of 5 Marla plots in Sector D is 70 lacs. The highest prices of 5 Marla plots are 1 crore. It includes both the general and category plots.
Sector E
The 5 Marla residential plots in Sector E are also available in the different blocks. However, the demands for this size of plots is high in:
Jinnah Block
Rafi Block
Talha Block
All these blocks are beautifully developed and offer possession plots. The starting prices of 5 Marla in these blocks are 70 lacs to 95 lacs.
Sector F
People with low budget and requirements for the reasonable price plots of 5 Marla for construction and investment purposes can invest in Sector F. The best to choose 5 Marla plots for sale in Bahria Town Lahore are available in:
Tauheed Block
Shershah Extension Block
Tipu Extension Block
Ghaznavi Extension Block
The starting prices of 5 Marla plots in these blocks are 55 lacs.
New Deal of 5 Marla Open Form Plots
All the above-discussed 5 Marla plots are excellent to choose and invest in as per your requirements. However, Bahria Town has also launched a new plot deal to provide its customers with the best.
These new 5 Marla plots are available for sale in Nishtar Block Extension Sector E. Although this block is already valuable for its prime location and easy access from Azam Bhatti Avenue, it also has good development.
5 Marla new deal plots are launched on open forms means no transfer fees or any extra charges. The launching prices of these plots are 70 lacs to 80 lacs. General plots will cost you 70 lacs while the prices for the category plots are high. Moreover, the actual location of these plots on 500 meters distance from Bahria Petrol Pump and Bahria Mart. The land of this new deal is level and possession of plots in 3 – 4 months.
The nearby attractions to Nishtar Extension Block plots are SQ 99 Mall, Jasmine Grand Mall, Eiffel Tower, Bahria Petrol Pump, and Bahria Mart.
Moreover, buying in these plots is suitable for construction as the surroundings have maximum development. But, on the other hand, you can also invest in them to grow your capital smartly.
Conclusion:
The 5 Marla plots for sale in Bahria Town Lahore are exceptional to cater to your beneficial real estate investment needs. If your purpose of buying in construction and residence, the plots in Sector C, Sector D, and Sector E are ideal for you. However, if you want to gain high investment potential, we suggest buying in Sector F.
Living in Bahria Town Lahore or investment both are heart-winning. The facilities available in this luxurious society are mind-blowing. It would be nothing wrong to said that these are unmatchable. The peaceful, neat, and clean surroundings are enough to win someone's heart. At the same time, investors with desire to gain good with secure investment can choose between the wide options available in both residential and commercial properties. It also have good opportunities for builders.
Please contact Universal Property Network For More Information click here or visit our youtube channel further assistance