Bahria Town Lahore Sector F and Sector E NOC Approval
by UPN
December 6, 2021
0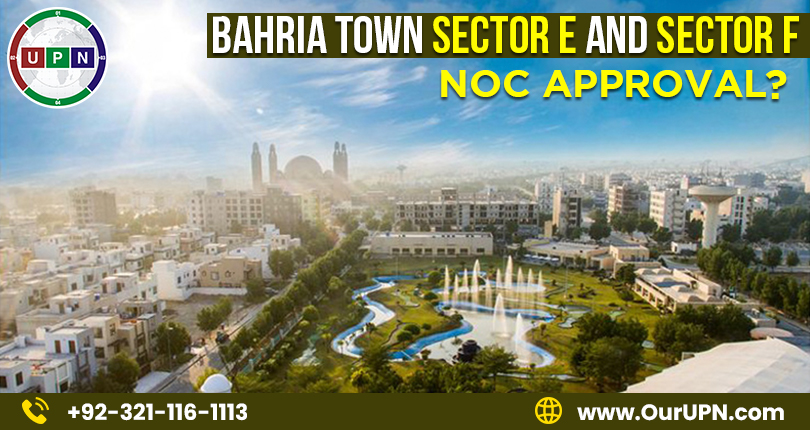 Universal Property Network once again brings you the most-awaited update of Bahria Town Lahore Sector F and Sector E LDA Approval. Yes, both these sectors are now completely approved by Lahore Development Authority. The 100% valid NOC of these two thoughtfully planned and developed sectors has been acquired. Congratulations to all the investors and buyers of Bahria Town who had confidently invested their hard-earn money. Now all the sectors of this magnificent society are NOC approved and have verified legal status.
Bahria Town Lahore is a magnificent development, a beautiful housing society. It's a luxurious place where life comes with lots of comforts and investment offers huge profits. Bahria Town covers a large area and has the main entrance on Canal Road Lahore. This appealing housing venture is easily accessible from multiple routes and the surroundings are very beneficial. Comprising several sectors, Bahria Town Lahore Sector F holds importance for offering the lowest prices of properties.
Bahria Town's other sectors are:
Sector A, Sector B, Sector C, Sector D, Sector E, and Sector F
All these sectors are impressively designed and have state-of-the-art infrastructure and development. Previously, its first four sectors, Sectors A, B, and C, have LDA approval. Moreover, this recent approval of Sector E and Sector F is one of the most-awaited developments.
Bahria Town Lahore Sector E LDA Approved
It's a beautiful sector in Bahria Town Lahore. Sector E features several blocks which are completely developed. This Sector has the best residential and commercial properties. A large number of plots and houses are available for sale. Moreover, this Sector has several options available to buy apartments and shops on installments. People can also get their desired properties for rent. Blocks in Sector E are:
Rafi Block
Iqbal Block
Jinnah Block
Nishtar Block + Nishtar Block Extension
Quaid Block
Johar Block
Talha Block
The residential plots for sale in Sector E Blocks are starting from 5 Marla to 2 Kanal. Moreover, the sizes of commercial plots start from 2 Marla to 8 Marla. Apartments are available in the sizes of 1 bed, 1-bed studio, 2 beds studio, and 3 beds.
Bahria Town Lahore Sector F LDA Approval
Sector F is the last and the latest Sector of Bahria Town Lahore. It is located ideally adjacent to Sector E and features several blocks. All these blocks of Sector F are developed and offer the best residential and commercial properties. The plots for sale in Sector F are starting from 5 Marla to 2 Kanal. You can also buy apartments for sale and rent in Bahria Town Lahore Sector F.
Furthermore, the blocks in Sector F are:
Tipu Sultan Block and Extension
Tauheed Block
Sikandar Block
Ghaznavi Block
Ghazi Block
Alamgir Block + Alamgir Block Extension
Talha Block
Shershah Block
Touheed Block
Current Rates Vs the Increase in Prices After NOC Approval
For the last 10 – 12 months, the property prices in Bahria Town Lahore Sector E have been rapidly increasing. For example, the plot of 5 Marla, which was priced 50 lacs only a few ago, is now available in 65 lacs plus. But still, you can find reasonable price options in Sector E and Bahria Town Lahore Sector F. Both these sectors still have huge potential.
The prices of property in these recently approved sectors will surely increase after this big announcement. Here adding an example of Sector D: the prices are increased a lot after NOC approval.
How this NOC Approval of Sector E and Sector F will Affect the Bahria Town Lahore Property Market?
Bahria Town Administration applied for the NOC Approval of Sector E and Sector F almost 5 – 6 months ago. The application is accepted and NOC provided. The effects of this approval will be quite visible undoubtedly. Bahria Town investors who previously invests and earn profits will continue to purchase and sell their properties.
On the other hand, people who hesitate to invest in these non-approved areas will now confidently invest their capital.
Transfer Fees and Other Taxes will be Applicable
As Bahria Town Lahore Sector E and Sector F now have complete approval from LDA, the transfer fees and other taxes will be applicable. These charges will be applicable from now onwards on the sale and purchase of any property. So, do prepare for it. It is not about some extra charges but it guarantees that your investment is secure and the property you are investing in is valuable.
Conclusion:
Bahria Town Sector E and Sector F both are beautifully developed sectors. These have good development and inhabitation. Bahria Town will 100% get this approval very soon. So, this is the right time to invest in the property for sale in Bahria Town Lahore Sector F. You will surely get huge returns in the next 1-2 years as the prices will increase rapidly.
Please contact Universal Property Network For More Information click here or visit our youtube channel further assistance