5 Marla Plots for Sale in Sector G Bahria Town Lahore
by UPN
January 13, 2022
0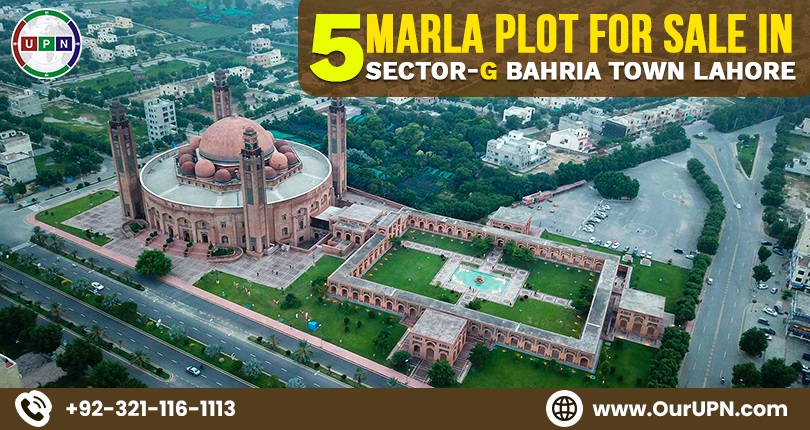 Are you planning to invest in Bahria Town Lahore? Do you want to buy a good location plot for 5 Marla? Also, do you wish to get it at affordable rates? Then, cheers up as 5 Marla plots for sale in Sector G can be the right option for you. These prime locations, attractive, and reasonable price 5 Marla are available in the new sector "Sector G" of Bahria Town Lahore.
Providing people with heart-winning residential and investment opportunities, Bahria Town is a place where dreams come true. It's a significant development, an investor's paradise. Comprises of six sectors, and now Sector F, the entire area is divided into several blocks. But still, these properties are not enough to facilitate the increasing demands of the property. That's' why these 5 Marla plots for sale in Sector G can be a life-changing opportunity for you, must be availed.
Planned brilliantly, this new sector is located ideally. Its official map is launching soon. The amenities, infrastructure, development and opportunities are as per the latest standards. Even, these would be advanced than the previous sectors.
Here UPN assures that Sector G Bahria Town Lahore will be a fabulous addition to the landscape of Lahore.
Sector G Bahria Town Lahore Location
All the sectors in Bahria Town Lahore have a prime location. But Sector G enjoys the supreme location, no doubt. This sector is located adjacent to Sector F. Th actual location of Sector G Bahria Town Lahore starts after Tipu Sultan Block of Sector F. Furthermore, one can easily access this location from multiple routes, i.e., Canal Road Lahore and Jati Umrah Road.
Once developed, Bahria Town Administration will provide access to Sector G from the main entrance of Canal Road. Moreover, the second main entrance will be developed on Main Jati Umrah Road.
Connecting Bahria Town Lahore with Bahria Orchard Lahore
Once launched Sector G will provide a connection between Bahria Town Lahore and Bahria Orchard Lahore. The entrance of this new sector is developing opposite Gate no 6 Bahria Orchard Jati Umrah Road. Residents of both these societies can easily come and move between through this entrance.
Sector G location is prime, making it a graceful development in terms of location and planning. Furthermore, this new sector is surrounded by major roads, significant developments like Shareef Medical Complex. Most importantly, Sector G offers easy connectivity between Bahria Town and Bahria Orchard, providing people with a dream ease.
5 Marla Plots for Sale in Sector G Bahria Town Lahore
Launching soon, Sector G Bahria Town brings you new investment and residential opportunities in Lahore. It will be one of the prominent sectors of Bahria Town Lahore where everyone would enjoy their investments. Designed with beneficial properties, this sector is attractive for so many reasons. But the 5 Marla plots for sale in Sector G Bahria Town Lahore makes it the perfect choice. However, before sharing the prices and booking details, let's have an overview of plot sizes in Sector G.
5 Marla Residential Plots
10 Marla Residential Plots
1 Kanal Residential Plots
2 Kanal Residential Plots
5 Marla Commercial Plots
8 Marla Commercial Plots
Additionally, all Bahria Town Sector G plots will be available with plot numbers. There will be no files, developed plots with general and prime locations. One can easily purchase them by choosing from the map.
Plots Prices in Sector G Bahria Town Lahore
The prices of plots in Sector G will be reasonable indeed less than the already existing plots of similar sizes. This makes this new sector prominent and appealing, among others. The exact prices for these new sector plots are not revealed officially. But here we are sharing the expected prices:
5 Marla Plots Prices: 45 Lacs to 50 Lacs
10 Marla Plots Prices: 70 Lacs to 75 Lacs
1 Kanal Plots Prices: 1.10 Crores to 1.20 Crores
Booking and Payment Plan
Sector G booking of plots will begin soon. But it is confirmed that all these plots will be available with a convenient payment plan. Booking will start with a 30 – 40% down payment, and the remaining will be payable in 1-1.5 years of easy installments.
Bahria Town Lahore is undoubted an attractive choice for investors. But many of the investors want to invest on installments. Unfortunately, all the new deals launched in this society are usually on the lump-sum amount or 6 monthly installments plan. This is going to happen after a long time, that Bahria Town Lahore will offer residential plots with a 1-1.5 years payment plan. Some of the amounts will be payable at the time of possession. Also, the possession of plots will be available within 8 – 10 months of the official launch.
Sector G will surely be a place, a golden opportunity for a reasonable and attractive real estate investment. From categories to the open forms, affordable rates and easy installments, all these things are perfect and as per the requirements of a modern investor.
Investment in 5 Marla Plots for Sale in Sector G
All the plots' categories in Bahria Town Lahore Sector G holds importance. But the new deal plots of 5 Marla are ideal to choose from. 5 Marla is always high in the demand plot's category. Both buyers and investors find it suitable to meet their property needs. Moreover, the attractive amenities of Bahria Town comes with it, premium location, and high investment yields boost up its value further.
Sector G Bahria Town will be the jewel in the crown of Lahore real estate. it will be state of the art development with countless attractions, impossible to ignore. Bahria Town is always the right place to invest. However, this new deal and the new sector will surely make you proud of your investment. Buying there will be equally beneficial for residence and investment returns.
So, what are you waiting for? Contact Universal Property Network to book the best options in Bahria Town Sector G before it gets sold out!
Please contact Universal Property Network For More Information click here or visit our youtube channel further assistance