Commercials On Installments Bahria Town Lahore – Ideal Opportunity
by UPN
January 6, 2022
0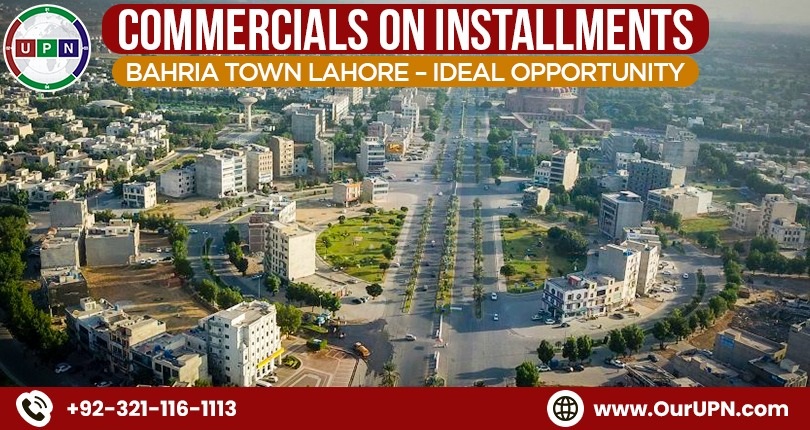 Bahria Town Lahore is always a top choice of investors to buy and invest in Lahore's property. This society is full of options and opportunities. Different new deals of plots and ready properties are launched from time to time. However, the demands for commercials on installments Bahria Town are increasing rapidly. At the same time, the construction and ratio of the population are growing because it's a fully-facilitated society. To fulfil investors' requirements and provide better commercial facilities, Bahria Town has launched a specific project Midway Commercial Bahria Town Lahore.
This new deal of commercial plots was launched a year ago. Completely developed, it offers on-ground plots in installments. Located at the prime location of Sector D, it is one of the highly attractive opportunities one can choose. Further details are:
Midway Commercial Bahria Town Lahore
It is another largest commercial project in Bahria Town, offering commercial plots of several sizes. Providing opportunities to invest less and earn more, its location, planning, and investment potential all are amazing. This project is brilliantly launched to offer you:
A right place to run your business
Invest in plots and sell out later
Generate good rental income
Sizes of Plots
The plots for sale in Midway Commercial Bahria Town are:
4.33 Marla
7.33 Marla
9.33 Marla
The launching price of these plots was 70 lacs per Marla. However, these options are still available at affordable prices. Currently, all these plots are on-ground, and possession is announced. At the same time, Bahria Town has recently launched a new deal of plots is launched in Midway Commercial Bahria Town Lahore on installments.
Commercials on Installments Bahria Town Lahore
The commercial plots on installments are:
7.33 Marla
These are on-ground commercial plots available on open forms. It means no transfer fees or extra investment charges in commercials on installments Bahria Town.
The launching prices 7.33 Marla ready for possession plots are:
General Plots: 4.76 crores
Park Facing Plots: 5 crores
Booking of plots starts with 10%, which is 50 lacs only. The remaining of the amount will be payable in 6 equal monthly installments (75 lacs each). The first installment of the plot will start on 10th February 2022, while the 6th installment on 10th July 2022. Moreover, the token amount for the general plots is 26 lacs and park facing plots is 50 lacs.
Also, Bahria Town allows the construction of ground + 5 floors on these commercials. But the number of floors increases with the size of commercial plots. Moreover, you can construct a multi-purpose plaza offering the best shops, offices, and apartments for sale. This is one of the biggest attractions of these plots no doubt.
Commercials on Installments Bahria Town Prime Location
Midway Commercials Lahore is ideally located in Sector C. The actual location of the plots is close to Overseas A Block and Awais Qarni Block. Both these blocks have an impressive ratio of population. Even these commercials are surrounded by fully developed areas. The approach to these commercials is from Talwaar Chowk. Moreover, the nearby landmarks to these commercials on installments Bahria Town are Bahria Town Complaint Office and Al-Fatah Superstore.
Why You Should Invest in Midway Commercials Lahore
People looking to invest in Lahore's property, especially in Bahria Town Lahore, can confidently choose these commercials on installments. This new deal of plots is launched at attractive prices while the availability of on-ground plots with flexible payment plan adds charm to it. But if you are still in search of some significant reasons for investment, please keep on reading below:
Ideal and Easily Accessible Location with Completely Developed Surroundings
Construction Permission of Multi-Purpose Projects (Commercial on the Ground and Apartments on Top Floors)
Attractive Prices and Easy Payment Plan of 6 Months.
Development Work Complete and Possession on Half Payment.
Futuristic Investment Opportunities and Long-Term Returns
Buying in Midway Commercials plots on installments is highly recommended. All these plots are suitable for business, investment and rental gains. Bahria Town's new deal of plots in Sector C is something best and will surely be worth buying.
So, don't miss this chance of golden investment in commercials on installments in Bahria Town.
Contact UPN for further details and information!
Please contact Universal Property Network For More Information click here or visit our youtube channel further assistance