8 Marla Commercial Plots Facing Eiffel Tower in Bahria Town Lahore Updated Details
by UPN
December 18, 2018
0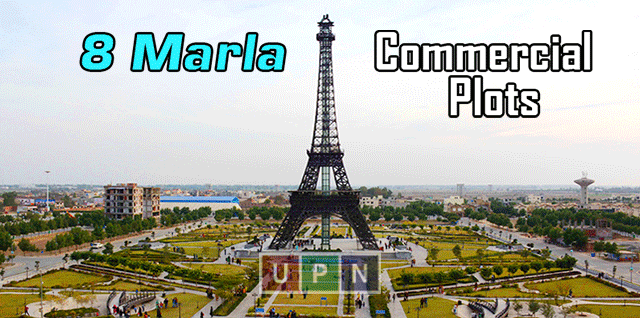 Bahria Town Lahore is a wonderful housing project that does not require any introduction as its success speaks on its own. It is beautifully designed with many sectors and sub-projects. Like the same, there are different categories of residential plots, commercial plots, constructed homes and villas are available.
Today, we are going to share the latest updates of the 8 Marla commercial plots that are located in the Sector E of Bahria Town Lahore and facing the major landmark that is Eiffel Tower.
Eiffel Tower has now become one of the most important public place of Lahore where the celebration and ceremonies of different events held every year i.e. Independence Day, New Year Night. These commercial plots hold high value in the property market of Lahore as the ideal location and the availability of different brands close to it raises its importance very well.
8 Marla Commercial Plots – Location Overview
The outstanding location of these 8 Marla commercial plots has made these plots the hot favorite in all the other commercial plots of Lahore.
Entering to Main Jinnah Avenue and moving towards the mosque the next is the Sector E. Making an entrance in the Sector E and turning left, there is the major landmark of Bahria Town Lahore that is Eiffel Tower. These plots are located close to it. That is the reason known as "facing Eiffel Tower".
Updated Prices of 8 Marla Commercial Plots
These 8 Marla commercial plots facing Eiffel Tower were launched in 2012 on the easy installment plan. This plan has been completed so far. Now, these high-value commercial plots are available on the full cash payment.
8 Marla commercial plots facing Eiffel Tower are now available at the starting price of 4 crores 75 lac to 5 crores 50 lac. There is a difference in the price of these commercial plots as depending on the location.
Best for Investment and Rental Income
8 Marla commercial plots that are facing Eiffel Tower are providing you a great opportunity to invest at the right place and start your own business at the most attractive location of Lahore. These commercials are also best for earning handsome rental income every month.
The administration of Bahria Town has allowed the construction of Basement, 1st Floor where you can design your office, 2nd and 3rd floor where you can construct apartments as well.
There are some corner commercials are available that are three-sided open. So starting your business at the prime location of Bahria Town Lahore will definitely a profitable decision for you. So let's avail the profitable opportunity and buy your 8 Marla commercial plots right now.
For any other update or details, feel free to contact Universal Property Network.