Construct Your House in Bahria Town Lahore
by UPN
December 24, 2021
0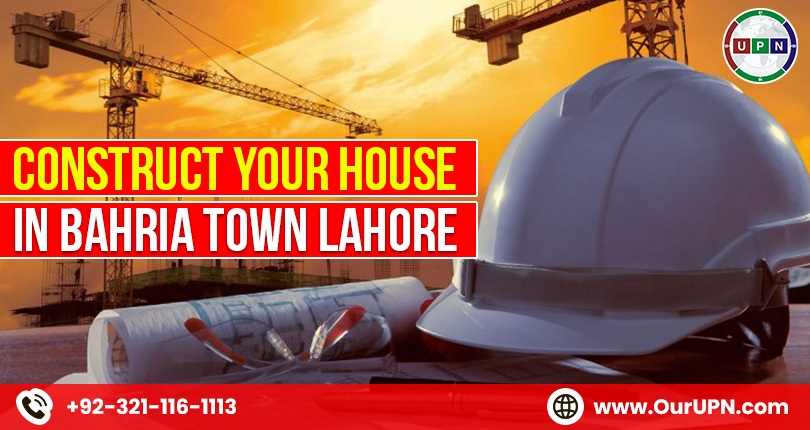 Do you want to live in the beautiful and the most luxurious housing society Bahria Town Lahore? Are you in search of the best plots for house construction where all the living amenities are available to you? Then, be happy, as UPN brings you the property you are looking for! The best plots to construct your house in Bahria Town Lahore await you in Sector F.
It is one of the appealing and thoughtfully developed sectors of Bahria Town Lahore. Consists of several blocks, this sector features state of the art development, modern-day facilities, and lots of attractions. Bahria Town as a whole is designed perfectly; however, this sector holds importance for the reasonable prices and high investment potential. So, without any delay, let's find out the complete details of plots in Sector F.
Construct Your House in Bahria Town Lahore
The heart-winning location plots in Sector F are available in the following blocks:
Ghaznavi Extension Block
Tipu Extension Block
Location Details
The location of these blocks is prime and easily accessible. Undoubtedly, Bahria Town is ideal on Canal Road and is easily approachable from multiple routes. But Sector F, especially these two blocks, have several attractions in the surroundings. One can find these blocks in the proximity of Eiffel Tower Bahria Town Lahore. Moving ahead from Eiffel Tower to Azam Bhatti Road and turning left, the block opposite to Raiya CineGold is Ghaznavi Block Extension. On the other hand, the block opposite to this Ghaznavi Extension is Tipu Extension Block.
Development Details
The current development details make these blocks ideal to construct your house in Bahria Town Lahore. Both these are impressively developed blocks. All the infrastructural work has been completed so far. Some of the houses are ready, and families are living in them. On the other hand, a large number of houses are under construction. Ghaznavi Block Extension and Tipu Block Extension have parks, play areas, and all the living amenities starting from basic to luxury are available.
5 Marla Plots for Sale in Sector F
The ideal to buy 5 Marla residential plots are available in Sector F. These are low-cost and attractive plots you can buy to construct your house in Bahria Town Lahore. Only six months ago, the prices of 5 Marla plots were around 45 – 50 lacs. But the latest prices are starting from 57 lacs to 65 lacs. Plots located near the boundary are available in 57,58 lacs. However, the plots with prime location or category will cost you 65,67 lacs. All these are on-ground plots with possession.
Comparison with Other Block
Almost all the sectors of Bahria Town Lahore have 5 Marla plots available except Sector A. But Sector D seems to be more attractive because it offers 5 Marla in abundance. The latest prices of these plots in Sector D are starting from 70 lacs. The rates go high with location and category. So, the current prices of 5 Marla in Ghaznavi Block Extension and Tipu Block Extension are still reasonable. These are undoubted the best plots of 5 Marla one can confidently choose.
5 Marla House Price in Bahria Town Lahore
A beautifully designed 5 Marla house in Bahria Town Lahore are available in the range of 1.60 crores to 1.80 crores. A used house will cost you from 1.35 crores to 1.45 crores. Moreover, if you buy the 5 Marla plot in Sector F in 65 lacs and do construction, it will cost you around 1.20 – 1.30 crores. Indeed, it's a profitable deal. To construct your house in Bahria Town Lahore to live there and enjoy up to mark amenities, hard to find anywhere else.
Amenities in the Proximity
Bahria Town Sector F features the following facilities:
Beautiful Parks
State of the Art Mosques
Cinema
Food Court
Commercial Centers
Nearby Petrol Pump
Bahria School
Bahria Mart
Easy Access to Jasmine Grand Mall
Close to SQ 99 Mall
Proximity to Eiffel Tower
Sector F Bahria Town is an excellent option to buy plots of 5 Marla at surprisingly affordable prices. Buying there is suggested for both residential purposes and investment growth. So, please don't wait and contact us to get the best plots for sale in Ghaznavi Extension and Tipu Extension Blocks.
Please contact Universal Property Network For More Information click here or visit our youtube channel further assistance