Attractive Plots of 250 Sq. Yards in Bahria Town Karachi Precinct 6, 8 & Precinct 16 – Latest Updates
by UPN
March 3, 2019
0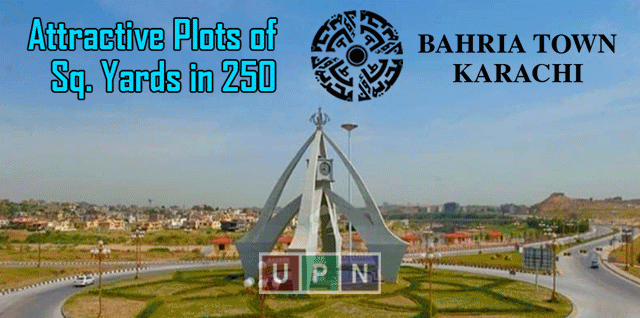 Bahria Town Karachi is the largest and super luxurious housing project of the country in which both local and overseas clients always remained in the search of best deals. The demand of 125 sq. yards & 250 sq. yards plots are increasing with the passage of every single day. But before investment, it is the heartiest desire of every interested customer to get its plot at the most attractive location with having reasonable rates of property.
So today, UPN is bringing to you, the latest updates of 250 sq. yards plots that are considered the hot-favorite one in Precinct 6, Precinct 8 & Precinct 16. All the details are provided below.
Location Details – Precinct 6, Precinct 8 & Precinct 16
Precinct 6 & Precinct 8 are hot-favorite to buy the residential plots of 250 sq. yards for the ideal location and easy approach. Both these precincts are located at the drive of 2 to 3 minutes from the Main Entrance of the Bahria Town. These precincts have an easy approach from the Main Super Highway. It would be nothing wrong to said that Precinct 6 & Precinct 8, both are located close to the Grand Jamia Mosque.
Precinct 16 holds a significant value in term of its amazing location and having so many attractions that beautifully surrounded, Located at the Main Jinnah Avenue & positioned in opposite to Grand Jamia Mosque. Another attraction that makes its supreme place is that Theme Park is located attached to it. The main entrance of Bahria Paradise is also in its backside.
Amazing Attractions & Unique Features
Precinct 6 & Precinct 8 both are appearing attractive among buyers for the so many attractions that have beautifully surrounded it. Grand Jamia Mosque, Midway Commercials, Bahria Hills, Cineplex Cinema, Fully operational Food Court, Hospital, and well-maintained parks are located in its surroundings.
Precinct 16 is the only attractive precinct that is waiting for possession but buyer's shows keens interest to buy property in for so many attractions in its surroundings. Theme Park, the commercial area of the Grand Jamia Mosque, & luxury villas of 350 sq. yards of Bahria Paradise is located close to this precinct.
Development Details & Possession Updates
Precinct 6 & Precinct 8 are ideal for investment as the development work of these precincts is completed so far. And the possession of the plots is already available. Even the construction of many houses can be seen on the site.
However, the development work of Precinct 16 is 80% to 90% completed and it is expected that Bahria Administration will announce the possession in next two to three months.
Latest Prices of Plots & Details
Precinct 6 & Precinct 8 both are beautifully comprised of fully-developed and possession plots of 250 sq. yards. The updates prices of these residential plots of 250 sq. yards is 55 lacs to 75 lacs. General Plots are available in the price bracket of 55 lacs to 60 lacs but category plots are available at the price ranges above 70 lacs.
Precinct 16 is another attractive precinct of Bahria Town Karachi that offers the on-ground plots of 250 sq. yards at the reasonable rates. These plots will be available to you at the price of 50 lacs to 60 lacs.
For more details & information contact Universal Property Network.