Precinct 23A – Economical Villas of 125 Sq. Yards & 250 Sq. Yards Available for Investment
by UPN
February 20, 2019
0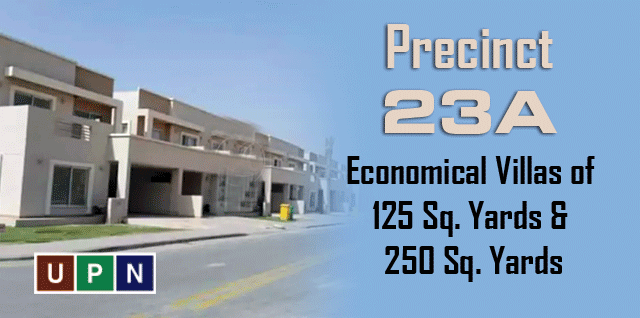 Bahria Town administration has recently made a new addition in the largest housing project of Karachi after the balloting of 125 sq. yards and 200 sq. yards villas.
In Precinct 23A, the villas are allotted to file holders who kept their files for a long but due to certain reasons, these villas remained un-balloted. This much-awaited balloting has been done about 6 to 7 months ago and now the development work on Precinct 23A is going at a satisfactory pace.
Precinct 23A is a very attractive precinct located close to Precinct 23. It is designed at the top height that makes it's an outstanding place to enjoy your dream lifestyle. Its height location will simply allow its residents to enjoy the very beautiful, pleasurable aesthetic view. Let's check out the latest details of this precinct.
Location Overview
Precinct 23A is located at the prime location of this master housing community. It is located at the distance of 8 km to 9 km from the Main Super Highway Entrance. It is situated alongside Precinct 23 and just upside to Precinct 25A & 26A.
If we discuss its nearest attractions, International Standards Golf Course is located close to it. The second amazing feature that makes this precinct ideal to invest is the hot-favorite plots of 250 sq. yards are located close to Precinct 23A.
Development Status
The development work in Precinct 23A is started so far. It is moving at the fastest speed after much delay due to some uncongenial reasons. Heavy machinery is working on the site, even the grounds are leveled. As soon as the development work of this precinct will complete, Bahria Town Private Limited will move to the construction of 125 sq. yards and 200 sq. yards luxury villas.
Price Updates
Precinct 23A is a very beautifully designed, a new precinct in Bahria Town Karachi. Initially, Bahria Town has announced the development of 125 sq. yards & 200 sq. yards villas construction in it. These villas are available at the easy installment plan. The prices of these villas are economical and reasonable for investment. The luxury villas of 125 sq. yards are available at the price bracket of 50 lacs, however, 200 sq. yards are available at the price bracket of 60 lacs.
If we make a comparison of these villas with the villas of Precinct 31 & Precinct 27, the rates are really attractive for promising return with safe investment.
Investment Potential
In the current scenario, Precinct 23A is an attractive option for investment. For those who have waited for a long-time with soon get a reasonable profit. But those who are eyeing for long-term investment will definitely avail this amazing opportunity. It's a wonderful option to hold for 2.5 years to 3 years to earn maximum profit with minimum investment. As the developments of these villas are not yet started but as soon as there is progress in development, the prices of the villas will definitely increase. UPN highly recommends these villas for long-term investment.
For more details contact Universal Property Network.