Azizia Town Lahore – Map and Plots for Sale
by UPN
March 15, 2023
0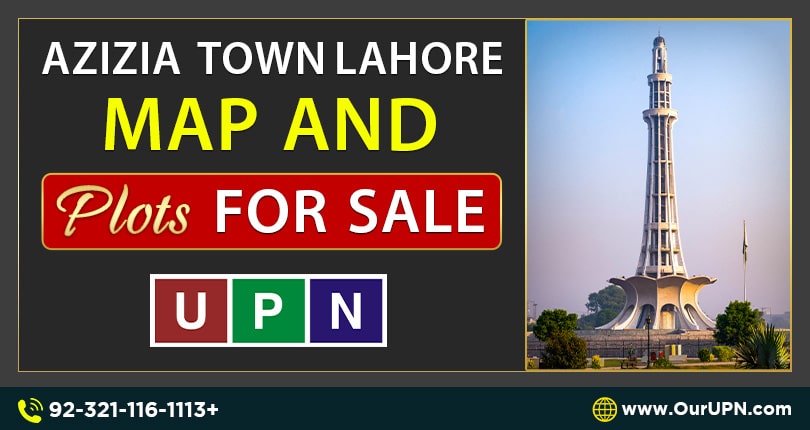 Azizia Town is a high-end housing development in Lahore. Azizia Town Lahore is ideal because of its prime location on Canal Road and available amenities. This housing has been developed and provides residents with a variety of options. This society has reserved 64 Kanal of its land for the Islamic Research Centre. Residents will have access to all of the amenities and comforts necessary for a better lifestyle. This society has modern amenities like parks, playgrounds, educational institutes, restaurants, cafes, and so on. Many people are having a good time in this housing society. There are many plots for sale in this developed housing society.
In this blog, we will discuss the location, plots, features, and map of Azizia Town.
Azizia Town Location
Azizia Town is ideally located on Canal Road in Lahore. It is located near Doctors Hospital and G1 Market in Lahore. G1 Market is a huge market for mobile phones, mobile accessories, and other electronics shops in Lahore. Azizia Town Lahore has many advantages in its surroundings, such as educational facilities, health care facilities, commercial markets, and many others. This society has easy access to many places and societies. The distance of this society from some places is:
10 minutes from G1 Market
12 minutes from Doctors Hospitals Lahore
15 minutes from the University of Punjab
30 minutes from Lahore Ring Road
17 minutes from Defence Road
38 minutes from Allama Iqbal International Airport
Some nearby developed housing societies are as follows:
PCSIR Housing Society
Canal View Society
Lahore Press Club Housing Society
Lahore Medical Housing Society
Azizia Town Plots for Sale
Azizia Town Lahore is a premium housing society that is divided into two blocks. These two blocks are:
These blocks contain different sizes of residential plots. The available plots in Azizia Town are:
Many houses are built, and many more are under construction, in Azizia Town Lahore. These residents are living in beautiful houses that were constructed by highly skilled architects and designers. It is ideal because of its location and features. There are numerous amenities that are required for a better way of life. These plots are ideal for residents and investors, but there are only a few options for sale. Many houses are also available for sale.
Features and Amenities
Azizia Town Lahore is a modern housing society in Lahore that contains different amenities and features. It is the most desirable society due to its facilities and prime location. Many residents in Azizia Town take advantage of various amenities. Some of them are as follows:
Gated community
Boundary walls
Security system
Basic facilities such as electricity and water
Peaceful environment
Parks and playgrounds for children
Green belts
Commercial market
Residential plots
Commercial plots
Surrounding schools, universities, and hospitals
Mosques
Graveyard
Azizia Town Lahore Map
Azizia Town Lahore is a beautiful housing society that is divided into two sectors. The map of this society is designed by well-trained architects and designers. The roads are 60 to 220 feet wide, including Main Boulevard. This society contains different sizes of residential and commercial plots. Azizia Town has set aside 64 Kanals for the Islamic Research Centre. The Islamic Research Centre is a big establishment of this society. Parks and playgrounds are available for families and children. Masjid can be found in Blocks A and B. maintenance services are also available in this society. There is a separate area for the graveyard.
Why Invest in Azizia Town
Azizia Town Lahore is a developed housing society with delightful residents and modern amenities. This housing society is ideal because of its prime location and surrounding benefits. There are numerous reasons to consider investing in Azizia Town. Some of them are:
Ideally located on Canal Road in Lahore
LDA-approved society
Security guards are available 24 hours a day.
This Society is secured by boundary walls and a gated community.
Basic facilities are available, such as electricity, Sui gas, and water.
Peaceful and comfortable environment
Islamic Research Center is available
Parks and playgrounds are available for enjoyment.
Mosque in both blocks for prayer
There are many schools, colleges, universities, hospitals, clinics, and pharmacies in the surrounding of this society.
The commercial market is available, where you will find grocery stores, superstores, bakeries, and many others.
Different residential options are available.
Houses are available for sale.
People who want to live in a developed society with modern amenities should consider Azizia Town Lahore. Properties in this society are best for investment. So, investing in Azizia Town will be beneficial to your future.
Please contact us through WhatsApp, Contact Us form, or visit our UPN Youtube Channel for further assistance.