Bahria Golf City Latest Details
by UPN
November 26, 2022
0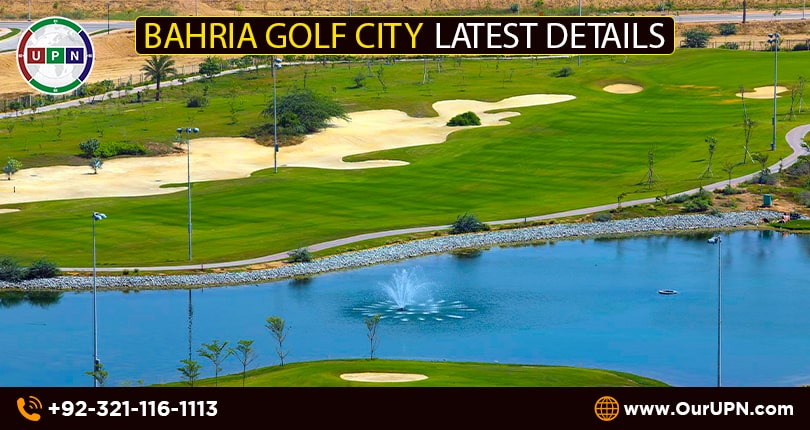 Bahria Golf City Karachi is one of the beautiful sub-projects of Bahria Town Karachi. It is located ideally in the heart of this society have lots of greenery, a neat and clean atmosphere, and bundles of grace. Developed exceptionally as per the international standards of development, Bahria Golf City Latest Details are amazing. Its state-of-the-art infrastructure and unique features make it a prominent option. It is also the biggest precinct of Bahria Town. The properties for sale in this appealing project are residential that come with lots of amenities. Starting from the location, development, amenities, plot availability, and prices, everything is heart-winning. For further details, please continue reading!
Bahria Golf City Location
The location of Bahria Town's Golf City is prime and easily accessible. Bahria Golf City is located perfectly at a distance of around 14 – 15 KM from the main entrance. Its main entrance is developed on Main Jinnah Avenue. The actual location of this project is after Precinct 27 comes after crossing London Bridge. It is gracefully developed in front of Precinct 29.
There is a total of four main entrances, where you will see lush green parks and lovely monuments. The 2nd main entrance of Golf City is at Avenue 19 comes after Precinct 25 – 26. Moreover, the third main entrance is between Avenue 18 – 19 near a roundabout lying close to Precinct 21. Similarly, the fourth entry of this project is developed brilliantly. You will find it on Avenue 17 near Precinct 11B and precinct 12. Many of the major developments are lying nearby. This place has easy access to all the latest-day amenities. The surroundings of Bahria Golf City Karachi are beneficial and have everything one can desire in a residential place.
Unique Features of Bahria Golf City Karachi
The whole of Bahria Town Karachi is designed professionally so that none of its areas remains in the dark. However, Bahria Golf City still has some unique options which further boost its worth. Here are the details of these beautiful features and attractions:
It is the biggest precinct of Bahria Town Karachi.
Bahria Golf City is a gated community inside Bahria Town with a proper boundary wall and main entrance.
60% of its land is covered with green areas and parks.
You will find a 36 Hole Golf Course there among which 27 Hole Golf Course is International PGA Standard. Also, there is a short golf course where you will see 9 Holes.
The number of masjids in Bahria Golf City is six. These mosques are developing speedily. However, one of these i.e., Masjid-e-Shuhda is operational.
There are almost 25 big and small lakes in this beautiful project.
Also, you will see a golf club and a five-star hotel in Bahria Golf City Karachi.
Plots for Sale in Bahria Golf City Karachi
This interesting, heart-winning project also offers a wide range of options in residential plots. It offers the following sizes of residential plots such as:
500 Sq Yards
1000 Sq Yards
2000 Sq Yards
Bahria Golf City Latest Details of plots come with all the top-notch amenities. These plots can be purchased in both general and special categories. Some of these plots are golf-course facing, many are lake facing, main roads, corners, and much more. All these plots are ideal to buy for both residence and investment purposes.
Plots Prices in Bahria Golf City
This elegant project features lakes, a hilly area, and level land. So, some of its plots are at the height, many are available at the leveled land while you will also find plots in the depth. That's why the prices of the plots are also different depending on the location and development conditions nearby. The plots facing golf courses or lakes are expensive. Similarly, the plots at the height will cost you more.  Following are the details of the complete price:
The starting prices of the plots are 1.5 crores for 500 sq yards of residential plots. It goes high up to 2 crores depending on location.
Here buying a 1000 sq yards residential plot is also easy. These 1000 sq yards are available at the starting price of 3.5 crores. Some of these plots will cost more because of their prime location and surroundings.
The plots near the Golf-View Apartments are also high in price. Plots near loop road are low in price starting from 85 – 90 lacs.
The plots of 2000 sq yards are mostly facing the golf course. These plots' prices are starting from 6 crores. It goes high up to 7 – 8 crores.
One of the major attractions to buying 2000 sq yards is that Bahria Golf Club membership costs around 35 lacs. But Bahria Management did not charge a single penny to the owners of these 2000 sq yards residential plots. In other words, it's an opportunity to construct your dream villa while enjoying all the world-class amenities of modern living.
Conclusion
Bahria Golf City plots are ideal to enjoy your dream lifestyle. These are still affordable in rates and perfect to invest in Bahria Town Karachi. The development status of this project is impressive while the location is further raising its worth.
Please contact us through WhatsApp, the Contact Us form, or visit our Youtube channel for further assistance.