Bahria Greens Latest Updates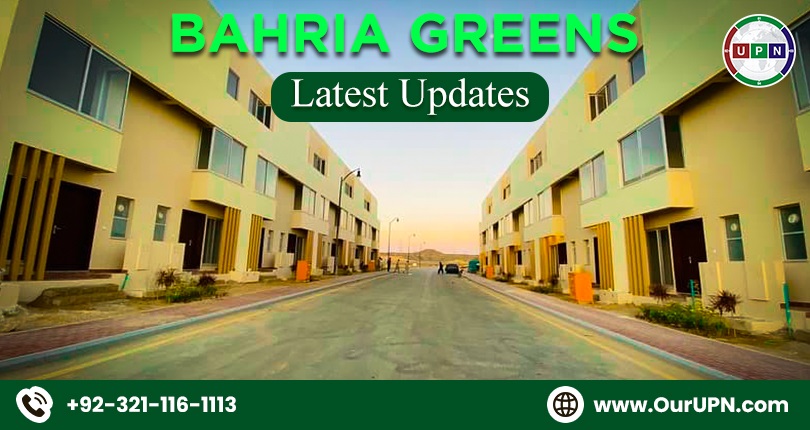 Bahria Greens is one of the finest developments in Bahria Town Karachi. It's a thoughtfully planned gated community inside the largest housing project of Pakistan. Launched almost 1.5 – 2 years ago, Bahria Greens' latest updates are satisfactory and catching everyone's attention with its ongoing developments. Featuring the lowest prices plots available on installments, this project holds significant importance. Not only the current rates but also the construction permission of ground + 2 floors makes it a prominent project. Further details are:
Bahria Greens Latest Updates and New Deal
It's the first project in Bahria Town Karachi with residential plots of 75 sq yards. Launched at the price of 16.80 lacs, Bahria Greens plots are ideal to choose from. It was the first deal of plots with 3 years installments plan. Currently, these plots can be only purchased by paying a handsome profit amount.
Moreover, the second deal of Bahria Greens was launched in 22 lacs where the booking was possible with 50%. The remaining amount of the plot was payable in 3 – 4 months. However, it was a short deal with a limited number of plots.
Now, Bahria Greens latest updates include the announcement of a new deal of plots. These 75 sq yards residential plots are once again available in a new deal. These plots launching price is 25 lacs. Booking of plots is possible with 12.50 lacs. The remaining amount of 12.50 lacs will be payable in the 1-year convenient payment plan. This new deal also has some profit amount, but it is reasonable.
Bahria Greens Development Updates 2022
This project was launched in 2020; at that time, there was much confusion about the location, development and possession. But the latest updates are completely satisfying. It's a rapidly developing project that features good development. By analyzing the site physically, one can easily find that the plots are ready for construction. The only wait is for the possession announcement.
Many of the roads are ready; model houses are open for the general public. Moreover, the work on infrastructural development is moving at the fastest pace. Soon, you will see progress in street lights and green belts.
Why Bahria Greens Prices are Increasing?
Despite the distant location from the main entrance of Bahria Town Karachi, Bahria Greens has become one of the popular investments. This project catches everyone's attention after the speedy development on the site. However, several other reasons play a vital role in making this project significant. The reasons behind the increasing prices of Bahria Greens Karachi are:
High Demands of Plots
The increasing demand for plots in Bahria Greens is playing a vital role in increasing prices. Both investors and end-users prefer buying in these plots because the availability is on installments. Undoubtedly, it's the only plots project in Bahria Town where one can buy residential plots with flexible payment plan.
Speedy Development and Expected Possession
As discussed earlier, Bahria Greens is going through speedy developments. Things are very much clear from a far distance. Roads and model houses are ready. Moreover, the possession of plots is expected soon. According to the updates, Bahria Town will hand over Bahria Greens plots possession by 10 – 12 months.
Launch of Naya Pakistan Housing Apartments in the Proximity
It's a low-budget houses project by PM Imran Khan planned to facilitate low-income people with their own houses. The new and finalized map of Bahria Greens shows the planning of Naya Pakistan Housing Apartments in the proximity. The location of these apartments is adjacent to this project. It means in future a large number of houses will be developed in this area.
Investment in Bahria Greens Karachi
Bahria Town Karachi offers a range of options for residential and investment purposes. It has the best options available in plots. However, buying 75 sq yards plots of Bahria Greens is highly beneficial. These plots are available with the construction permission of Ground + 2 floors. It means once the house is ready, you will have around 150 sq yards of the building. Also, the latest prices of Bahria Greens plots are reasonable, providing investors with a chance of profitable purchase on easy installments.
So, what are you waiting for? Buy these Bahria Greens new deal plots before the prices increase.
Please contact Universal Property Network  For More Information click here or visit our youtube channel further assistance