Villas in Bahria Greens on Installments – Bumper Offer
by UPN
March 1, 2022
0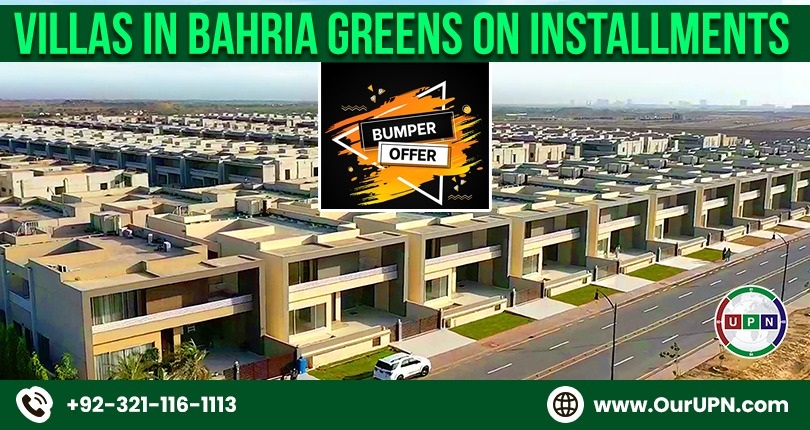 Bahria Town Karachi is a dream living place for everyone. It's a mega-development project, an exclusive, luxurious housing venture on the landscape of Karachi. This society is attractive for residence and for investment growth. It offers a diverse range of properties including heart-winning villas and apartments. However, these options are only available on one-shot payments. So, what to do if you are looking for a villa on installments? Choose villas in Bahria Greens right now!
Bahria Greens Karachi is a low-budget but outstanding project inside Bahria Town Karachi. Launched almost 1.5 years ago, it's an impressively developing project with affordable 75 sq yards plots for sale. However, it has something new and highly beneficial to offer you. These are Bahria Greens Villas. Further details are:
Villas in Bahria Greens Karachi
This project is the talk of the town because of its speedy development and launch of several new deals. The demands of property in Bahria Greens Karachi are increasing rapidly. That's why SQ Builders has come up to the spot with a bumper offer of luxury villas.
These are 75 sq yards ground + 2 storey villas with 4 bedrooms accommodation. Featuring a very beautiful lounge area, spacious kitchen and bathrooms, it's a complete residential space for modern families.
The covered area of these villas is 75 sq yards but after construction, the living capacity of these villas will be equal to 125 sq yards.
Villas in Bahria Greens Prices
These are 75 sq yards Villas in Bahria Greens launched at the affordable price of 1.7 crores. Booking of villas starts from 15 lacs only. The remaining amount will be payable in the flexible payment plan of 2 – 3 years. Its developers are also offering customized payment plan facilities for the ease of its investors.
The launching prices of villas on installments in Bahria Greens are low. Moreover, the flexible payment plan is adding more charm and value to them.
Why Invest in Bahria Greens Villas?
This biggest housing society already offered a range of constructed properties available in the different precincts. Most of these are villas and apartments launched on installments. But from the booking time to the completion, none of these properties was negative in the prices. The reason that the peaceful and comfortable environment of Bahria Town Karachi makes it the right place to live. Every buyer desire to get possession of its ready property so that they can confidently move to them.
Similarly, these villas in Bahria Greens are once again providing investors with a chance of golden investment. Surely, they will not regret it.
The launching prices of villas are around 1.7 crores. The current prices of a plot in Bahria Greens are 26 lacs which after possession will be around 28 – 30 lacs. The construction cost of a two-storey house in Bahria Greens will be around 70 – 80 lacs. So, here we assure that the prices of villas are almost equal to the construction cost done by a single individual. But these villas will save your time, your effort and you will be able to move in a high-quality ready property with your loved ones.
Currently, the calculation of prices and construction comes the same. However, upon completion of villas in the next two years, the prices won't be the same.
Location and Alternate Routes
We have already discussed this issue in our several write-ups that Bahria Greens' location is undoubtedly far away from the main entrance of Bahria Town Karachi. But this mega society will soon have some alternate routes. The second main entrance of this society will be close to Bahria Greens Karachi, making it the first project from that side.
So, stop thinking about the location and the distance. Once the area is completely developed, Bahria Greens residents will have access to all the living amenities at their doorsteps.
Upcoming Projects in Bahria Greens
Launched as a low-cost project in Bahria Town Karachi, Bahria Greens has become popular in a very short span of time. This project is developing at the fastest pace which catches the attention and investment of investors to it.
Bahria Greens now offers luxury villas for sale. Some of the other upcoming developments are:
Naya Pakistan Apartments: These are around 30,000 apartments developing soon in the proximity of Bahria Greens luxury villas.
HBL Towers: It's another mega project under process at the prime location.
Soon, several well-known private developers of Bahria Town are launching their villas projects in Bahria Greens. The number of villas differs from 200 to 300. But these will surely make this place well-developed and inhabited.
Buying in Villas in Bahria Greens is something you should not miss. So, don't wait and do invest in these 4 bedrooms villas available at the lowest prices with a flexible payment plan.
Please contact Universal Property Network  For More Information click here or visit our youtube channel further assistance