Bahria Greens Provisionally Approved by Authorities – Big News for Investors
by UPN
July 22, 2020
0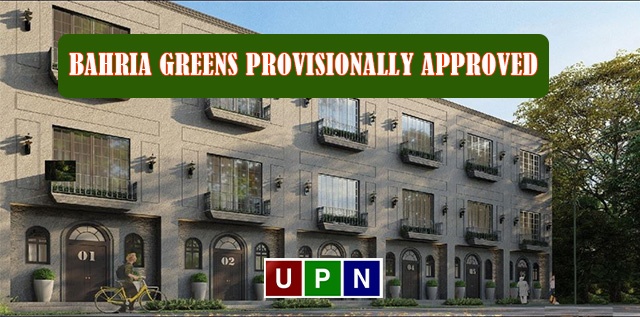 Bahria Greens, a low-cost housing project, has finally got approval from the relevant authorities. This approval is definitely big news for investors who invest in Bahria Greens or are looking to invest in it. Yes, Bahria Greens is officially approved by SEHWAN DEVELOPMENT AUTHORITY JAMSHORO.
The documents of provisional approval of the layout plan of Bahria Greens Karachi spreading on 532 Acres are issued in the name of Bahria Town Karachi Private Limited. The development work of the project is progressing at a satisfactory pace. Even the construction of Model Street and 20 Model Villas is also in process.
Bahria Greens is the biggest low-cost scheme of plots in Bahria Town Karachi where you can buy 3 Marla plots on four years installments.
Provisional Approval of Bahria Greens Karachi
Bahria Town Karachi's request for the approval of their Bahria Greens Land finally gets approval.
Sehwan Development Authority has thoroughly examined the submitted plan and found the land is legal. However, there are some formalities that need to be fulfilled for final approval.
In such a condition, the layout plan of Bahria Greens is Provisionally Approved.  Also, Bahria Greens will get the final approval after the completion of formalities within one month.
So, this approval is a slap on the face of those who were spreading false rumors that Bahria Greens Karachi is developing on illegal land and Bahria Town is not the owner of that property.
On the other hand, the confirmed location, affordable prices and payment plan, balloting date, and now this approval of land confirm that Bahria Greens Karachi is one of the best investment options in Karachi's real estate.
Moreover, Bahria Town will hand over the possession in 3 years i.e. before the completion of the installment plan.
Buying plots in Bahria Greens Karachi is profitable in both residential and investment purposes. Not only the prices are reasonable for investment, but so many attractions further surround this project. Some of the best attractions in its surroundings are Rafi Cricket Stadium, Sports Complex, Hospital, and School Facilities.
Price and Payment Plan of Bahria Greens Karachi
75-yard Plot – 3 Marla Plots in Bahria Greens
Construction Allow Ground + 2 Storey
4-year easy installment Plan
Total Price 1,675,000/-
Down Payment 295,000/-
Possession in 3 year
For more details, contact Universal Property Network!
Check out our site for more detail. Latest News