Bahria Orchard Commercial Plots New Deal – Best Opportunity
by UPN
March 26, 2022
0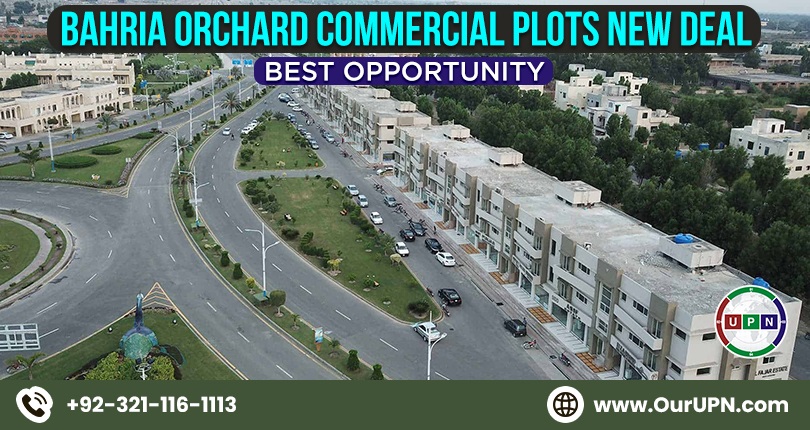 Are you looking for the best commercial plots in Lahore? Want to invest in the best location commercials where investment really worth it? Then, do buy them confidently in the excellently developed Bahria Orchard Phase 4. The latest opportunity to get your desired property awaits you in Bahria Orchard commercial deal.
It's a new deal of plots launched at the prime location of this society. Yes, Bahria Town Pvt. Ltd. has launched a new deal of commercial plots offering on-ground 5 Marla.
These are the limited number of commercials available at highly affordable prices. Most importantly, these are open-form plots, where investment will be free of any hidden or extra charges. Further details are:
Bahria Orchard Commercial
The new deal of 5 Marla commercials is announced at the outstanding location of Bahria Orchard Phase 4. These plots are available from G1 Block to G6 Block. All these plots are on-ground and available with possession. Another major attraction of these commercials is the proximity to top-class, high-rise projects. Basically, these are the cancel files now available for resale and launch in a new deal. Additionally, these plots have heart-winning locations, both buyers and investors will find them suitable.
5 Marla Commercial Plots Prices
Bahria Orchard is offering these new 5 Marla commercial plots at the launching prices of 1.75 crores to 2 crores. However, the prices of the plots are different as per the location. Furthermore, booking starts with 65 lacs to 75 lacs down payment. The rest of the amount of the plots will be payable till 15th May 2022.
Location of Plots
All these 5 Marla commercial plots are available from G1 Block to G6 Block. The location of the plots is different. But all are located at prime locations.
Open Form Deal – Ideal Opportunity
Bahria Orchard commercial new deal once again brings you a chance of a suitable and profitable investment in Lahore. These are open-form plots deals providing you with an opportunity to invest in the best commercial without paying any extra charges.
How Much Construction is Allowed?
Bahria Town is always champion in all the terms. So, here they allow the construction of Basement+ Ground+ 5 Floors on these 5 Marla commercials. Also, one can easily construct multi-purpose projects, i.e., commercial properties in the basement and ground floor and residential apartments and penthouses on the upper storeys. Here you can take the example of the large number of projects speedily developing in the proximity.
Reasons to Buy New 5 Marla Commercial Plots
Buying property in Bahria Orchard Lahore is beneficial whether you are investing in residential or commercial. But these 5 Marla commercial plots are game-changers because:
Launching Prices of Plots are Reasonable Ranges Between 1.75 Crores to 2 Crores.
No Transfer Fees or Any Extra/Hidden Charges
Ideal Location Plots Available from G1 Block to G6 Block
Easy Access from Multiple-Routes
Construction of Residential + Commercial Project Allowed
Beneficial Surroundings as A Large Number of Projects are Developing Nearby
High Investment Returns, Best for Business, and Capital Growth
If all these reasons are still not enough to choose your commercial plot of 5 Marla, please keep on reading below:
You Should Invest in Bahria Orchard Commercials Because of Speedy Construction
Several New and Attractive Projects are Lying Nearby
Hundreds of Villas are Under Construction
Increasing Inhabitation and Facilities
How Can Overseas Book Their Plots?
People living in Pakistan find this deal suitable for investment in Lahore. At the same time, Overseas Pakistanis prefer buying commercials in Bahria Orchard Lahore. If you are also an expat and desire to invest in this new deal, then confidently contact us to book your plot without physical appearance.
Yes, we will do the job for you. You just need to send the following documents to one of our experienced realtors, and we will get the ideal location commercial plot for you.
Essential Documents:
Copy of CNIC/NICOP
Two Passport Size Pictures
CNIC Copy of Nominee
Down Payment in Our UPN Official Account
These new deal commercials of 5 Marla are ideal to consider for an investment, construction of your plaza and setting up your business.
Please Contact Universal Property Network  For More Information click here or visit our youtube channel further assistance