Bahria Orchard Lahore L Block New Deal
by UPN
June 24, 2022
0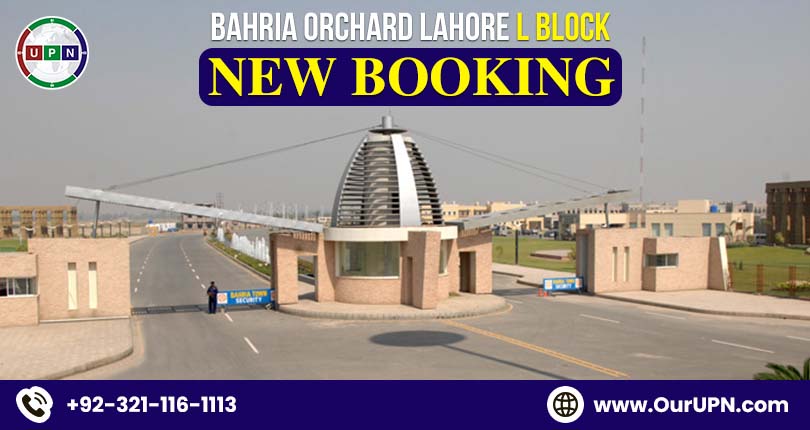 Bahria Orchard Lahore L Block extension and K Block extension are going to be a new addition to the society's portfolio. This new block brings new and incredible investment opportunities for people. Buyers will get a chance to buy affordable plots to meet their residential needs. At the same time, it's an opportunity for investors searching for highly profitable plots in Lahore. This society is already designed thoughtfully with several budget-friendly properties. These properties also come with bundles of amenities essential to living a high-standard lifestyle.
Undoubtedly, all blocks are good, featuring the best plots for sale in Lahore. But the new deal offers you low-price 5 Marla plots with zero transfer fees. Further details are:
Bahria Orchard Lahore L Block
Before sharing the complete information about this new deal, it is important to have an overview of this society. Bahria Orchard Phase is a beautifully developed society on Raiwind Road Lahore. It has an extension, a large area which further has several blocks. It was first launched with K, L, and M Blocks. Recently, N Block was added to it. Now the Bahria Orchard developers are offering another two exciting deals. These are:
K Block Extension Plots of 5 Marla
L Block Extension Plots of 5 Marla
L Block and K Block Extension Plots
Both these are the two beautiful blocks in LCO Phase 2 announced recently. Ideally located on Raiwind Road, these extensions are easily accessible from gate no 1, gate no 2, and gate no 6 on Jati Umrah Road. However, the main access to these blocks is from Gate no 6 near Sharif Medical Complex and Residence of PMLN Leadership.
The new deal of plots is available in the developed areas. Almost, 60% of the land is developed. On the other hand, the development in the surroundings like K Block and L Block is complete and will have possession by the next few months. Also, all the latest-day living amenities are provided including basic necessities like electricity, gas, clean water, and security.
New Deal Plots Prices Bahria Orchard Lahore
All the new deal plots of 5 Marla in L Block and K Block Extensions are affordable in rates. These plots launching prices are 45 lacs. The prices start from 42 lacs to 45 lacs. Both general and category plots are available for sale. Most importantly, these are open-form plots with zero transfer fees. It means you will get the ideal location of 5 Marla residential plots in a very reasonable amount. The possession of plots will be handover within the next 6 months.
Are these Plots Good for Residence or Investment?
Bahria Orchard Lahore L Block Extension and K Block Extension plots come with high returns on investment. How? Here are the reasons:
These are low-price plots, but the rates will increase rapidly.
The location of the plots and the access are outstanding, making them the best.
Development work in the surroundings is good and possession will be available in 6 months.
Bahria Orchard's new deal plots are equally beneficial for residence and investment growth.
Other Best Opportunities in Bahria Orchard Lahore
If you are not interested in buying plots and looking for apartments and offices, you can invest in the following options of Bahria Orchard Lahore.
Invest in Times Square Mall and Residencia
It is the biggest mall in Phase 4 of Bahria Orchard Lahore offering a diverse range of options in shops, offices, apartments, and penthouses. Times Square Mall is a project by renowned developers Sheranwala Group who are proudly developing Victoria City Lahore. Booking in this project starts with a minimum down payment and the remaining in easy installments. You can get these properties for residence, investment growth, and rental gains.
Invest in Tower 3
It is another good option after Bahria Orchard Lahore L Block plots. People looking for apartments in a high-rise building can consider Tower 3 Lahore. It is a project by Dua Developers who had designed it beautifully with a range of residential apartments.  This project offers the lowest-priced residential properties with all the latest-day amenities and profits one can desire.
Invest in Q Bazaar
UPN has another fabulous option for you. It is Q Bazaar. This project features a wide range of shops for sale. The prices are low while the booking starts with a 20% down payment while the rest of the amount will be payable in 3 years installments.
So, that's all about the lowest prices of plots, apartments, shops, and offices for sale in Bahria Orchard Lahore. Undoubtedly, all of its options are good to choose from to meet your property needs as per the requirements. But choosing one over the other completely depends on you. LCO Phase 2 plots of L Block and K Block are exceptional for buyers, investors, and builders who desire to generate good profits.
Please contact Universal Property Network For More Information click here or visit our Youtube channel for further assistance.