Bahria Orchard Phase 2 Block F – Economical Plots of 5 Marla and 8 Marla Updates
by UPN
November 16, 2018
0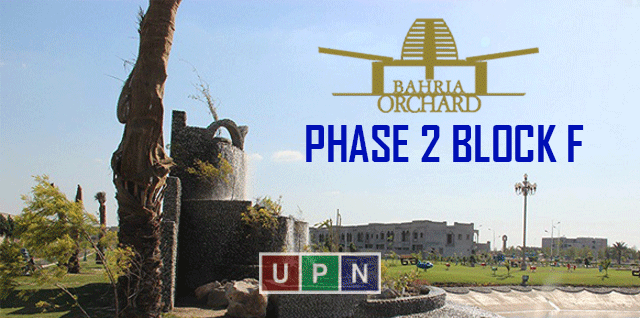 Bahria Orchard Phase 2 is an amazing project of Bahria Town that is offering low-budget plots to those who desire to buy property in Bahria Town but cannot afford it due to high prices. Bahria Orchard is attractive housing projects that will make your dream of having a house in Bahria Town make true at the most economical prices. The plots of 5 Marla and 8 Marla are available in its F-Block. The prices for these plots are quite reasonable. F-Block of Phase-2 appears interesting in term of the residential point of view as well as to gain good investment potential. All the details are given below.
F-Block – Location Overview
Bahria Orchard Phase 2 is positioned at the drive of 5 to 6 minutes from the Adda-Plot Interchanges. It is located on the Main Raiwind Road. F- Block is located at the difference of 3 to 5 minutes from the gate-2. It is situated at the Mor chowk. If we move right from the Mor chowk, F-Block is positioned just at the right side. Two main parks of Bahria Orchard Phase 2 are located close to F-Block. However, the commercial area is also easily accessible from the F-Block.
F-Block – Economical Plot Prices
In the F-Block of Bahria Orchard Phase 2, both the on-ground and off-ground plots of 5 Marla are available. The plot cuttings of 8 Marla are also a part of F-Block. If we make a comparison of the rates these plots are quite reasonable and economical. In simple words, these are budget-friendly plots that Bahria Orchard is offering in its F-Block. The starting price of 5 Marla off-ground plots in F-Block is 22 lac to 24 lac while the price ranges for 5 Marla on ground plots are starting from 26 lac to 32 lac. There is a price difference for plots as per location. This residential plot of 8 Marla is available at the economical rates of 38 lac to 42 lac.
F-Block – Development Status and Possession Updates
F-Block is the completely developed block of Bahria Orchard Phase 2. The possession of this block has been already announced by the management. Most of the houses are already constructed while you can see many grey structures on the site. A hospital, Bahria School and Mosque are already operational in this block.
F-Block Investment Potential
The plots of 5 Marla in F-Block are best for residency. You can just buy them on the budget-friendly rates and can start building your dream home. Some of the off-ground plots of 5 Marla are also available but you can only buy them through the map. These off-ground plots are definitely an attractive opportunity for those who desire to get the handsome reward through a secure investment. Don't miss the chance to book your plot in the wonderful project of Bahria Town where you can have all the dream facilities and peaceful lifestyle.
For further details and updates stay connected to Universal Property Network