Bahria Paradise Karachi – A Paradise Like Place in Bahria Town Karachi
by UPN
December 13, 2021
0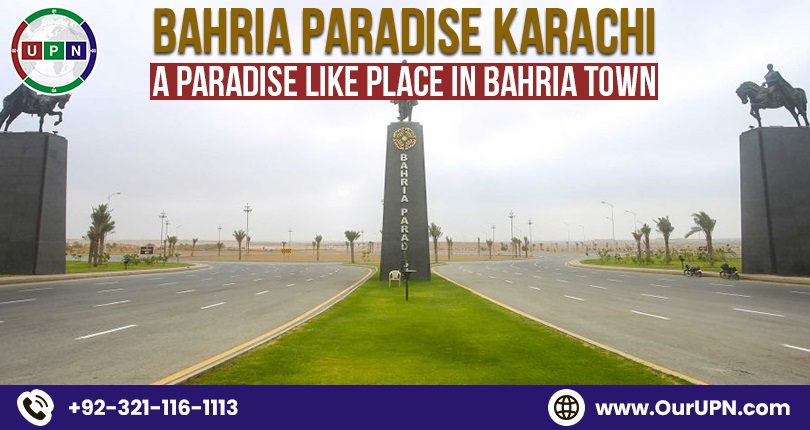 Bahria Paradise Karachi is an exclusive development, a modern project in the mega housing society. It is one of the most beautiful and largest sub-projects in Bahria Town Karachi. Bahria Paradise is a paradise-like place in the landscapes of Karachi. Designed with countless attractions, serene greenery, heart-winning neat and clean environment and much more. This impressive sub-project has easy access and have proximity to Grand Jamia Mosque. Bahria Paradise spans over a large area and features several precincts offering different sizes of plots and luxurious villas. Following are the further details of this project:
Bahria Paradise Karachi Location
This paradise-like place is located on the outskirts of Karachi. Bahria Paradise is a beautiful part of Bahria Town Karachi located inside this mega venture. The distance of this project from the main entrance of Bahria Town is 6 – 7 KM. Moreover, it has proximity to Grand Jamia Mosque. Furthermore, Precinct 16 of Old BTK and Precinct 47 of Bahria Paradise are located adjacent. Moreover, different significant attractions of Bahria Town such as Theme Park, Bahria Heights, Bahria Apartments, Imtiaz Supermarket, and PSO Fuel Station are lying nearby.
Plots for Sale in Bahria Paradise Karachi
This breath-taking development features the best residential plots perfect for residence, construction, and rental gains. The sizes of the plots in Bahria Paradise are:
250 Sq Yards Residential Plots
500 Sq Yards Residential Plots
1000 Sq Yards Residential Plots
Precincts in Bahria Paradise
Bahria Paradise Karachi is the third-largest sub-project covering a large area of land. It's a gated community inside the gated Bahria Town Karachi. It features a good number of precincts starting from Precinct 41 to Precinct 58. However, some of its precincts have disputed land and no more part of this project.
Investment In Bahria Paradise
This beautiful project is undoubtedly offering incredible living and investment opportunities. However, we suggest you buy the best plots for sale are Precinct 47 and Precinct 48. These precincts are located ideally just after the main entrance of Bahria Paradise. Featuring the residential plots of 250 sq yards, these are the ideal plots you can buy in Bahria Town Karachi.
Only 6 – 7 months ago, the prices in Precinct 47 and Precinct 48 were around 50 – 60 lacs for 250 sq yards residential plots. But the latest prices of plots in Bahria Town Karachi Precinct 47 and Precinct 48 are starting from 80 lacs. So a prime location plot in these precincts will cost you around 95 lacs.
Here we are making the comparison of these precincts with Precinct 16, which is a beautifully developed precinct of Old BTK. The same size of plots in this precinct are available in the price bracket of 1.15 crores. On the other hand, the prices of Precinct 47 and Precinct 48 plots are still reasonable despite the ideal location.
Bahria Paradise Karachi Major Attractions
Located in Precinct 52, Central Park is the most significant attraction in Bahria Town Karachi. Covering a large area, this park features:
Harlem Meer Lake
Flower Garden
Untermyer Fountain
The Great Hill
Recreational Center
Tennis Court
Onassis Reservoir
Museum
Open Air Theater
Skating Track
Sheep Meadow Park
Central Park Zoo
Cycling Track
Turtle Pound
Rat Rock
Amusement Park
Taj Mahal Replica is also a prominent attraction of Bahria Paradise. Also, some of the other attractions of Bahria Town Karachi are:
Rafi Cricket Stadium
Grand Jamia Mosque
36-hole GPA Standard Gold Course
Hyatt Regency
State of the Art Bahria Hospital Providing Best Facilities
Theme Park
Bahria Day N Night Safari
So, that's all about Bahria Paradise Karachi. For further details of plots, prices, and investment, contact us!
Please contact Universal Property Network For More Information click here or visit our youtube channel further assistance