Best 250 Sq. Yards Residential Plots in Bahria Paradise – Latest Updates & Details
by UPN
February 17, 2019
0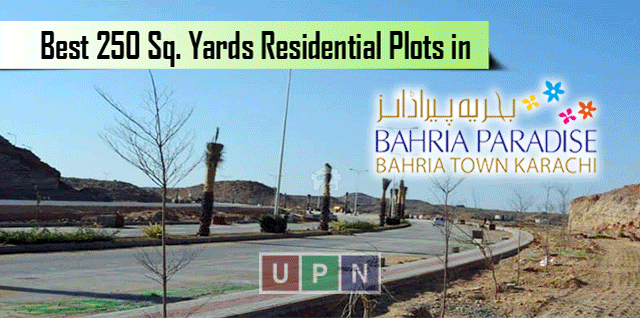 Bahria Paradise is one of the largest subprojects of Bahria Town Karachi. It was launched about 1.5 years ago. The fabulous project was designed by the expert town planners of Bahria Town after the launch of "Central Park New York". Bahria Paradise is comprised of many precincts among which the residential plots of different categories are available. Bahria Paradise is starting from Precinct 46 to Precinct 58. All these precincts are designed with 250 sq. yards, 500 sq. yards and 1000 sq. yards plots in it. Even the luxury villas of 350 sq. yards are the part of this paradise housing project.
No doubt, all precincts of Bahria Paradise are fabulously designed that no precinct of it remains in the dark. But some precincts are really attractive to invest and also best for residence. Precinct 46, Precinct 47, and Precinct 49 are the top options to buy the best residential plots of 250 sq. yards in it. Let's discuss the location, updated rates, and investment potential.
Location Details & Easy Access
Bahria Paradise is ideally located at the prime location of Bahria Town Karachi. The distance of Bahria Paradise from the Super Highway Entrance is around 3 Km to 4 Kms. It is located in the close vicinity of Grand Jamia Masjid. Bahria Paradise just starts from the back of Precinct 16 and further extends up to Precinct 28. The attractive location of Bahria Paradise is one of the more appealing factors that catch the attention of investors and buyers toward it.
Latest Prices of 250 Sq. Yards in Bahria Paradise
The plots of 250 sq. yards are available in different precincts of Bahria Paradise. But the hot-favorite precincts where the development work is almost completed and waiting for possession are always focused by investors. Even the precincts that are located at an attractive location or in the surrounding of many attractions also drive the attention of interested clients.
These days the demand of 250 sq. yards residential plots in Precinct 46, Precinct 47 & in Precinct 49 is very high. There is so many reasons that makes these plots best but the top one is the current development status and reasonable rates. These 250 sq. yards plots will be available to you at the price bracket of 60 lacs to 70 lacs. These plots are launched at the convenient payment plan of 4 years. The launching price of these plots was 59, 25,000 PKR. One month installment of these plots is 3.31 lacs. The booking price of these 250 sq. yards plots is 6.35 lacs.  The prices of the plots are different as depending on the location. Buying is highly recommended.
Universal Property Network is an authorized dealer in Bahria Town Karachi. It's a trusted name in term of sale and buying property. So, if you are searching for any details just make a contact with UPN team.