Bahria Sports City & Bahria Paradise Plots Merging Open In Jinnah Commercials – Latest Details
by UPN
May 23, 2019
0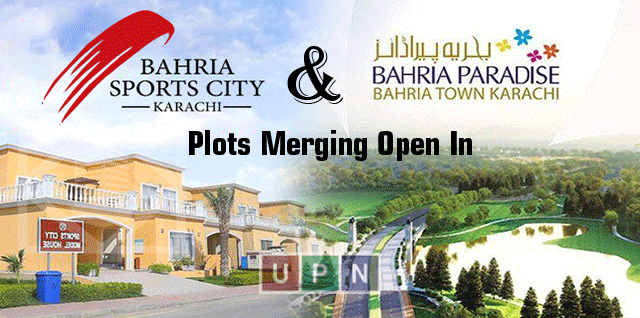 Everyone is quite aware of the litigation of Bahria Town and the land issues in Bahria Sports City and Bahria Paradise. And there are numbers of buyers who are waiting to merge their plots into the plots provided on the different locations. We know that the whole process will take time and there are many clients who are not satisfied with the given offers by Bahria Town Karachi.
Best Opportunity & Offer By UPN
By keeping you all concerns in mind, Universal Property Network is bringing to you very good news with a new offer to merge your properties into the commercial offices and apartments. These commercial properties are available on the ideal location of Bahria Town Karachi. We are offering you to merge your affected residential properties into the commercials on Main Jinnah Avenue.
It's definitely a big opportunity for the plot holders of Bahria Sports City and Bahria Paradise that they can get rid of their non-developed or the plots on dissipated land by merging them into the legal offices available on Jinnah Commercials.
Many of our regular clients have contacted us that there are no satisfactory answers are given by the management of Bahria Town Karachi and that is the reason that investors and buyers both are worried about their hard earned money which they have invested in Bahria Town.
Multiple Options Are Available
For merging your residential plots in commercial properties by private builders, we are offering multiple options to you so that you can easily choose the best desirable one. Here some of the top commercial options are listed below for you.
Jinnah Trade Centre
Abu- Al –Qasim Commercial Plaza
Business Trade Centre
Empire Business Centre
Al-Falah Tower
Dominion Centre
GM Icon or GM Towers
Diamond Homes
Dominion Twin Tower & Much More
Note: Merging your residential files in other commercial properties is not allowed by Bahria Town but still there are only a few private builders and developers are welcoming these files. And at the same time, it's a limited time offer so it is highly recommended to avail this attractive opportunity and to get rid of these negative priced properties and convert it into commercial office on main Jinnah avenue of Bahria Town Karachi.
What is Adjust Your Plots Into Commercial Offices
First of all, Select the best option of flat or office
The updated file will be accepted
It is needed to deposit 5 lacs to 10 lacs cash
Your total paid amount will be adjusted in office or flat price
The most attractive feature about this offer is that there will be not any deduction on your paid amount.
In case of access amount, it will be simply adjusted to the installment plan.
A Buyer will proceed with photocopies of all documents
And he will surrender the original file of plot and deal will be final with a proper Sale Agreement.
For further details contact Universal Property Network.