Bahria Town 125 Sq Yards – Best Investment
by UPN
May 6, 2022
0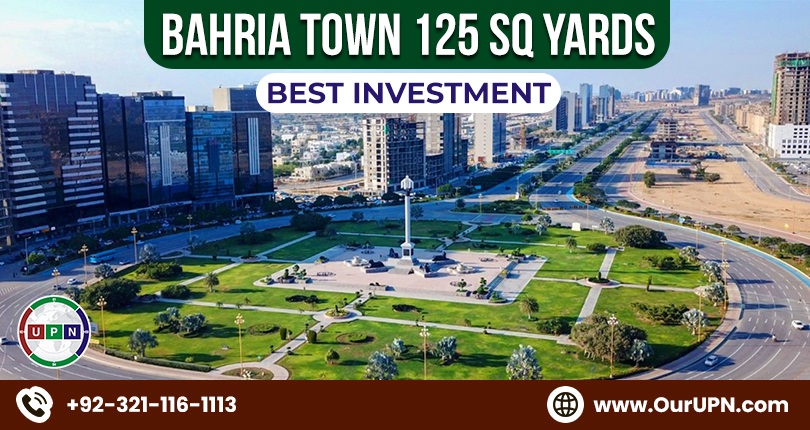 Bahria Town Karachi is a place where both buyers and investors perfectly meet their residence and investment needs. The properties for sale in this appealing society are wide in the range. However, Bahria Town 125 Sq Yards are always high in demand. It's the plots category that provides people a chance to purchase for their residence and investment gains. These plots are available in different precincts at different prices, giving an opportunity to make a suitable investment.
In this latest blog, we will discuss the top best options where you can invest confidently!
Bahria Town 125 Sq Yards Plots Karachi
When it comes to buying 125 sq yards plots, no one can deny the importance and value of Precinct 12. Similarly, there are several attractive precincts like Precinct 10A and Precinct 11A where you can get an ideal location but affordable plots. So, without any further delay, let's explore the details further:
Ali Block Plots
Known as the heart of Bahria Town Karachi, Precinct 12 is one of the top options in purchasing 125 sq yards residential plots. These plots are completely developed and available with possession. The launching prices of these Bahria Town 125 Sq Yards were far reasonable. But currently, the starting prices of the plots are 75 lacs. Even some of the options will cost you around 1.20 crores. These Ali Block plots are only suitable to purchase and investment for residence and construction purposes. Buying there for investment gains is not suggested as the prices are already much appreciated.
Precinct 10A and Precinct 11A Plots
The second best option to get 125 sq yards plots is Precinct 10A and Precinct 11A. Both these precincts are located perfectly in the proximity of Bahria Golf City. The eye-catching Murree Point Karachi is also located near these precincts. Featuring complete development and impressive inhabitation in the villas, these precincts are exceptional to buy plots and do construction. Here buying a 125 sq yards residential plot will cost you 56 lacs to 70 lacs. Some of the ideal location plots will cost you more.
Precinct 14 Plots
Giving you another the best option for investment in 125 sq yards plots, Precinct 14 is designed ideally. This precinct is located on Main Jinnah Avenue at a distance of around 7 – 8 KM from Bahria Town's main gate. This precinct is also featuring 100% development while a large number of houses are also under construction. Here 125 sq yards plots are available in the price bracket of 65 lacs to 75 lacs. This precinct has beneficial surroundings such as Precinct 12, Precinct 15A, Precinct 15B, and Precinct 27 lying nearby.
Precinct 27 New Deal
If you are still searching for the top investment options in 125 sq yards plots, then get it quickly in Precinct 27. This precinct is located after London Bridge next to Precinct 12. Its location is ideal and easily accessible. Most importantly, it features the heart-winning villas of 235 sq yards where a large number of families are already residing. The prices of plots in this precinct were already affordable. But recently, a new deal of plots has been launched in it. It's a new deal Bahria Town 125 Sq Yards. Plots are 100% on-ground but still available on open forms. You will be free from paying any transfer fee or extra charges.
Similarly, the launching prices of the plots are low. These plots can be easily purchased at the price of 45 lacs to 48 lacs. Both general and category plots are available for sale.
We Universal Property Network 100% suggest buying in Precinct 27 plots for residence, investment, and construction purposes. These plots are equally suitable in all the terms.
Other Best Options
All the above-mentioned plots are attractive to consider as per your requirements. You can choose Precinct 12 for residence, Precinct 10A, and Precinct 11A for residence and construction gains. Similarly, Precinct 14 is an ideal option. However, if you are looking for low-cost plots of 125 sq yards, you may find impressive options in Precinct 23, Precinct 24, Precinct 25, Precinct 26, and Precinct 26A. The prices of plots in these precincts are affordable and offer good returns.
Please contact Universal Property Network For More Information click here or visit our youtube channel further assistance