Q Hotel Apartments Bahria Town Karachi – Best Investment
by UPN
May 25, 2022
0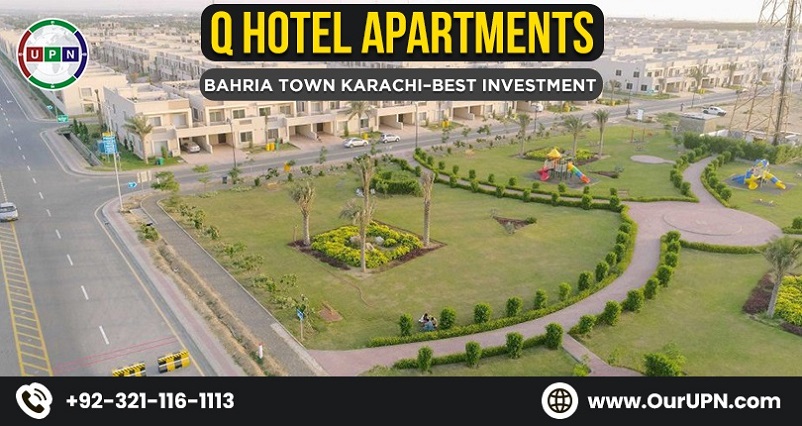 Q Hotel Apartments recently announced a new, state-of-the-art venture in Bahria Town Karachi. Designed perfectly on the latest trends and advanced modes, it is one of its kind, premium development. Features luxury lifestyle and amenities, these apartments enjoy easy access to 5-star Jasmine Mall Karachi. This place has exclusive quality, and attractive features define luxury, style, and elegance. Q Hotel by Q-Links is a unique venture where you can happily invest in hotel service rooms. These are heart-winning apartments for sale in Bahria Town, perfect for investment and high rental gains. 
Q Hotel Apartments Jasmine Mall Karachi
Launching in a few days, Q-Hotel offers several sizes of hotel apartments for sale. The total number of service apartments is 120 rooms. These are luxurious apartments with prime locations in the heart of Bahria Town. The actual location of this exclusive project is the top floors of Jasmine Mall Karachi. Yes, you will find this magnificent development on the 8th, 9th, and 10th floors. The details of sizes will be available soon.
Q Hotel Apartments Booking and Payment Plan
Q-Links Developers maintain a good name in the real estate sector for their commitments, on-time delivery, and reasonable prices. Keeping the tradition of facilitating the investors with the best, these developers have again come up with incredible investment opportunities within affordability. The prices of Q Hotel Service Apartments start from 70 – 80 lacs. Moreover, the booking amount of the apartment is 17.8 lacs. It varies depending on the location and category of the apartment. Also, the monthly installments start from 74,375/- only.
The payment plan of these apartments contains:
30% Booking Amount
48 Monthly Installments
30% on Possession
Affordable Total Amount
The ease of payment in 4 years is nothing less than a blessing. People looking for profitable investment opportunities but who desire to pay in installments will find it the best.
Reasons to Invest in Q Hotel
This latest project is planned to provide you with an experience and a better way of living with exceptional amenities. It's a high-standard venture where you can invest to enjoy efficiency, comfort, and elegance. There will be an unparallel environment of luxury. The launching prices of apartments are low, making it possible for salaried persons. However, if you are still looking for the solid reasons to choose this place, then please keep on reading below:
Prime and Easily Accessible Location
The developers of this project are very efficient as they have chosen the beneficial location for Q Hotel Bahria Town Karachi. This state-of-the-art project is located at the prime location of Precinct 1, a short distance from Bahria Town's main entrance. The actual site of this project is in front of Tauheed Square, near to Al-Falah Tower. Moreover, you will find these apartments on the 8th, 9th, and 10th floors of Jasmine Mall Karachi.
Additionally, many of the top-class commercial buildings are operational in proximity. Overall, the surroundings of this project are heart-winning and very much beneficial.
Affordable Rates and Booking Amount
The prices for the Q Hotel Apartments are low while booking starts from 17.8 lacs. The monthly installment is also around 74,374/- only.
Guaranteed Rental Income
Q Hotel Bahria Town Karachi is an ideal investment choice for many reasons. However, the top reason to invest in this service apartments project is the guaranteed rental income of 8%. Yes, Q-Links Developers offer handsome rent of 100% payment on booking. For example: if you purchase a service apartment that costs 80 lacs, you will get 40 thousand fixed rental income until the possession handover. Also, the total amount of these service apartments at Q Hotel will get appreciated with time. We are confident that the prices will be more than double in the next few years.
Top-Class Amenities
In this modern age, the availability of modern amenities is essential. Q-Links Developers understand this very well. That's why they have smartly planned this venture with the following up to date facilities:
Modern Architecture
Best Living Amenities
Gymnasium
Top-Notch Restaurant
Kids Play Areas
Roof-top Sky-bar
Ample Car Parking
Safe and Secure Environment
Power Back-up
24/7 Service Available
Bets Security
All Trademark Facilities of Bahria Town
Close to Grand Mosque and Theme Park
Q Hotel Booking Date
The pre-launch booking of Q Hotel Bahria Town Karachi will start on 28th May 2022. So, please be ready to invest in these apartments where investment will benefit you a lot.
Please contact Universal Property Network For More Information click here or visit our Youtube channel for further assistance.