Bahria Town Allowed Mumty for All Its Housing Societies – Good News
by UPN
November 17, 2021
0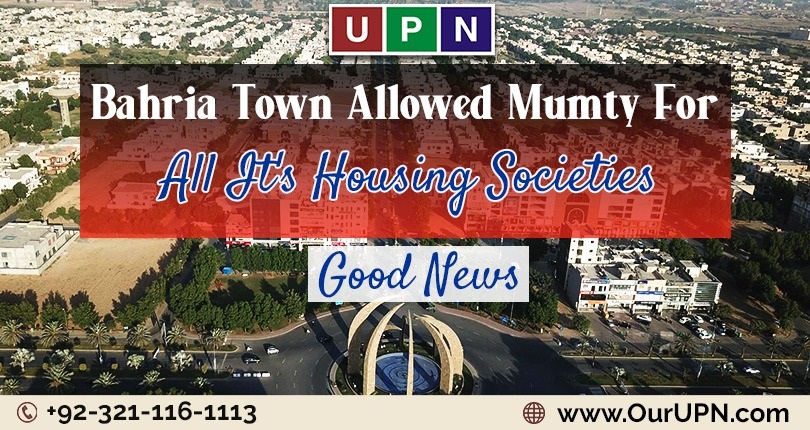 Bahria Town Housing Societies hold significant importance in the real estate of Pakistan. These societies are top-class and have many attractions. Featuring high standard amenities, Bahria Town is a name of class, quality, comforts and luxuries. Everyone wants to buy property in these societies. But doing construction on the plots in Bahria Town is never a haywire subject. Bahria Town Societies has strict construction bylaws, which are must be followed. Previously, its administration permits from some constructions, but now Bahria Town allowed mumty in all the construction sectors.
It is big and undoubtedly good news for the people planning to do construction on their plots. Further details are:
Bahria Town Allowed Mumty for All Housing Societies
This topic has been under discussion for the last many months. Previously, Bahria Town has banned the construction of mumty, but now its construction is allowed. Following are the details of the mumty area for residentials:
Mumty Area for Residential
Previous/As Per ByLaws
5/8 Marla = 200 SFT
9 Marla = 225 SFT
10 Marla = 250 SFT
1 Kanal = 300 SFT
2 Kanal = 400 SFT
4 Kanal and Above = 400 SFT
Penalty
In case of any violation, the building control department will impose a fine of rupees five lacs.
Note: Frontside Window is Not Allowed
Only Ventilator (Roshandan) is Allowed Toward Roof
6" Mumty Roof Projection is Allowed for Design Purpose Only
Upcoming Good News
According to the market updates, Bahria Town is all set to announce the construction of a complete third floor on residential plots. Well, it is still a rumour, and news is pending official confirmation.
Mumty Construction and Impact of Bahria Town Property
Since Bahria Town permits the construction of Mumty, the market for residential plots was slow. Why? Of course, everyone wants some extra space in their place for his extra stuff. So even a large number of people had sold out their plots who bought them for construction purposes. At the same time, this ban had benefited some people as well.
But the current permission for mumty construction is surely good news for the people buying plots for living purposes. Moreover, this update will indeed have a positive impact on Bahria Town's property.
So, if you are also planning to construct your dream home in Bahria Town and your house map is under approval, please contact the wing department to add mumty to it.
Contact us for further details and information.
Please contact Universal Property Network For More Information click here or visit our youtube channel further assistance