European Style Villas Bahria Town Karachi – Best Villas for Sale
by UPN
November 18, 2021
0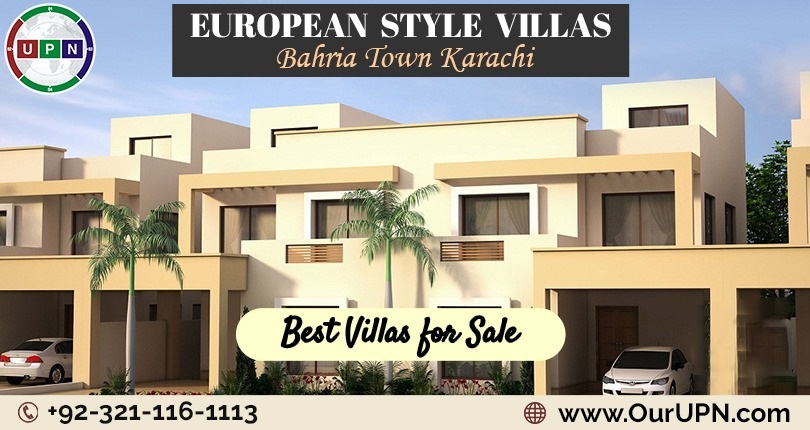 Bahria Town Karachi offers a range of ready to move properties. It's a master-planned community with a wide range of residential and commercial options. However, the demands for the villas by Bahria Town is always high even since the project was launched. Bahria Town villas are designed in Precinct 2, Precinct 10, Precinct 11, but European Style Villas Bahria Town have a whole heart. These are the significant, large size of modern living spaces you can confidently buy.
European Style Villas Bahria Town Karachi
The perfect design, appealing interiors, attractive location villas are developed in Precinct 27 and Precinct 31. The size of the villas and the accommodation is 235 Sq ft and 3 Bedrooms. These beautiful villas have 1 bedroom on the ground floor and 2 spacious bedrooms on the first floor. Furthermore, the prices, location, and attractions details of European Style Villas Bahria Town are:
Precinct 27 Villas
Launched in 2013 at the prices of 49 lacs, Precinct 27 villas are now completely developed. All the developmental work of these villas has been completed so far. As a result, possession is available while many families are enjoying a comfortable lifestyle there. Villas in Precinct 27 comes with top-class facilities enough to spend joyful living with your loved ones.
Precinct 27 Villas of 235 Sq Yards are available at the prices of 1.90 crores to 2.10 crores. These villas project has two portions. Around six streets of villas directly connect to Main Jinnah Avenue. On the other hand, the villas at the back also have good residence. These two villas have some plots in between.
The rental prices of villas at the front are 45 thousand per month. However, the rental rates of villas at the back will cost you 42 thousand monthly.
Location of Precinct 27 Villas
These villas are part of Precinct 27, which lying alongside 400 ft Main Jinnah Avenue. One can easily approach their location from Avenue 17 or London Bridge. Precinct 27 have a mosque under construction and a shopping gallery nearby. Moreover, a large area is also reserved for a beautiful park.
Precinct 31 Villas
The launching prices of Precinct 31 Villas was also the same. These villas were launched in 2014 with a flexible payment plan. But currently, all the options are available on lump-sum payments. Precinct 31 Villas are impressively complete and have a good ratio of population. The distance of Precinct 31 Villas from Precinct 27 Villas is around 5 – 6 KM.
These are the heart-winning European Style Villas in Bahria Town. Precinct 31 is develop with Bahria Town's first Imam Bargha, which is a significant attraction for Christian Community. Moreover, all the living facilities are available, and around 50 families are residing there.
Precinct 31 Villas latest prices are starting from 1.80 crores to 2.10 crores. The price of villas varies as per the location. You can also buy these villas for rent. Moreover, the rental value of 235 sq yards villas of Precinct 31 is around 40 thousand per month.
Location of Precinct 31 Villas
Precinct 31 is a part of Old BTK; however, it enjoys a prime location near Rafi Cricket Stadium Bahria Sports City. Precinct 31 Villas distance from the main gate is around 16 KM. Furthermore, Precinct 35 Villas of Sports City are also lying nearby.
Attractions in Surroundings of European Style Villas Bahria Town
Ideal Location Close to Main Jinnah Avenue
Easy Access
100% Development
Increasing Inhabitation as well as Demands
Near to Dancing Fountain
Close to Bahria Sports City Villas
Few Minutes' Drive to Rafi Cricket Stadium
Eiffel Tower
Buying in Precinct 27 and Precinct 31 Villas
The villas for sale in Precinct 27 ad Precinct 31 are 235 sq yards in size. These are spacious and have eye-catching elevations. The surroundings of these villas are attractive as it has easy access to Bahria Town significant attractions.
The launching prices of these villas was 49 lacs, and the latest prices are around 2 crores. But still, there is huge potential in these living spaces.
Investment in Precinct 27 Villas and Precinct 31 Villas is suitable for both residence and capital gains. Moreover, people who desire to generate monthly income through investment can happily earn 40 – 50 thousand monthly rents.
So, what are you waiting for? Invest in these excellent living spaces available for sale in Precinct 27 and Precinct 31 Bahria Town Karachi.
Please contact Universal Property Network For More Information click here or visit our youtube channel further assistance