Bahria Town International Hospital Karachi Inauguration Date Announced
by UPN
March 26, 2018
4 Comments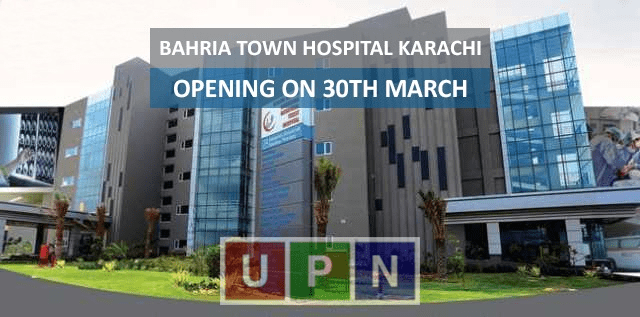 Bahria Town Karachi is shaping into a ready-to-live community where residents will be provided all standard facilities at their doorstep. In a housing society of such a huge scale, a well-equipped hospital was in the plan of Bahria Town. The provision of international standard medical and healthcare to the people living here has always been in the focus. Now Bahria Town Karachi is about to fulfill its commitment of an advanced level hospital in its premises. The inauguration date of Bahria Town International Hospital Karachi has been announced officially. Earlier, Bahria Hospital Karachi opening was expected on 23rd March but now official opening date has been advertised in press.
Bahria Town Hospital Karachi Opening On 30th March
Bahria Town International Hospital Karachi will be inaugurated on this Friday, 30th March 2018. Mr. Ali Riaz Malik, CEO Bahria Town, will be chief guest at this occasion.
Bahria Town International Hospital Karachi
Bahria Town International Hospital also known as Begum Akhtar Rukhsana Memorial Trust Hospital will be equipped with latest technology. It will be one of the most advanced healthcare centers of the country with dedicated team of foreign qualified doctors. 24/7 Emergency, ICU, CCU, specialized departments, surgical units, laboratories, blood bank will be featured here for patient care. Bahria Town already has four modern-standard hospitals to its credit in Bahria Town Lahore and Bahria Town Rawalpindi.
Departments & Features of Bahria Town Hospital Karachi
Bahria Town Hospital Karachi will have the following departments and facilities for people.
24/7 Emergency, ICU, CCU, NICU
Cardiology and Cardio Therosick Surgery
General and Laparoscopic Surgery
Obstetrics and Gynecology
Pediatrics and Neonatology
Nephrology, Dialysis, Urology and Renal Transplant
Orthopedics, Neurology and Neurosurgery
Ophthalmology and Corneal Transplant
ENT and Cochlear Implant Surgery
Radiology, MRI, CT Scan, Digital Radiography & Mammography
Latest Laboratory and Blood Bank
Bahria Town International Hospital is ready to open its doors to serve public.  BTK residents and other public will now have this medical facility of international standard in their vicinity.
For more updates and latest information, please keep visiting Universal Property Network (UPN).