Safari Villas Bahria Town Karachi – Location Map, Prices, Payment Plan and Booking
by UPN
April 7, 2022
0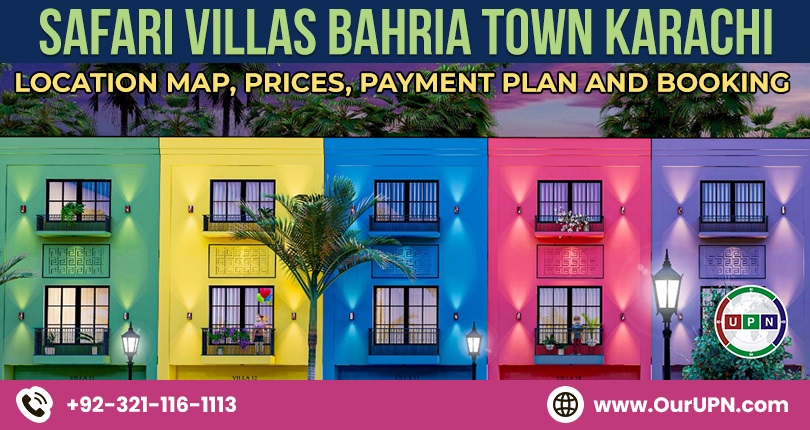 The search for your dream house is now complete with the upcoming Safari Villas Bahria Town Karachi. Whether you're looking for the ideal living place in Bahria Town or just want to invest in a profitable property, all your needs will be fulfilled perfectly. Get ready to experience the unmatchable luxury and comforts by investing in the top villas on installments project in Karachi. Safari Villas is an outstanding venture by Q-Links Developers.
This project is a brilliant blend of prime location, affordable prices, flexible payment plan, and out-class accommodations. Moreover, the top-class amenities are making this place a center of attention for both buyers and investors. Undoubtedly, the more you will know about these luxury villas, the more you will attract to them. These beautiful villas bring you a chance of comfortable living by taking the right decision of investment in Bahria Town Karachi.
Safari Villas Bahria Town Karachi
This project is the talk of the town even before its official launch, why? Because of its thoughtfully planning, trusted developers, ideal location, and striking features. The demands for villas in Bahria Town Karachi are always high. That's why Q-Links has come up with attractive Safari Villas Karachi.
These are 75 sq yards ground + 2 storey villas designed as per the latest trends and advanced modes. Featuring 3 bedrooms accommodation, the Safari Villas Karachi layout plan will be available soon. These appealing villas are featuring:
A very beautiful lounge area
Spacious kitchen and dining area
3 bedrooms with attached bathrooms
Balcony and terrace
it's a complete residential space for modern families.
Please note: Safari Villas Bahria Town Karachi are covering an area of 75 sq yards. But after construction of Ground + 2 Storey, the living capacity of these appealing villas will be equal to 125 sq yards. Additionally, these are not just residential spaces but you will find these villas more of it. Undoubtedly, this project will be a remarkable addition to the landscape of Bahria Town Karachi.
Safari Villas Bahria Town Karachi Location
These luxury villas have many attractions and one of those is their prime location. Safari Villas location is Bahria Greens Karachi. Safari Villas Bahria Town Karachi location is ideal as these are located in the heart of Bahria Town. This thoughtfully planned Bahria Greens already enjoys an attractive place and is easily accessible from multiple routes. The actual location of this project is in the proximity of Bahria Sports City. Bahria Greens lies next to Precinct 38. Moreover, the iconic Eiffel Tower and Pakistan's largest cricket stadium are lying nearby. Once Rafi Cricket Stadium gets operational, the worth of these luxury villas will be double.
Due to the central location of Safari Villas, this project will enjoy great value among investors. As we all know, the prime locality is the main factor to determine the success of any project. It's an easily accessible location with lots of attractions in proximity. Some of the nearby developments and Safari Villas Bahria Town Karachi Map details are:
Naya Pakistan Housing Scheme Apartments
The new and finalized map of Bahria Greens shows the perfect planning of Naya Pakistan Housing Scheme Apartments in the proximity.
HBL Towers
It's another mega-development work lying close. HBL Towers development work will begin soon.
Several Villas Projects
Not only Q-Links Developers but several other re-known developers have launched their villas projects in that locality i.e., AQ Villas Bahria Town Karachi.
New Entrances of Bahria Town Karachi
Another significant attraction to these Safari Villas Karachi location is the proximity to the new entrance of Bahria Town. Yes, it's the talk of the town that the second main entrance of Bahria Town Karachi will be provided near Bahria Greens Karachi. Once it's official, you can estimate the worth of these 75 sq yards triple-story villas yourself.
Additionally, all the social, commercial, transportation, recreational, educational, and health facilities will be closely available in these villas. So, Safari Villas location is mind-blowing from every point of view. It is a perfect choice for residence and investment in Bahria Town. These villas ensure your investment's high value and appreciation over time because of the remarkable location.
Safari Villas Bahria Town Karachi Payment Plan
An affordable investment awaits you at Safari Villas Bahria Town. The best developers of Pakistan have planned these luxury living spaces at surprisingly reasonable prices. Moreover, the Safari Villas Bahria Town Karachi payment plan is highly flexible and convenient. The actual prices of these villas are yet to be announced. However, the expected prices of Safari Villas Karachi are 1.10 crores. All these villas can be easily booked with a 30% down payment. The remaining amount will be payable in the easy installments plan of 3 years. Safari Villas booking process is extremely simple. One can quickly book these appealing villas with a certain amount of down payment.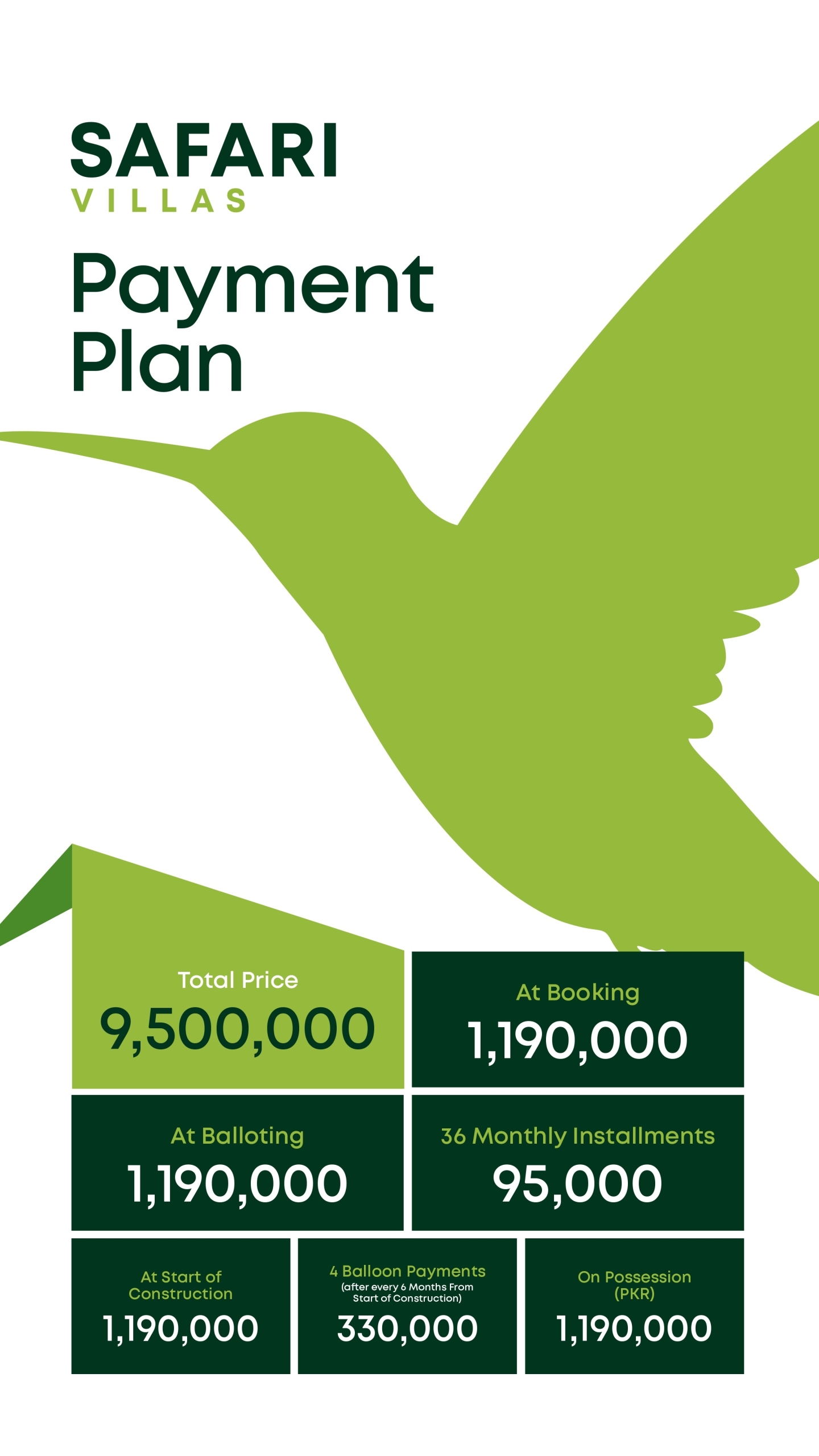 Additionally, one can also buy these Safari Villas on lump sum payment to get quick possession. Yes, Q-Links Developers are offering these luxury villas with two easy payment methods i.e., in cash, on installments.
When compared to other villas of the same accommodation, you will surely find these prices highly suitable. Definitely, the prices will go up with the increasing development and time. Buying in these villas will prove beneficial whether you are buying them for residence or for investment gains.
Whether you want to buy residential or commercial property, both will prove beneficial.
Safari Villas BTK Latest Updates
Perfectly planned, these villas are soon launching officially. Booking will also start with this announcement. Moreover, the development work will be completed at the fastest pace. Safari Villas BTK latest updates gives this project a top trending place as it will be an attractive ready to move property in Bahria Town Karachi. You will surely find it suitable for all your property needs in 2022.
About Developers
It's a masterpiece by Q-Links Developers. These developers are maintaining a good reputation in the real estate and construction sector of Pakistan. They have successfully delivered a large number of projects, especially in Lahore. Most of their outstanding ventures are located in Bahria Town Lahore such as Jasmine Mall Lahore and Jasmine Grand Mall. Moreover, their villas projects are also of top quality. These are developers of Safari Villas Bahria Orchard Phase 4, Jasmine Villas, Orchard Homes, and Eastern Villas.
This Safari Villas Karachi is the second project of Q-Links Developers in Karachi. Their first project is Jasmine Mall Karachi which has earned tremendous success. Here we ensure that the legacy of Q-Links Developers will continue in Bahria Town Karachi as several new and exciting projects are expected to launch soon.
Investment in Safari Villas BTK
Safari Villas Bahria Town is a remarkable venture offering comfortable living spaces at reasonable rates. This project is appealing in so many terms i.e., location, prices, payment plan, and attractions nearby. Moreover, the return on investment is high providing a chance for profitable investment in Bahria Town Karachi. People looking for something beneficial more than expectations will surely buy their villas in this project.
Wrapping it Up!
Buying in Safari Villas Karachi is something highly profitable. This project is attractive to choose for a safe, secure, and comfortable lifestyle. This place is fully-facilitated, ideally located, and has countless other reasons to invest. Contact UPN for further details and investment analysis.
Universal Property Network is the authorized sales partner of all Q-Links Projects. Also, we are authorized dealers of Bahria Town Karachi. You can confidently contact us for a safe and profitable investment.
Please Contact Universal Property Network  For More Information click here or visit our youtube channel for further assistance