Bahria Town Islamabad – All Phases & Their Details
by UPN
January 2, 2020
0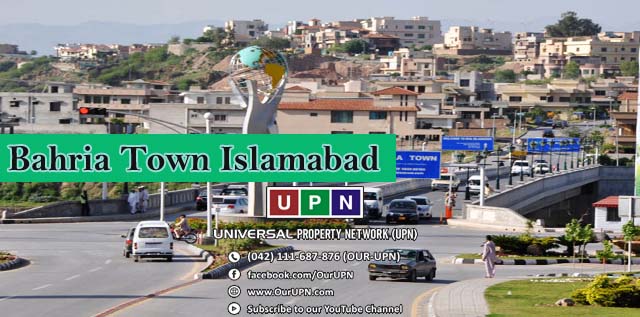 Bahria town Islamabad is the very first housing project of Bahria Town Private Limited which is now the most popular place to buy a property. But now, the top developers have launched their housing projects all over the country. Bahria Town Islamabad is a marvel of modern architecture in the twin cities.
The society is centrally located and fabulously designed in different phases. Let's explore some important details of Bahria Town Islamabad together!
Location Overview
Bahria Town Islamabad beautifully lies on the ideal located near to Rawalpindi. It is located on the main location near Jinnah Avenue in zone IV of Islamabad. In addition, some attractive housing projects also lie close to Bahria Town. These nearby societies are DHA, Park View City, and Bahria Enclave.
Bahria Town Islamabad Total Area           
This Bahria Town in Islamabad comprises different phases and further blocks in it. The Phase 2, 3, 4, and 5 of Bahria Town Islamabad spans on a vast area of 2501 Kanal. There are around 1384 residential plots on Mouza Kotha Kalan in zone V of Islamabad, while the phase VIII of Bahria Town Islamabad consists of a total of 761.20 Kanal.
Bahria Town Islamabad Project Details
Bahria Town Phase 1 to Phase 7               
Phases 1 to 7 of Bahria Town are fully developed and residents are enjoying a luxurious lifestyle in them.
Design of phases
Bahria Town Islamabad, the whole society is impressively designed with inspiring landscapes, memorable spots, vintage sculptures and monuments, and Skyscrapers. The designing of Phases 1 to 3 is in a zigzag form with plots and houses of diverse sizes. However, Phase 4 to 7 is like Lake Valley.
Every phase of Bahria Town has its own commercial area, shopping malls, educational hubs, standard hospitals, and many residential blocks such as Safari Villas, Rafi block, Exclusive lodges, and Awami villas.
Basic Sizes of Plots
Phase 1 to Phase 7 of Bahria Town features different categories of residential plots. But the plots of 250 Sq. yards and 500 Sq. yards are in abundance.  
Bahria Town Phase 8
This is another attractive phase of Bahria Town. It was launched in September 2003.
Size of plots
Same like other phases of Bahria Town, Phase 8 is also featuring both residential plots as well as ready to move properties in it. The basic categories of residential plots in Bahria Town Phase 8 are 5 Marla, 8 Marla, 10 Marla, and 1 Kanal.
Design of phase 8
The main expressway of Bahria Town Phase 8 is constructed on the pattern of the Champs – Elysées. This boulevard has multi-storied buildings which will be soon into the commercial and business hub of Rawalpindi.
Moreover, Phase 8 is also featuring eye-catching water channels and lush green parks which further increase the beauty of this place and make it more relaxing and attractive.
Bahria Town Phase 9
This is another beautiful phase of Bahria Town. Here you will find different categories of plots for sale.  Phase 9 of Bahria Town comprises four regions of the ultramodern lifestyle. These four zones of Phase 9 is Business Square, Entertainment Zone, Medical District, and Sports Village.
For further details, stay connected with Universal Property Network!