DHA Valley Islamabad – Expected Date of Possession Announced
by UPN
January 7, 2020
0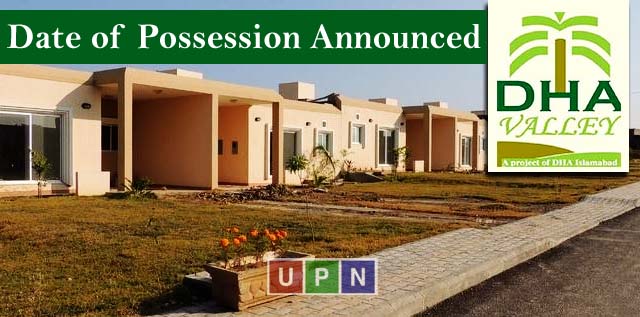 DHA Valley Islamabad
DHA Valley, a first-class residential project in Islamabad has recently announced to hand over possessions of its few blocks of in 2020. The society has decided to announce the possession of a few hundred residential plots. This possession will be given to those who are willing to start the construction of their houses. Currently, the possession of the residential plots will be announce in Oleander, Lily, and Daffodils blocks.
The announcement to handover the possession in early 2020 came out from a meeting held on 24th December 2019 between DHA Islamabad & DHA Valley Affectees.
It was a meeting held in response to protests by the affectees of DHA Valley. These affectess of DHA Valley are struggling for the past many years to raise this issue.
In this recent meeting held on DHA Site, the representatives of DHA also briefed the members on the ongoing developments in the society. Moreover, also update them about the land issues hindering progress.
Overall, the good news is that this meeting end at a positive note. The next follow-up meeting is will be held in March 2020 to make further discussions.
Expected Possession of Plots
The affectees of DHA will be handed over with the possession of re-balloted plots in the first and 2nd quarters of 2020. Indeed, they will be facilitated with all the basic facilities in the developed blocks. Moreover, the members of DHA Valley also demanded the completion of the expressway bridge. They requests to complete it within the given time period of 3 months. The best advantage of this bridge is that it would connect DHA Valley with DHA Phase 6 Islamabad.
In response to all these demands and expectations, DHA assured full cooperation and commitment to working out details about possible early possessions in blocks linked with blacktop roads.
But here, DHA will only consider those members for possession of their plots who are willing to build their houses. Therefore, it is essential for the interested members to submit their application for possessions in order to avail of early possessions.
Regarding the matter of bridge completion, DHA informs that after the imposition of Sector 4, few blocks have of the society have been deleted including the location of the bridge due to acquisition of land.
Possession & Increase in Prices
As soon as DHA will hand over the possession of the few plots, the prices of overall property will increase. Therefore, we highly recommend you to make small investments in re-balloted plots of developed plots in DHA Valley Islamabad.
The best-developed blocks of DHA Valley Islamabad are
 Oleander Block
 Lily Block
 Daffodils Block
 Bluebell Block
 Magnolia Block
 Moreover, the development is progressing in Rose Block and Bogenvilla Block.
For further details stay connected to Universal Property Network!