Ready to Move Properties in Bahria Town Karachi
by UPN
December 31, 2019
0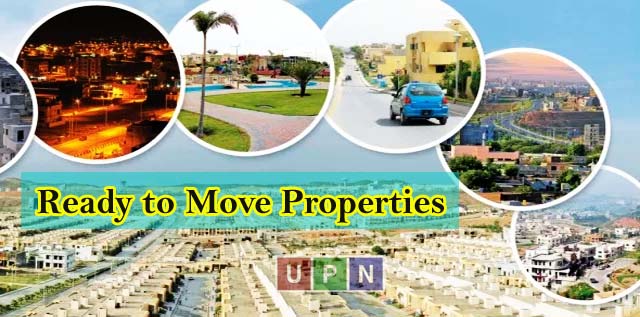 Properties in Bahria Town Karachi
Bahria Town Karachi, the first mega housing community that is spanning over a large area of land. The place comprises three sub-projects and many precincts in it. The society as a whole known as the best to buy residential and commercial plots for sale.  But at the same time, it is also attracting buyers with different ready to move properties in it. Properties in Bahria.
No doubt, there are different ready to shift properties in Bahria Town but still, a buyer demands to buy a property where all the modern-day, living facilities available to him. Yes, the first demand of every buyer is to invest in a property where he can confidently enjoy the luxurious lifestyle of Bahria Town. So, today we will discuss all these attractive properties where all the facilities and amenities are already waiting for you!
These ready to move properties in Bahria Town Karachi includes beautiful villas of different sizes as well as luxurious apartments. Some most attractive ready to shift properties in Bahria Town Karachi are:
Quaid Villas
Iqbal Villas
11 Villas in Precinct 10 A
Villas in Precinct  11 A and 11 B
Quaid Villas Bahria Town Karachi
Quaid Villas is located in Precinct 2. These villas are ideally located at the difference of some kilometers from the Main Entrance of Bahria Town Karachi. The total numbers of constructed villas in Precinct 2 are about 650 to 700 villas. The demand for these 200 sq. yards villas in Bahria Town Karachi is very high as the limited villas are available in it. The starting prices of these Quaid Villas is 1.5 crore and goes high to 1.9 crores.
All the facilities such as beautiful parks, schools, hospitals, and a shopping gallery are available in Precinct 2 near to these villas.
Iqbal Villas Bahria Town Karachi
Iqbal Villas appears the hot-favorite option to buy a luxurious residence for its prime location in  Bahria Town Karachi. These are beautifully located at the drive of 10 minutes from the Main Entrance. One of the major attractions, Theme Park is ideally located at the distance of some kilometers.  Begum Akthar Rukhsana Memorial Hospital is situated close to it.
These are 150 sq. yards villas that comprise 3 Bedroom, a drawing room, dining, and a servant room in it. Families are already enjoying the international standards of living in them. The entire area is populated and only the limited numbers of villas are remaining.
The starting prices of Iqbal Villas is 1.10 crore to 1.40 crore.
All the above-mentioned facilities near Quaid Villas are also available in Iqbal Villas as these both ready to shift properties lies in Precinct 2 of Bahria Town Karachi.
Precinct 10 A Villas
These luxury villas of Precinct 10A are beautifully designed and built over the land of 8 Marla. The 3-bedroom villas also have a servant quarter, beautiful lawn, a car porch, alongside terraces and balconies. These 200 sq. yards will cost you around 1 crore to 1.40 crore.
All the top-notch facilities and attractions lie in the proximity of 10 A Villas. Moreover, a well-planned shopping gallery is also developing there.
Precinct 11 A & 11 B Villas
Precinct 11 A and 11 B is also featuring the beautiful villas of 200 sq. yards and 152 sq. yards. These are well-designed villas where the prices are less in comparison to other above-mentioned options. Actually, the prices are different according to their location and development status. For prices call us anytime!
Stay updated with Universal Property Network!