Bahria Town Karachi Or DHA City Karachi? Which is Better Option- Let's Discuss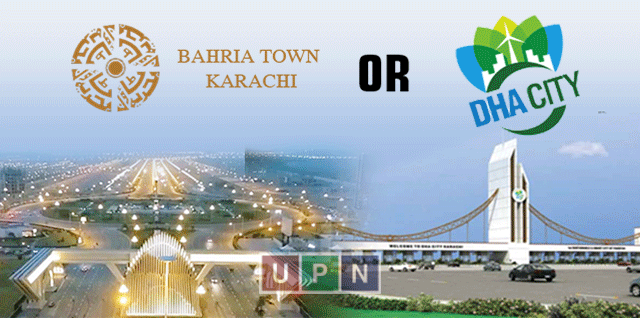 Whenever we plan to invest in the real estate market of Karachi, the two mega projects, Bahria Town Karachi and DHA City Karachi appear the top options to us. These two largest housing projects in Karachi are expanded over a large area of land and the brand name of the projects catches more attention of buyers to them.  Both are located at the central location of the city and provide ideal opportunities for residence and investment to block local and overseas Pakistanis.  But which one is better among both? It's one of the biggest questions when someone tries to invest in 1 by ignoring the second one, so let's figure out the better option between these two largest housing projects of Karachi. We are here sharing to you some unique facts and details of Bahria Town Karachi and DHA City Karachi that will make it easy for you to opt. the attractive one easily.
Bahria Town Or DHA – Location Analysis
Bahria Town Karachi and DHA City both are located at the prime location alongside Karachi-Hyderabad Super Highway. With having a drive of only a few minutes, these both largest housing societies are easy accessible from Jinnah International Airport. DHA City Karachi has a dedicated interchange on M9 whereas the same has been announced for Bahria Town Karachi.
Bahria Town Or DHA – Investment According to Development
By keeping the current development status of Bahria Town Karachi, anyone can easily opt. this luxuries housing project for residence. Bahria Town Private Limited is recognized real estate brand of Asia that has won the heart of investors and buyers with the faster speed of development in many comparisons to other renowned constructors.  The development factor in Bahria Town is definitely encouraging for investors. However, the development work in DHA City still needs plenty of time to change its major part into the ready-to-live zone.
Bahria Town Or DHA – Affordability & Easy Modes of Payment
Bahria Town and DHA City Karachi both are offering the residential and commercial plots as well as built-in properties. And at the same time, both projects are offering easy payment plans. Bahria Town Karachi is currently offering 3 to 4 years payment plan for the available options but, DHA City is offering a long-term installment plan for 8 to 10 years. The prices of property in Bahria Town Property and even in DHA City both fall in affordable ranges but the only difference is in the development status and the periods of payment plans.  In simple words, Bahria Town Karachi is the best project to enjoy a peaceful and luxurious lifestyle while for DHA City Karachi; you will need to wait for a few more years.
Bahria Town Or DHA City – Best for Short & Long Terms Investment
Before buying any property, the first preference of the buyers is to earn huge profit with short to medium term of investments. But there are many buyers who consider long-term investments as well. Many of us are aware of the fact that DHA projects usually favor long term investments. By keeping the current conditions of development, prices and inhabitations, it is clear that DHA City Karachi is a great option but for long-term investment. On the other hand, Bahria Town Karachi is highly recommended for investment for short-term or medium-term investment.
Bahria Town Or DHA – Modern Lifestyle & World Class Facilities
Before the inception of Bahria Town Karachi, DHA was the only project that offers a standard lifestyle with unique features and top-notch facilities in Karachi. But as Bahria Town Karachi has set a new trend by introducing modern living and world-class amenities in its project, this inception slowed down the market of DHA City Karachi. No doubt, DHA offers a mix of life's basic facilities and top luxuries in it but Bahria Town Karachi attracts more buyers for its unique standards of living and mind-blowing attractions.
For best consultancy services in both DHA & Bahria Town, feel free to contact Universal Property Network.