Bahria Town Karachi Eiffel Tower Location and Ticket Price
by UPN
September 29, 2022
0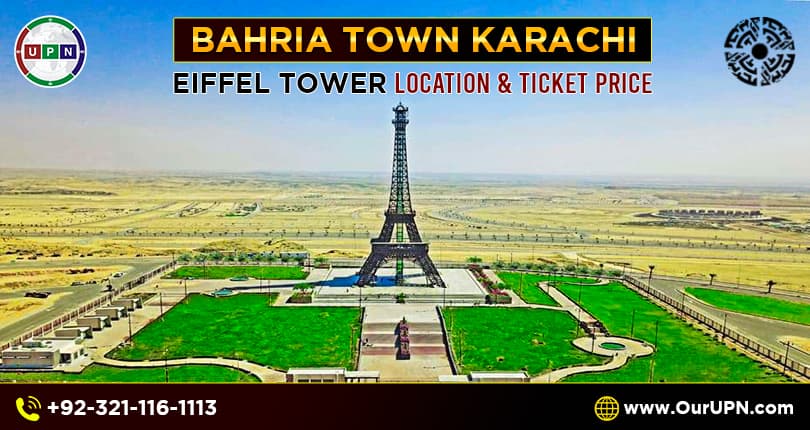 Bahria Town Karachi is a name of excellence. This mega venture needs no introduction as it's a beautiful description of the class, style, luxuries, and high-level lifestyle. Designed and developed on modern ideas, this place is incredible in all ways. Have so many attractions and unique features, however, Bahria Town Karachi Eiffel Tower had a significant value.
About Bahria Town Karachi Eiffel Tower
It's an appealing place, a great development inside the society, providing an opportunity to get engaged in the cultural and aesthetic melting pot. Located ideally in the heart of this mega society, it is one of the tallest buildings, a recreational point. Inspired by the iconic Eiffel Tower in Paris, France, this replica is undoubtedly a great gift for the people of Pakistan.
The venue is used for cultural and social activities like concerts, fireworks displays, and community get-togethers on special days. Undoubtedly,  this Eiffel tower in Bahria Town, Karachi, is a fantastic place to mentally and physically prepare for a fun social event and a stylish gathering in a large public space. Further details are:
How Tall this Eiffel Tower Is?
The Eiffel Tower Bahria Town Karachi is the 80-meter tallest monument. It is around 263 feet high structure with several floors and staying points.
What are the Entry Fees/Tickets for Eiffel Tower Bahria Town Karachi?
This attractive place is open for your confident visit by paying a minimal fee of:
Adult: 200 PKR
Child: 100 PKR
The Eiffel Tower also has a lift to get you to the top with ease so that you can enjoy the great view and have a fun time. Following are the lift's ticket pricing for adults and children:
Lift Charges for Adults: 1000 PKR
Lift Charges for Child: 700 PKR
What are the Timings at Eiffel Tower?
Mon-Fri: 4pm – 11pm
Sat-Sun: 11am – 11pm
What is the Contact/Info Number of the Eiffel Tower?
Bahria Town always facilitates its residents with the best. They had a history of good management and dream services for their people. By working on their tradition, they also provided a contact/information helpline at Eiffel Tower Karachi. The toll-free number is available 24/7 to guide people and help them with their concerns. You can get the number below:
0800 – 00 -100
Where Eiffel Tower Bahria Town Karachi Location Is?
This major attraction of Bahria Town is located ideally in its heart. Also, it is visible from a far distance. However, this tallest, iconic development is in Precinct 37. It's a beautiful precinct of Bahria Sports City lying in the proximity of Pakistan's Largest Cricket Stadium. Moreover, Bahria Sports City Villas, Bahria Greens, and several other attractions are lying nearby.
When this Project was completed and Open to General Public?
The construction work of the Eiffel Tower Bahria Town Karachi was completed in 2019, and on December 31, 2020—new year's eve—it was made accessible to the general public through a grand opening. So, now it is completely operational and you can visit it happily!
What is the Purpose of Developing Eiffel Tower Replica in Bahria Town?
This place is specially designed to provide people with a great outing and get-together venue in Bahria Town Karachi. This replica also offers an opportunity for the people of Pakistan to experience the vibes of the Eiffel Tower Paris without spending hundreds of dollars on traveling and air ticketing.
The Eiffel tower in Bahria Town, Karachi, has been a famous location for year-round celebrations for a few years now. Also, it is one of Pakistan's tallest landmarks in Karachi. It provides a wonderful setting for cultural and social interactions. It's a destination for fun activities and frequent trips. Moreover, there are several restaurants, cafes,s, and canteens all around the Eiffel Tower Karachi, providing the desired refreshments and the ideal eating environment for visitors. Also, these small eateries and shops greatly contribute to the enjoyment of the outing at this major landmark.
So, when you are planning your visit to Eiffel Tower developed at the heart-winning location of Bahria Town Karachi. Here we assure your trip will be joyful and memorable with your loved ones. This Eiffel Tower replica is already an attractive spot where you will love to come again and again. Best Wishes!
Please contact Universal Property Network For More Information click here or visit our Youtube channel for further assistance