Bahria Town Karachi New Mega Project Deal
by UPN
September 24, 2022
0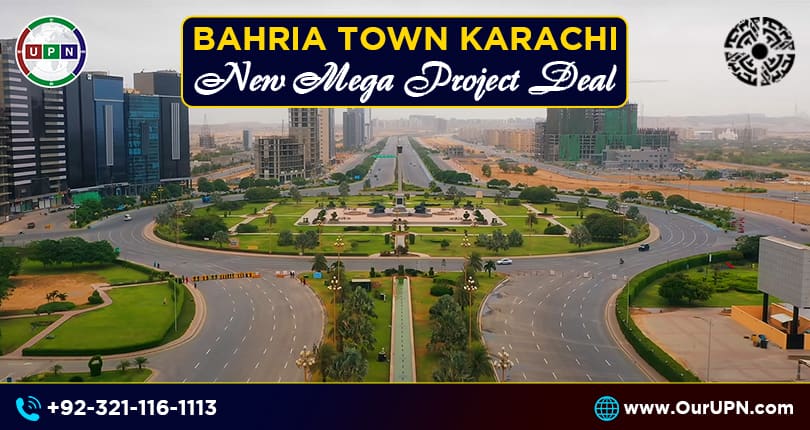 Bahria Town Karachi is a favorite choice of buyers and investors since its launch. This society holds significant importance in the real estate sector of Pakistan. Offering a wide range of opportunities to people, it's a place where one can invest confidently. That's why people always remain in the search of new and exciting property deals. Bahria Town Karachi new mega project is going to launch soon. Yes! Despite several options for residential and commercial properties, the top developers are all set to surprise with something big.
This announcement came a couple of days ago from the official social media accounts of Bahria Town Pvt. Ltd. They are moving ahead with a new mega project launching soon at the prime location of this master-planned community. Since the announcement, there is huge excitement in the property market. Not only realtors but both buyers and investors are waiting for the details to be disclosed.
In this latest blog, we will discuss the details of this upcoming mega deal hopefully launching in the next few days.
Bahria Town Karachi New Mega Project
Since everyone is anticipating the new launch in Bahria Town Karachi. We UPN would first like to clarify that it is not a new deal, it is something big, a new project as advertised. A project means a big announcement with a large number of opportunities. But what is this project? Let's find the answer!
Bahria Town Karachi new mega project can feature several plots such as 125 sq yards, 250 sq yards, and 500 sq yards. It can be apartments of several sizes or maybe a lot of villas at a prime location. Also, there are rumors that this new mega announcement will come with a wide range of residential + commercial opportunities.
There is no confirmation about the properties of the upcoming project in BTK. But one thing is 100% confirm is installments option. Yes, after waiting for so long, Bahria Town investors will get the chance to invest by paying in easy installments. So, stay connected with us for further details.
What is the Location of Bahria Town New Mega Project Karachi?
Since the announcement of the new deal/project is made by Bahria Town Pvt. Ltd., people are discussing its expected location. We also have done some homework and come up with a conclusion of three possible locations for the new mega project in Bahria Town Karachi.
It can be adjacent to Precinct 3, Precinct 4, and Precinct 7. Why? Bahria Town management has recently acquired a large area of land there. It is around 4000 – 4500 acres of land. The boundary wall there is also demolished and heavy machinery is doing fast pace development. As the land is abundant to launch a big deal or a mega project so this can be the location of your next investment in BTK.
Similarly, the second rumored location is at the back of Bahria Town Apartments. These Precinct 19 Apartments are impressively developed at a short distance from Bahria Town's main gate. Also, these high-rise buildings are enjoying proximity to all the top-class facilities and major attractions. However, you will see the availability of 70 acres of land at the back of Precinct 19 Apartment. The available land is facing M9 Super Highway.
But these are only rumors. As Bahria Town has advertised something big and mega project not the new deal, so this land is not enough for such huge development. Also, the location is outstanding so there is a rare possibility that Bahria Town will launch something on installments there.
The third rumored location for the Bahria Town Karachi new mega project is BTK 2. Yes, it is the most-discussed project! A large number of people who usually stay connected with BTK news know well that Bahria Town Karachi 2 will launch soon and Bahria Town management is already working on it. This project's location is around 50 – 55 KM away from the actual location of BTK and it lies close to Hyderabad. Bahria Town is already developing that land and almost 7 – 10 KM of the land area is properly developed.
But as Mr. Shahid Mehmood the Country Head of Bahria Town has made it clear that "something big is coming and after that, something bigger will be launched". So, this statement indicates that the new mega project is not Bahria Town Karachi 2. This project will take time to launch; maybe the next 1 year or 2 years.
So, whatever the big development is, or the new project comprises, it will be really exciting and beneficial. Investment in Bahria Town Karachi properties always comes with profits whether in the form of amenities or returns on investment. If you are looking to get the complete details of this new mega project to make the right time investment, please stay in touch with us. We are here to serve you with useful updates that will surely help you a lot!
UPN is the authorized dealer of Bahria Town Karachi offering high-level investment, sale and purchase services in all of its properties.
Frequently Asked Questions
Is Bahria Town Karachi New Mega Project Launching in 2022?
Yes, it is launching in the next few couple of days. Giving an actual launch date is not possible. However, it is happening soon.
What Bahria Town Karachi New Deal will Offers?
It's too early to anticipate. But there are more chances of residential properties especially plots on installments.
What is the Location of Bahria Town Upcoming Project?
There are three expected locations of the new mega deal. However, more chances are near Precinct 3 and Precinct 7 as Bahria Town is speedily developing the newly acquired land there.
Is the Upcoming New Project is Good for Investors?
Bahria Town is undoubtedly, the home to opportunities. This society offers incredible properties in wide range. Both buyers and investors can invest in as per their requirements. However, the upcoming new deal will offer more benefits on investment and buying will be 100% secure.
Please contact Universal Property Network For More Information click here or visit our Youtube channel for further assistance