Bahria Town Karachi Golden Investment in Villas – Buy Now
by UPN
January 4, 2022
0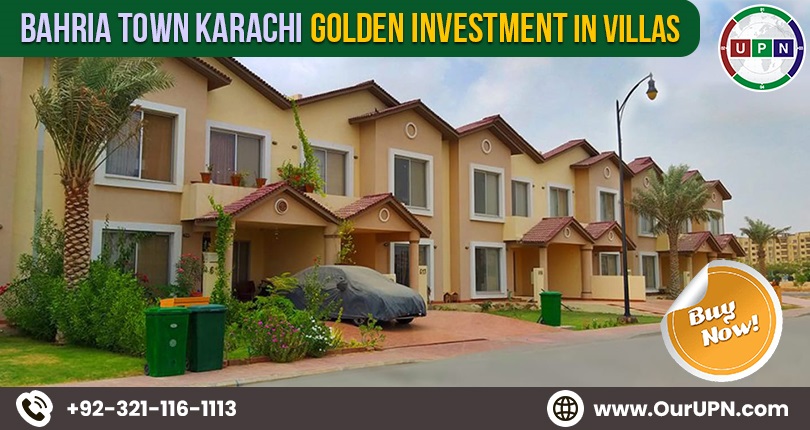 Are you looking to buy the lowest prices ready to move property in Karachi? Do you want to invest in Bahria Town, the most popular housing and investment option these days? Also, you are in search of Bahria Town Karachi golden investment opportunity? If yes, your desire and dreams change into reality in Precinct 11B Bahria Town Karachi.
This beautiful precinct offers fully developed, ideally located and possession villas for sale. Features so many attractions, these are the perfect villas for a peaceful lifestyle. Further details of Precinct 11B are:
About Precinct 11B
It is one of the best precincts of Bahria Town Karachi. Planned thoughtfully, this precinct is developed impressively. No doubt, the entire Bahria Town is smartly designed so that none of its precincts remains in the dark. But Precinct 11B holds importance for its prime location in the proximity of Grand Jamia Mosque. Moreover, the increasing inhabitation and construction is another reason behinds its popularity.
Bahria Town Karachi Golden Investment Opportunity
Precinct 11B offers the best-style 125 sq yards luxury villas. These villas feature 3 beds accommodation, a spacious living room, a beautiful kitchen, a drawing and dining room. Also, there is an eye-catching small lawn and car porch.
Development Update
All the developmental work of Precinct 11B Villas is complete. Possession/keys of the villas are available. Moreover, a large number of families are living there. Therefore, all the modern-day amenities are provided to its residents. The infrastructural development of Precinct 11B is also completed so far.
Nearby Attractions
A shopping gallery offers the best grocery shopping facilities.
There is a mosque under construction, while the operational mosques are at a short distance.
This precinct is also touching Bahria Golf City from one side.
Beautiful parks are located in proximity provide, clean and fresh living environment. Indeed, all these attractions make this precinct Bahria Town Karachi golden investment choices.
Location of Precinct 11B and Villas
Precinct 11B enjoys a prime location in Bahria Town Karachi's heart. This precinct is near Grand Jamia Mosque, Midway Commercials, and Bahria Heights. Precinct 11B is located adjacent to Precinct 10A. Furthermore, the nearby precincts include Precinct 11A, Precinct 10B, and Precinct 12 Ali Block.
Latest Prices of 11B Villas Bahria Town Karachi
Launched at surprisingly lowest prices, Precinct 11B Villas were launched on easy installments. But now there is one of the heart-winning, ready to move property, available on lump sum amount only.
Only 6 – 8 months ago, these villas were available in the price bracket of 1. 40 crores to 1.50 crores. But the latest prices are starting from 1.60 crores to 1.85 crores. So prime location villas will cost you more than the general category villas.
Precinct 11B Plots for Sale
This attractive precinct features 125 sq yards of residential plots as well. These plots are also on-ground and possession able. Moreover, the prices for these villas start from 58 lacs to 70 lacs. These plots are high in demand. Even some of the houses are complete, and many are under construction.
Comparison with Precinct 11A Villas
Precinct 11A Villas are located in proximity of Precinct 11B Villas. However, the rates are high due to the heightened location. The current prices of the same size villas located in Precinct 11A are starting from 2 crores.
Why Should Buy Precinct 11B Villas?
Well, you should buy Precinct 11B villas because it is Bahria Town Karachi's golden investment opportunity. But if you are still in the search of solid reasons, here these are:
Affordable Prices
Fully Developed, Keys Available, Basic Lifestyle Facilities, and Increasing Population
These are the still Lowest Prices Ready to Move Property in Bahria Town
Ideal Location close to Bahria Town's Main Attraction Grand Jamia Mosque
Conclusion
So, whatever your reason for investment is, do buy the best villas for sale in Bahria Town Karachi. These 11B Villas are perfect for residence full of facilities and investment that comes with lots of benefits. Universal Property Network suggests these exceptional houses to fulfil your property requirements in Karachi. Please contact us for further assistance and details of available options in Bahria Town Karachi.
Please contact Universal Property Network For More Information click here or visit our youtube channel further assistance