Bahria Town Karachi Precinct 61, 62, 63 Latest Details
by UPN
December 6, 2021
0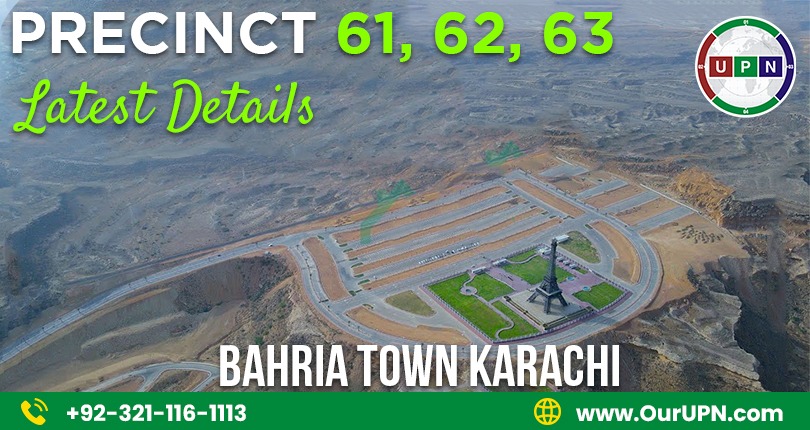 Bahria Town Karachi is the largest housing society in Pakistan. It is a complete city growing on the outskirts of Karachi. It is located away from the hustle and bustle of busy city life, but it's a fully-facilitated modern destination to live and invest in. This appealing gated community covers a large area; this society has four sub-projects and several precincts. Bahria Town Karachi Precinct 61, 62, 63 are recent additions. These three precincts are specially designed to facilitate the affectees of Bahria Sports City and Bahria Paradise disputed properties.
The launching prices of plots in these new precincts were low. But the current market updates are displaying them as one of the attractive investment opportunities in Bahria Town. Prices of the plots have begun to increase. Further details of Precinct 61, Precinct 62, and Precinct 63 are:
Bahria Town Karachi Precinct 61, 62, 63 – Things You Want to Know
These three Precincts 61, 62, and 63 was launched to provide plots to the affectees of Bahria Town disputed plots. Almost one year ago or at the time of plots adjustment, 125 sq yards plots files cost 9 lacs only. But the latest prices are far better than that. Reason?
Investors' increasing interest and demands for the plots of Bahria Town Karachi Precinct 61, 62, 63. Yes, from the last 3 – 4 months there has been a hype in the market, that:
Precincts 61, 62, and 63 offer the lowest priced plots in Bahria Town Karachi.
Investing there will return you will good potential.
The nearby development Bahria Greens and planning of Bahria Town other entrances.
Despite all these attractions, we must have to look into the ground realities:
Ground Realities to Check Before Investment
Bahria Town Karachi Precinct 61, 62, 63 are undeveloped precincts. Their official map is available; however, it cannot be seen physically. No development work has begun on the site. The infrastructural development work, especially the roads leading to Precinct 61, Precinct 62, and Precinct 63, are yet to be developed.
Additionally, these precincts are not offering plots but "plot files". Investment in a plot file is not such attractive as buying an in-ground plot. Here giving you the example of Bahria Paradise and Bahria Sports City disputed plots where many investors had invested in plot files. But after waiting for so long, their investments are adjusted/merged or refunded. In simple words, these three precincts are not existing inside the boundary of Bahria Town Karachi but only on map.
Should You Buy or Hold Plots in Bahria Town Karachi Precinct 61, 62, 63?
Yes, one should buy plot files in Bahria Town Karachi, but do remember, that:
It's a long-term investment opportunity
Buying in these plots will surely return you huge but once the plots get developed
All these are plot files that will take time in turning to on-ground plots.
On the other hand, these three precincts of Bahria Town are already benefiting their first allottees. For example: when the disputed plot files were adjusted in them, the rate of 125 sq yards plots was around 9 – 10 lacs. But the latest prices are between 18 – 20 lacs.
People with good holding capacity and desire to make a suitable property for construction by the next 5 – 10 years should hold them.
Undoubtedly, these are the best plot files available at the lowest prices in Bahria Town Karachi. Currently, the prices are low as no development work progresses. But once the development work starts, plots prices will increase equal to other plots of Bahria Town.
Precinct 61, Precinct 62, and Precinct 53 Location
Bahria Town Karachi Precinct 61, 62, 63 is located adjacent to Precinct 38 and Precinct 39 of Bahria Sports City. The actual location of these three precincts is opposite Bahria Greens. The distance of new and lowest prices precincts from the main entrance of Bahria Town is around 25 – 30 KM or on the drive of 40 minutes. Also, Precinct 61, 62, and 63 are close to Eiffel Tower, Rafi Cricket Stadium and Bahria Greens.
Latest Prices of Plots
The latest 125 sq yards plots in Precinct 61, Precinct 62, and Precinct 63 are around 15 – 18 lacs. The residential plots of 250 sq yards are available in the price range of 18 lacs to 25 lacs.  The plots of 500 sq yards will cost you between 35 lacs to 38 lacs.
So, that's all are the updates of Bahria Town Karachi lowest prices precincts where investment opportunities are available for long-term investment gains. People with a small budget and desire to buy property in Bahria Town Karachi can confidently invest in Bahria Greens. It's another major sub-project with 75 sq yards plots for sale.
Contact Universal Property Network for further assistance and details!
Please contact Universal Property Network For More Information click here or visit our youtube channel further assistance